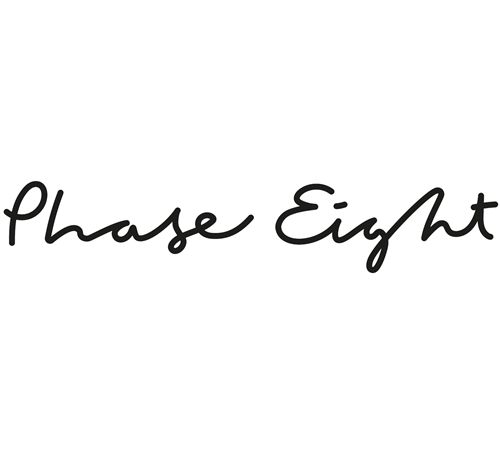 Phase Eight
''Your Ultimate Dress Destination" – This Spring/Summer season Phase Eight presents an exceptional collection of beautiful dresses, jumpsuits and eye-catching separates, perfect for every summer event.
Location
Shop 949, Grand Canal Street, Level 3
Opening Hours
Sunday - Thursday:
10:00am - 11:00pm
Friday - Saturday:
10:00am - 12:00am
PHONE NUMBER
+853 2857 8327
Official Website
www.phase-eight.com
Phase Eight's Brand Story
Phase Eight, the British premium womenswear brand, was started in 1979 by Patsy Seddon in London. The name Phase Eight comes from a combination of P. Hayes – the maiden name of Patsy and Eight – derived from the address of the first boutique - 8 Bellevue Terrace.
Phase Eight is an original, design-led brand that offers a personal shopping experience to customers looking for beautiful and affordable casual, day, work and occasion wear. The collections are the combination of exclusive designs with high quality fabrics and unique prints.
The day wear range offers a variety of patterns and fabrics that create a feminine and colourful look. Both elegant and comfortable, the collection features a mix of chic work wear and easy, off duty styles.
The occasion collections combine luxurious fabrics, textures and finishes with a range of different designs, styles and fits and that are flattering for all women.
'Collection 8', launched in 2012, is a premium range of limited edition evening dresses. Dramatic silhouettes, stunning embellishments and shimmering sequins create a deluxe and eye-catching collection focused on grand opulence and red carpet glamour.
In 2013, the brand launched '8 Bridal'. The collection has an ethereal and vintage feel whilst using contemporary fabrics and textures for a clean and modern silhouette. Every dress is designed with high-end detailing in mind, with the cut and fit expertly tailored.
Today, Phase Eight represents more than 400 point of sales around the world, with 300 stores in United-Kingdom and more than 100 in 14 international markets across Europe, the Middle East and Australia.
Phase Eight 2017 Spring/Summer Collection
Print lovers will be spoilt for choice with our exclusive in-house prints inspired by art and vintage pieces from around the world and translated by our designers into the unique Phase Eight handwriting. Oversized and graphic florals offer a grown up interpretation of the ever popular summer trend and sit alongside modern digital non-prints. Playful use of textures and new fabrications feature on striking silhouettes from sweeping fit and flare to bodycon. The colour palette ranges from inky watercolours to bold jewel tones and the result is a stunning collection of stylish and relevant pieces to cover any occasion.
Welcome to your only dress destination this season – let's celebrate the art of overdressing.

---
---