Macau Transportation

Macau is located along China's southeastern coast in Guangdong province. It is one of the several major cities in the Pearl River Delta, along with Hong Kong, Shenzhen, and Guangzhou. Zhuhai is situated to its north and east, and Hong Kong to its west. No matter how you chose to travel to Macau, you'll find it relatively easy to get here. Continue reading to learn more about traveling to and within Macau.



Cotai Water Jet
Cotai Water Jet provides high-speed ferry service to and from Macau. The ferry departs from Taipa Ferry Terminal, and can travel to Hong Kong in around an hour. Cotai Water Jet ferries also features free WiFi for all passengers. After disembarking from the ferry, you will find free shuttle buses offering service to The Venetian Macao, The Parisian Macao, Sands Cotai Central, and other resorts. Website:
http://www.cotaiwaterjet.com/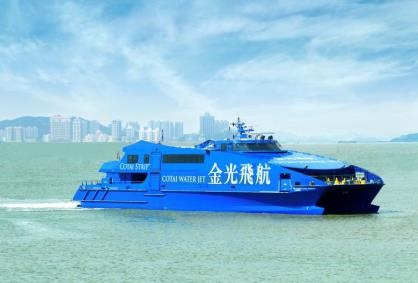 Arriving by Bus/Train
· If you have traveled via bus or train from mainland China, there are two main ways to enter Macau.
· Most visitors go through the border checkpoint located in Zhuhai's Gongbei district. This is very convenient, though it can become very busy during peak hours. Once through both Chinese and Macau customs, you can catch a free shuttle bus to your hotel.
· The other way to enter Macau is to take a bus or taxi to the Hengqin border checkpoint on Hengqin island. This is typically faster than Gongbei, but is more difficult to get to.
Arriving by Airplane/Helicopter
There are several nearby airports than you can fly into:
1. Macau International Airport – located on Taipa, Macau. This is the fastest and easiest way to travel to Macau. It also usually has the quickest customs. There are free shuttle buses at the airport that will take you to your hotel.
2. Hong Kong International Airport – located in Hong Kong. You can take a ferry directly from this airport to Macau.
3. Zhuhai International Airport – located in Zhuhai, China. You can take a bus from this airport to the Gongbei border checkpoint.
4. Guangzhou Baiyun International Airport – located in Guangzhou, China. You can take a bus from this airport to the Gongbei border checkpoint.
· Macau also has helicopter service to and from Hong Kong and Shenzhen. It departs from the Macau Ferry Terminal. The travel time is around 15 minutes.


Bus
Public buses operate frequently throughout Macau, Taipa, and Coloane. Buses have onboard stop notifications in Mandarin, Cantonese, Portuguese and English.
· Price: Within Macau or Taipa: MOP6, Macau-Taipa: MOP6, Macau-Coloane: MOP6, Airport service: MOP6.
Taxi
Macau's taxis come in two color schemes: one is yellow, the other is black and cream. Both color taxis charge the same fees. Taxis stands are located near hotel lobbies.
Tips:
·Base price (first 1.6 km): MOP17, additional MOP2 for each 260 m afterwards.
Extra fees: Taxi waiting fee is MOP2 for every minute. Taxis have a MOP3 luggage storing fee. There is a MOP2 fee from Taipa to Coloane, and a MOP5 fee from Macau to Coloane. There is an MOP5 fee for taxi trips to and from the airport.
Macau Visa Information Mobile and WiFi Service Macau Events in 2019 Macau Must-See Attractions