Sands Resorts Macao Welcomes Thomas the Tank Engine and The Little Big Club ALL STARS for Breakfasts, Meet & Greets and Parades
Featuring Thomas & Friends™, Barney™, Angelina Ballerina™,
Bob the Builder™, Fireman Sam™, Pingu™ and Mike the Knight™
(Macao, Nov. 14, 2017) – Sands Resorts Macao is thrilled to be bringing a new line-up of family-friendly entertainment to the integrated resort with the arrival of some of the most popular characters from the world of children's entertainment – Thomas & The Little Big Club ALL STARS is coming to The Londoner Macao from now to March 31, 2018.

The Little Big Club ALL STARS invite you to come sing, dance, dress up and have fun at one of the specially created activities at The Londoner Macao.

The much-loved characters include Thomas the Tank Engine, the #1 blue engine always eager to help play his part and be a "Really Useful Engine". Also part of the line-up is Angelina Ballerina, a mouseling who is passionate about dancing and life.

Bob the Builder is a hard-hat wearing, hard-working builder. Bob's optimistic attitude always shines through, with his empowering catchphrase: "Can we build it? Yes we can!"

Fireman Sam is brave, modest and dependable. He selflessly puts his life on the line to help others and nothing is too much trouble for him. Pingu meanwhile is mischievous and warm-hearted. He is constantly pushing boundaries, so even the most routine activities transform into the unexpected when Pingu gets involved.

Mike the Knight is an energetic and good-hearted knight-in-training, surrounded by the excitement and enchantment of medieval times including exciting missions, castles, dragons, Vikings and trolls, while Barney is a 200-million-year-old, loveable, huggable T-Rex, who loves sharing, caring, imagining, dancing and learning.

Families can get up close and personal with all of these larger than life characters at the Thomas Friendship Breakfast with The Little Big Club ALL STARS, daily Thomas & The Little Big Club ALL STARS Meet & Greet and The Little Big Club ALL STARS Parade.

Sands Resorts Macao, the recent recipient of 'Best Entertainment Resort – Asia Pacific' award for The Venetian® Macao at the annual Travel Weekly Asia Readers' Choice Awards, has a track record of offering the biggest and best family entertainment to help firmly establish Macao as a leading tourism destination in the region and is proudly supported by Macao Government Tourism Office (MGTO). The arrival of Thomas & The Little Big Club ALL STARS cast of animated characters represents an exciting first for Macao, allowing guests and visitors the opportunity to see and interact with the internationally popular children's characters.


"We are thrilled to be bringing the hugely popular Thomas & The Little Big Club ALL STARS to Sands Resorts Macao," said Ruth Boston, Senior Vice President of Marketing and Brand Management, Sands China Ltd. "This innovative offering again raises the bar for family-friendly entertainment in Macao, and is sure to be a big draw for guests of all ages, providing yet another reason to visit our integrated resorts. Sands Resorts Macao remains focused on enhancing our guest and visitor experiences and increasing the diversity of world-class family entertainment options available in Macao. Thomas & The Little Big Club ALL STARS at Sands Resorts Macao gives families and the young at heart yet another exciting way to be entertained."
Activity*

Show

Location

Time & Date

General

Thomas & The Little Big Club ALL STARS

The Londoner Macao

Until March 31, 2018

Character Breakfast

Thomas Friendship Breakfast with
The Little Big Club ALL STARS

Urumqi Ballroom, Level 4,
The Londoner Macao

9 a.m. – 10:30 a.m. daily



Meet & Greet

Thomas & The Little Big Club ALL STARS Meet & Greet (selected characters only)

Paradise Gardens,
The Londoner Macao

11 a.m. – 3 p.m. daily

Parade

The Little Big Club ALL STARS Parade

Level 2, Shoppes at Londoner, The Londoner Macao

4 p.m. daily



* Only selected characters will appear at breakfasts, Meet & Greets and Parades, and are subject to change without prior notice. For details please approach the reservation counter next to Paradise Gardens.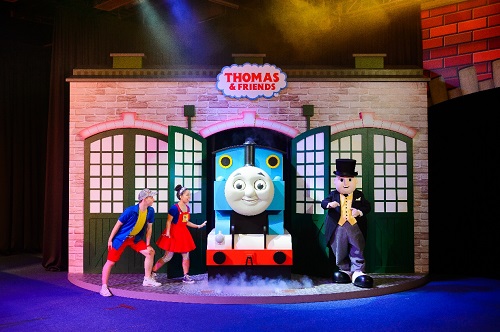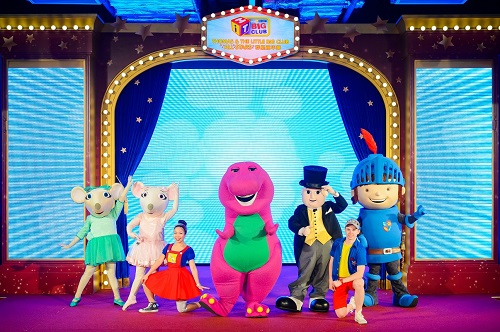 Photo caption: Thomas & The Little Big Club ALL STARS at Sands Resorts Macao will see a host of family-friendly themed entertainment for visitors to the integrated resorts, including Thomas & Friends, Barney, Angelina Ballerina, Bob the Builder, Fireman Sam, Pingu and Mike the Knight feature at daily character breakfasts, meet and greets and parades.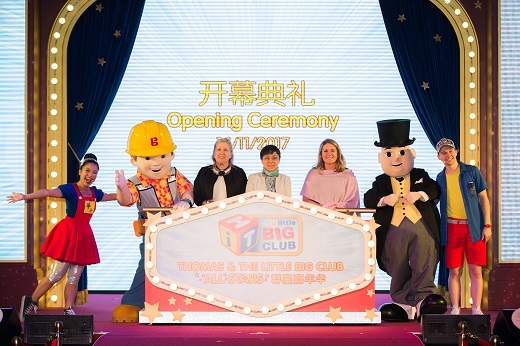 Photo caption: (Left to right) Sands China Ltd. Executive Director Public Relations Donna Campbell, Macao Government Tourism Office Director Maria Helena de Senna Fernandes and Smile Live Entertainment CEO Kate Oliver at the launch of Thomas & The Little Big Club ALL STARS at The Londoner Macao, appearing until March 31, 2018.

To learn more about Thomas & The Little Big Club ALL STARS programme at Sands Resorts Macao, please go to: https://www.sandscotaicentral.com/thelittlebigclub.html
About Sands Resorts Macao – Sands China's Integrated Resort City
Sands China Ltd. is the leading developer, owner and operator of integrated resorts in Macao. The fittingly named Sands Resorts Macao, situated on reclaimed land between the islands of Coloane and Taipa, is the one destination that provides a stunning array of experiences at the heart of Cotai. Sands Resorts Macao has transformed a day-trip market into an integrated resort city and international hub for business and leisure travellers.

Pulsating with life, both night and day, Sands Resorts Macao features an expansive offering of affordable luxury available nowhere else in Macao. With the opening of The Parisian Macao, it now boasts approximately 13,000 hotel rooms and suites, international superstar live entertainment, duty free shopping with more than 850 retailers offering a huge array of name brands, meeting and exhibition space for Asia's leading conferences and exhibitions, transportation offerings and well over 150 dining options, including Michelin-starred restaurants, bars and lounges. Sands Resorts Macao is a must-go destination providing every guest with an unforgettable experience and unparalleled excitement.

Comprised of The Venetian® Macao; The Plaza™ Macao, featuring the Four Seasons Hotel Macao; and Sands® Cotai Central, including the world's largest Conrad, Sheraton, and St. Regis hotels as well as the Holiday Inn, Sands Resorts Macao is where Asia's ultimate destination is within reach. And now the crowning achievement of Sheldon G. Adelson's vision of the Cotai Strip – The Parisian Macao. For more information, please visit ParisianMacao.com.

For more information about Sands Resorts Macao, please visit http://en.sandsresortsmacao.com.