Sands China Honours Outstanding Suppliers for Fifth Consecutive Year
(Macao, Dec. 04 2017) – Sands China Ltd. held its 2017 Sands Supplier Excellence Awards at The Venetian® Macao last Wednesday, where the company recognised the cooperation and services of several of its outstanding suppliers. Held at the end of each year, the awards are a global initiative of Sands China's parent company, Las Vegas Sands Corp.

"For five years now, Sands China has held these awards to recognise the most outstanding of our suppliers," said Dr. Wilfred Wong, president of Sands China Ltd. "Sands China considers our suppliers to be partners in our mutual success. So whether large corporations, small businesses, or micro-enterprises, it is our pleasure to recognise the suppliers who have demonstrated the highest levels of professionalism and service – not only during normal business operations, but even under extreme circumstances such as after Typhoon Hato. It is through working hand-in-hand that we are better able to fulfil our company strategy of delivering unforgettable experiences to our guests and visitors."

Nearly 30 companies were nominated for this year's Sands Supplier Excellence Awards by Sands China's business units and employees, carefully selected from among thousands of service providers and suppliers that work with the company. The companies nominated represent diverse industries like construction and development; furniture, fixtures and equipment; facilities and services; hotel supplies; food and beverage; and many others. This year's winners include long-established local companies that have contributed to Macao's development over the years.

As in prior years, the 2017 Sands Supplier Excellence Awards featured entertainment and an appreciation dinner. More than 400 participants were invited, in which nearly 300 representing 144 suppliers – mostly from Macao, Hong Kong and mainland China. Awards were given to distinguished suppliers in seven categories: small- and medium-sized enterprise (SME), corporate culture and sustainability, cost management, service excellence, project management, total quality management, and innovation. This year, the service excellence category has been expanded to include a total of four awards recognising outstanding local suppliers who made significant contributions to Macao's recovery effort and fully supported Sands China's daily operations and typhoon relief effort after Typhoon Hato caused extensive damage to the city in August. Winners of the awards were selected by a judging committee comprised of Sands China executive management. Judges examine a range of criteria including suppliers' leadership, vision and strategy; product consistency and process capability; and creative partnership opportunities, among other criteria. Besides some large companies, five out of the 10 winners are local SMEs (Chao Pak Kei, Legumes E Hortalicas Lei Kei Limitada, Chi Kei Fo Van, Hang Fong Hong (Macau) Limited, and Long Tin), a testament to Sands China's ongoing support of local Macao enterprises.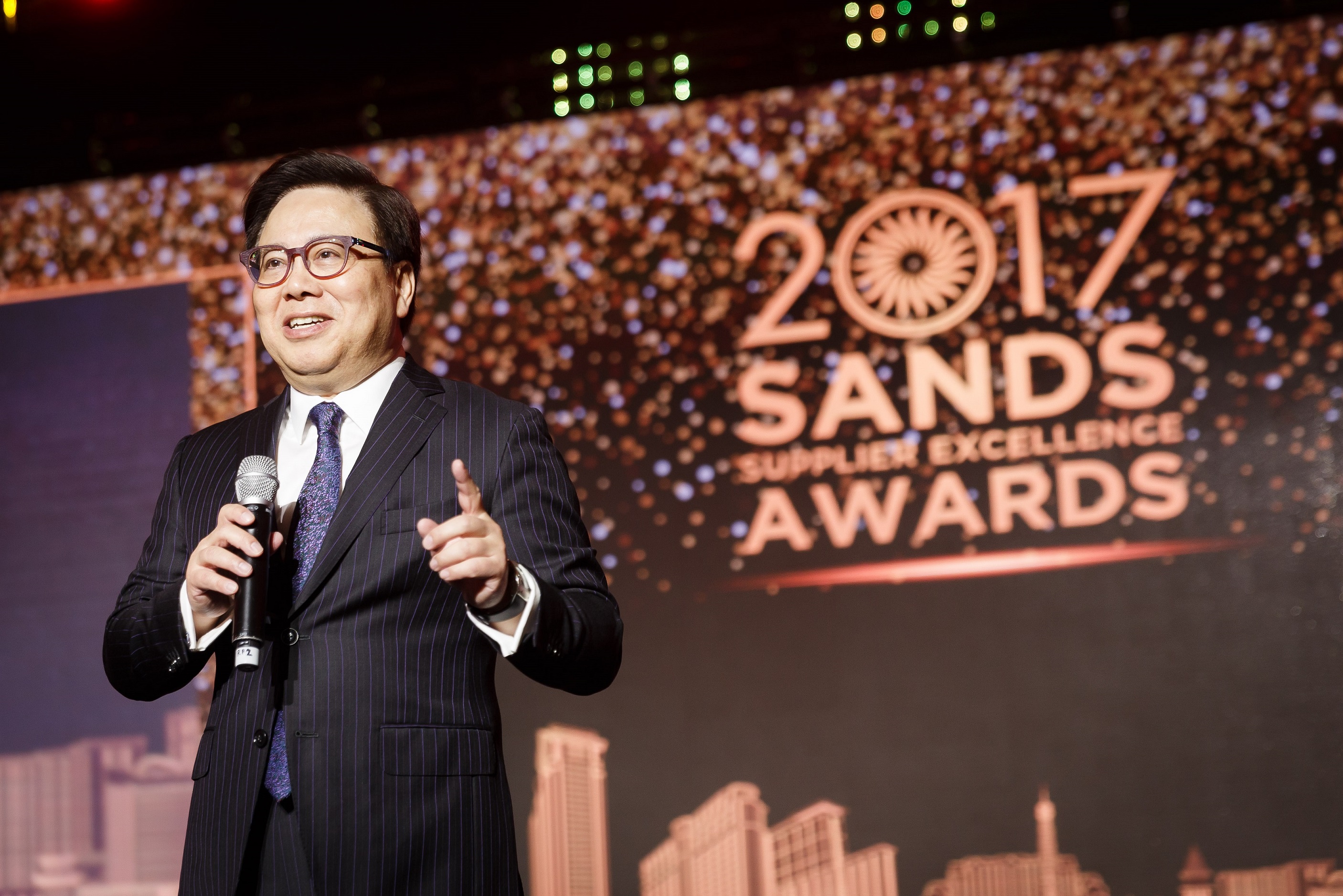 Photo caption: Dr. Wilfred Wong, president of Sands China Ltd., addresses supplier representatives at the fifth Sands Supplier Excellence Awards Wednesday at The Venetian Macao.
The winners of 2017 Sands Supplier Excellence Awards are:
CATEGORY

WINNER

Small- and Medium-Sized Enterprise (SME)

Chao Pak Kei

Local SME in Macao for over 50 years; represents multiple manufacturers of disposable food and beverage products

Working with The Venetian Macao since 2004 (pre-opening)

Offers competitive product, stable pricing, efficient daily delivery, and prompt response to urgent needs

Corporate Culture and Sustainability

Electric Fever (Macau) Limited

One of the largest lighting vendors in Macao

Provides LED and energy-saving solutions aimed at the highest levels of power with the least energy consumption and heat generation

Long-time top-10 vendor providing quality lighting and electrical equipment, and sustainability services solutions supporting Sands China's green efforts

Cost Management

Legumes E Hortalicas Lei Kei Limitada

Local small enterprise; stable pricing and consistent product quality

Professional and helpful operation with on-time delivery

Despite suffering heavy damage to office and vehicles because of Typhoon Hato, continued daily deliveries

Service Excellence

Chi Kei Fo Van

Provided urgent logistical support during Typhoon Hato by driving trucks for bottle water pickup and delivery

Responded to last-minute urgent request by mobilising resources within an hour

Picked up and delivered over 2000 cases of bottled water between midnight and 3 a.m. while facing heavy rain and winds

Kwan On Chemical Enterprise Company Limited

Has worked with Sands China for over 10 years, efficiently and effectively delivering high quality plumbing and drainage services and solutions for multiple properties

After Typhoon Hato, promptly supported Sands China with engineers and labour for emergency plumbing needs and provided water truck services

Provided technical support to assist the Macao authorities and Sands China to quickly restore water for residents at Fai Tat building in Fai Chi Kei, which was facing a serious water supply problem

Hang Fong Hong (Macau) Limited

A local SME supplying food and beverage items to Sands China for more than eight years

Reliable and proactive service with quality products

Post-typhoon, addressed Sands China's staff and customer food and water shortage by arranging special truck delivery of water from mainland China and by maintaining delivery of food items

Long Tin

A "Made in Macao" local SME that has been providing Chinese BBQ items for Sands China since 2004

History of top quality and service, very helpful, same-day delivery, proactive in solving issues

Despite post-typhoon challenges, maintained food delivery for Sands China staff dining rooms

Project Management

Min Da Construction & Engineering Company Limited

Has completed various room and other projects

Has worked on projects at multiple Sands China properties

Projects completed on time and within budget

Total Quality Management

Nam Kwong Kok Fong Distribution and Transportation Limited

Meat and poultry supplier

Consistent quality products

Proactive and effective in dealing with product shortages and quality control issues

Innovation

Angel Playing Cards Macau Ltd.

Developed a cutting edge playing card security solution in 2016

Sands is first company to deploy it globally; proven to be a successful addition to the industry

Increases operational efficiency with the latest technology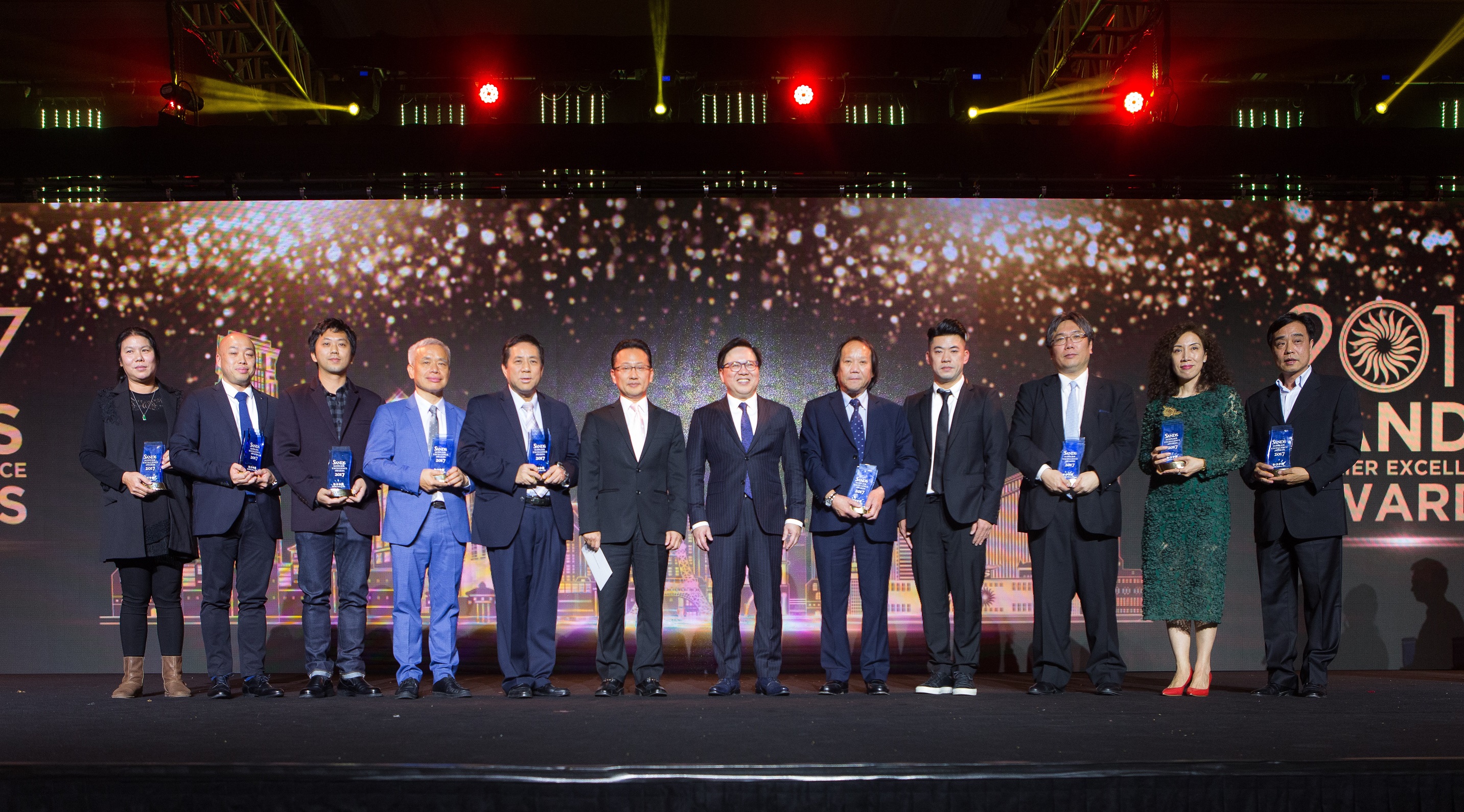 Photo caption: Dr. Wilfred Wong (sixth from right), president of Sands China Ltd., and Jaehong Choi (sixth from left), vice president of procurement and supply chain for Venetian Macau Limited, presented awards to the representatives of seven outstanding companies at the fifth Sands Supplier Excellence Awards Wednesday at The Venetian Macao.
About Sands China Ltd.

Sands China Ltd. (HKEx: 1928, Sands China or the Company) is a Cayman Islands registered company and is listed on The Stock Exchange of Hong Kong Limited. Sands China is the largest operator of integrated resorts in Macao. The Company's Cotai Strip portfolio is comprised of The Venetian® Macao, The Plaza™ Macao, Sands® Cotai Central and The Parisian Macao. The Company also owns and operates Sands® Macao on the Macao peninsula. The Company's integrated resorts contain a diversified mix of leisure and business attractions and transportation operations, including large meeting and convention facilities; a wide range of restaurants; shopping malls; world-class entertainment at the Cotai Arena, The Venetian Theatre, The Parisian Theatre and the Sands Cotai Theatre; and a high-speed Cotai Water Jet ferry service between Hong Kong and Macao. The Company's Cotai Strip portfolio has the goal of contributing to Macao's transformation into a world centre of tourism and leisure. Sands China is a subsidiary of global resort developer Las Vegas Sands Corp.

For more information, please visit www.sandschina.com.