World's Biggest DJs to Appear for JIGSAW MUSIC FESTIVAL IN MACAO at Cotai Arena
-- Dimitri Vegas & Like Mike to headline star-studded lineup at The Venetian Macao, Nov. 18 and 19, 2017
EDM extravaganza taking place over Macau Grand Prix creates unmissable weekend for adrenalin junkies


(Macao, Oct. 24, 2017) – Some of the world's most popular DJs will appear at The Venetian® Macao's Cotai Arena on Nov. 18 and 19, 2017, for the spectacular two-day JIGSAW MUSIC FESTIVAL IN MACAO 2017, taking place during Macau Grand Prix week. Presented by Elite Fun Entertainment, tickets go on sale now at all Cotai Ticketing box offices.

Headlined by the hottest DJ duo in the world, Dimitri Vegas & Like Mike, with special guest Nervo, JIGSAW MUSIC FESTIVAL IN MACAO 2017 will offer two days of the most cutting-edge and current Electronic Dance Music.

Dimitri Vegas & Like Mike
The Belgian DJ and record producer brother duo are currently ranked No. 2 on DJ Mag's '2017 Top 100 DJs' list. Whether performing worldwide, cutting huge studio releases or remixes for the A-list elite, the award-winning duo have become the leading lights in the new wave of international dance music. They won 'Best Global DJ' at the 2015 edition of the EMPO TV awards in Mexico and repeated the triumph again in 2016, as well as winning best big room and best music video for their MV "The Hum".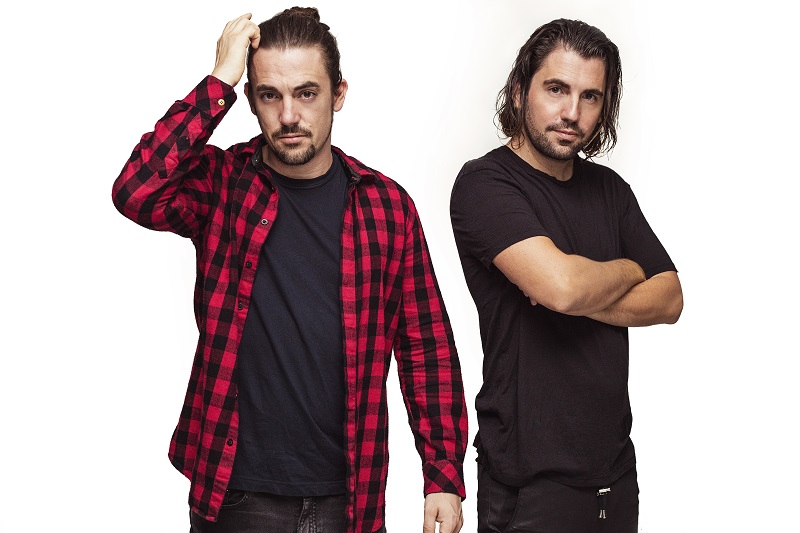 Photo caption: The world's hottest DJs will appear at Cotai Arena on Nov. 18 and 19, 2017 for the two-day JIGSAW MUSIC FESTIVAL IN MACAO 2017. Tickets go on sale now at all Cotai Ticketing box offices.

Nervo
The world's highest paid female DJs, Australian duo Nervo signed to Swedish music publishing company Razor Boy Music Publishing in 2008, which led to co-writing the Grammy Award-winning single, "When Love Takes Over", performed by David Guetta and Kelly Rowland. Add to this a DJ schedule spanning over 200 live shows worldwide per year with main stage slots at some of the world's biggest festivals, residencies at super clubs and a ranking as high as No.16 in DJ Mag top 100 DJs.

Wolfpack
Currently ranked at No. 41 by DJ Mag on their annual list of Top 100 DJs thanks to a series of outstanding productions and collaborations, Wolfpack are signed to the world's hottest dance label, Dimitri Vegas & Like Mike's Smash The House.

Dannic
The DJ and producer from Breda in the Netherlands – the hometown of legends Tiësto and Hardwell – is one of the best new acts to have emerged from the latest generation of Dutch artists, cementing himself as one of the biggest names in big room and grooving house. He has performed on some of the world's biggest stages and launched his own imprint, Fonk Recordings.

Double Pleasure
Belgian buddies Marijn Heylen and Sam Bombeeck are currently catching the world's attention with their unique sound. Tomorrowland regulars, they have supported Miley Cyrus and Avicci during their world tours and are signed to Dimitri Vegas & Like Mike's label. Their single "Desire go Higher" was released to huge acclaim while their productions are supported by A-list DJs including Tiësto, Dannic and many more.

MATTN
Smouldering as one of the hottest young female artists in the electronic circuit, MATTN is set to inject her own dose of exciting, deep sounds straight into the biggest live club and festival environments.

KSUKE
The Japanese DJ has appeared on huge stages and prestigious clubs worldwide, including XS, Light, and HAKKASAN. In their first ever DJ ranking, DJ Mag Japan placed KSUKE at No.1. Signed to Warner Music Japan, he has released his first original album and also worked with a wide range of artists.

Yves
Electro house hot-shot Yves V has played sets on the mainstages of iconic events including Sensation, David Guetta in Concert, Don't Let Daddy Know, Mysteryland and Tomorrowland main stage. His music has been released on the biggest record labels, while remix work encompasses A-list artists such as Timbaland, Missy Elliott and Ginuwine.

Florian Picasso
The Vietnamese-French DJ, record producer and great-grandson of Pablo Picasso has gained recognition for collaborations with Martin Garrix and Steve Aoki.

Ahzee
Playing progressive, electro house with Mediterranean influences, Ahzee is currently performing at some of the hottest clubs and music festivals in Europe and beyond, while his productions have been released worldwide on major labels including Sony, Universal, Blanco y Negro, CAT Music and Ultra Records.

DJ Koo
As the first Korean DJ to perform at Miami's Ultra Music Festival, DJ Koo represents a new era in Korea's music industry.

DJ Junior & Royal
Becoming a household name among partygoers, celebrities and the fashion world in Taiwan and Asia, DJ Junior & Royal base their sound on hip hop and R&B, mixing a diverse blend of rock, reggae, pop, 80s, house, and electronica that makes them festival favourites.

Don't miss the hottest EDM party of the year when JIGSAW MUSIC FESTIVAL IN MACAO 2017 arrives at Cotai Arena, The Venetian Macao, on Nov. 18 and 19, 2017.

ICBC Sands Lifestyle Mastercard cardholders can receive up to 20% discount on ticket prices as well as EARN points when shopping or travelling anywhere in the world and then REDEEM them in Macao within Sands Resorts Macao's integrated resorts.




Ticketing details:
Event 2017 JIGSAW MUSIC FESTIVAL IN MACAO

Date and Time Nov. 18, 2017 (Sat), 9.30 p.m.
Nov. 19, 2017 (Sun), 7 p.m.

Venue Cotai Arena, The Venetian Macao
Ticket Prices • One-Day Pass
o MOP/HKD1080 (GA Standing)
o MOP680 (GA seated)
• Two-Day Pass
o MOP/HKD1580 (GA Standing)
o MOP1080 (GA seated)

Ferry Packages Add MOP/HKD 108 to ticket price for a round-trip Cotai Water Jet ferry ticket between Hong Kong and Macao

Ticketing Outlets Cotai Ticketing
• Online: www.cotaiticketing.com
• Box offices:
o The Parisian Macao - Main Lobby Box Office L1
o The Venetian Macao – Cotai Arena and Main Lobby box offices
o Four Seasons Hotel Macao – The Plaza™ Macao box office
o Sands® Macao – Level 1 box office
o Sands® Cotai Central – Sheraton Main Lobby and Holiday Inn Main
Lobby box offices
• Phone:
o Macao: +853 2882 8818
o Hong Kong: +852 6333 6660
o China toll-free: 4001 206 618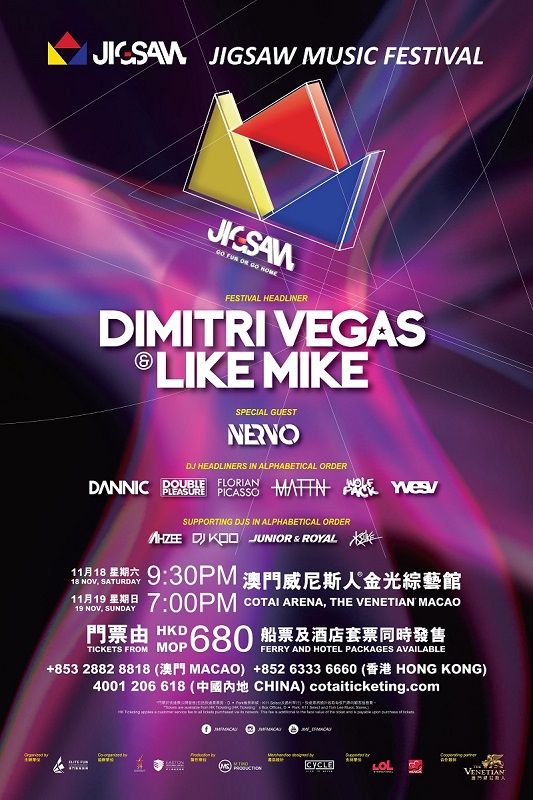 Entertainment at Sands China Properties

Sands China Ltd. has as a clear vision to establish Macao as Asia's top entertainment destination.

The 15,000-seat Cotai Arena and 1,800-seat Venetian Theatre are the only venues in Asia ranked in Pollstar's Top 100 Worldwide Arena Venues and Pollstar's Top 200 Worldwide Theatre Venues based on ticket sales. It is the top entertainment destination in southern China, hosting the world and region's biggest names in music, sports and awards shows. Superstars frequently choose the venue as the starting point of their Asian tours.

The 1,800-seat, multi-purpose Venetian Theatre is one of the most luxurious entertainment venues in greater China. Featuring ushers in black tie, champagne service, gourmet food and beverage items and other unique, premium amenities, it offers an intimate, luxurious and exclusive venue experience. The Venetian Theatre is playing a key role in bringing the best in international and Chinese entertainment to Macao, with a theatre experience like no other in the region.

The 650-seat Sands Theatre regularly features internationally-renowned singers, performers and artists of the highest calibre. From traditional Chinese-costumed dance to modern performances, everything from Western rock to Cantonese pop is covered.

The 1,200-seat, purpose-built Parisian Theatre is Sands China Ltd's latest entertainment venue. The Paris-style theatre offers an elegant experience for world-class entertainment of all kinds.

The latest addition is the impressive new Sands Cotai Theatre. With 1,700 seats, this state of the art venue was purpose built by Sands China Ltd for the arrival of the highly anticipated Monkey King – China Show from the renowned Beijing Huayan Group. Eight years in the making, the stage show combines dance, acrobatics, drama, martial arts, magic, advanced 3D effects, LED screen projections, video mapping and full surround sound, together with creative lighting effects, choreography, music and spectacular costumes.

Offering world-class diversity and quality, Sands China Ltd.'s next generation of live venues is ushering in a new era of entertainment in Macao.

For information about upcoming shows and events, visit https://en.sandsresortsmacao.com/macau-shows.html and www.sandsmacao.com/entertainment.html