Experience Delicious Winter Warmer Menus at Sands Resorts Macao and Sands Macao this Winter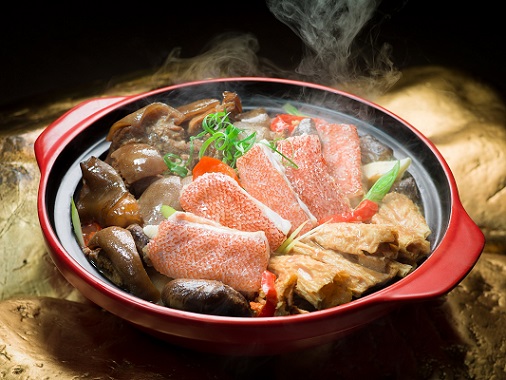 (Macao, Dec. 06, 2017) – Sands Resorts Macao and Sands® Macao have launched delicious and warming winter menus at eight superb Chinese restaurants across The Venetian Macao, The Parisian Macao, The Londoner Macao and Sands Macao from Dec. 4, 2017, until Feb. 11, 2018.

Chosen not only for their delicious taste, all the ingredients and foods used are renowned for their warming and nourishing properties. In the hands of Sands Resorts Macao's and Sands Macao's talented chefs they have been transformed into not only the finest Chinese cuisine, but also dishes which bring health, heat and vitality in the cooler winter weather.

Winter Warmer Menus at Sands Macao
Golden Court
Elegant Golden Court restaurant is now offering a variety of healthy winter warmers. Chef Lee Chiu Fat has used the freshest ingredients to develop an extensive menu imbued with wonderful warming properties to keep the winter chills away as the cooler weather approaches.

Roasted lamb shanks with spice and cumin (per piece) MOP 118*
Braised fish head with port wine sauce in clay pot MOP 138*
Wok-fried free-range spring chicken with mushrooms, garlic sprouts and chili MOP 138*
Chicken and fish maw soup with fungus and black mushrooms (per person) MOP 188*
Braised boneless beef with turnips MOP 228*
Braised mutton and Garoupa with black mushrooms and winter bamboo shoots MOP 238*
Fried whole Garoupa with Sichuan peppers and chili (whole piece) MOP 308*
Chinese herbal chicken with Chinese wine in clay pot (whole piece) MOP 338*

Golden Court is also offering a wide range of delicious herbal soups, including double-boiled fish maw and pork soup with apple, candied dates, dried tangerine peel and Chinese herbs (can relieve cough and asthma conditions) MOP 988*, and double-boiled snake-fish and American ginseng soup with Chinese herbs and red dates (improves blood circulation and protects the liver) MOP 428*. All herbal soups must be ordered at least six hours in advance.

Reservations can be made by calling +853 8983 8222.

Winter Warmer Menus at The Venetian Macao
Canton
The elegantly decorated restaurant offers exquisite southern Chinese cuisine. The Winter Warmer Menus feature some of the finest soups, seafood, meat and vegetable dishes.

Cured meat in clay pot rice MOP 160*
Braised preserved duck with taro in clay pot MOP 168*
Emperor chicken wrapped in parchment paper with oriental herbs MOP 198*
Baked shrimp with pepper and five spice MOP 260*
Doubled boiled duck essence with cordyceps soup MOP 480*

Table availability is limited. Call +853 8118 9930 now to make a reservation.

North
Spacious and authentic, North restaurant specialises in northern Chinese and Sichuan cuisine. The Winter Warmer menus features a variety of delicious and nutritious dishes.

Lamb chops and green radish soup with white pepper MOP 58*
Biáng biáng noodles with pork MOP 80*
"Shanxi" style steamed pork belly and potato with spicy rice paste MOP 89*
"Tong guan" style braised pork belly with pan-fried buns MOP 89*
"Dong bei" braised farm chicken, bean noodles and mixed vegetable MOP 115*
Slow-cooked chicken and vegetable skewer in spicy sauce MOP 118*

Come and enjoy a fabulous meal with friends and family. Reservations can be made by calling +853 8118 9980.

Winter Warmer Menus at The Parisian Macao
Lotus Palace

Offering modern yet traditional Chinese cuisine, Lotus Palace is featuring classic hot pot warmers this winter, full of nutrient-rich goodness.

Chongqing hot pot soup base MOP 88*
Guizhou fish in sour soup hot pot soup base MOP 488*
Hainan coconut and chicken hot pot soup base MOP 588*

Reservations can be made by calling +853 8111 9260.

Winter Warmer Menus at The Londoner Macao
Dynasty 8
Award-winning Dynasty 8 is focusing on double-boiled specialities for its winter warmer menu, a technique that extracts the maximum flavour from delicate, high-quality ingredients without compromising flavour or texture. The process can take up to five hours

Double-boiled sea whelks with black tiger palm mushroom MOP 168*
Double-boiled teal with prime fish maw and black truffle MOP 288*
Double-boiled red wild mushroom with cordyceps, fish maw and sea cucumber MOP 1,288*

Don't miss out on this exceptional menu! Reservations can be made by calling +853 8113 8920.

Rice Empire
Rice Empire celebrates this winter by serving with difference kinds of winter broth: Chinese herbal fish bone broth, ginseng, red dates chicken broth; tradition Sichuan spicy broth.

Deluxe seafood hot pot set MOP 1,688*

Reservations can be made by calling + 853 8113 8930.

Southern Kitchen
A fast and convenient stir-fry restaurant in the Cantonese and Hong Kong tradition, Southern Kitchen is offering some deliciously different and authentic winter treats.

Taiwanese sesame oil chicken stew MOP 118*
Simmered beef tripe, duck blood and intestine in chilli oil MOP 188*

Reservations can be made by calling +853 8113 7960.

Yum Cha
Serving classic dim sum dishes alongside other Chinese staples including seafood, stir-fries, noodle soup and more, Yum Cha has a delicious selection of healthful warmers this winter.

Poached chicken with red dates and Chinese herbs MOP 168*
Braised yabby (prawns) with Sichuan pepper spicy broth MOP 168*
Braised lamb with bean curd sheets and mushroom MOP 238*

Reservations can be made by calling +853 8113 8910.

* All prices subject to 10% service charge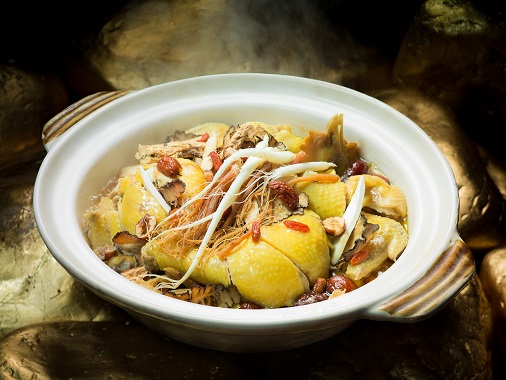 Photo caption: Sands Resorts Macao and Sands Macao Chinese restaurants have launched a delicious range of healthful winter warmers. Make your booking now to enjoy this seasonal treat!
Sands Dining Sensations

Bringing the world to your plate — one dish at a time, Sands Dining Sensations highlights the diversity, quality, ingredients, chefs, creativity and ambience at Sands Resorts Macao's more than 150 restaurants. Offering a world of diverse cuisine prepared by some of the most innovative and skilled chefs, Sands Resorts Macao presents unique dining experiences at each of its distinctive restaurants and outlets. From authentic Chinese delicacies to Macanese favourites and global cuisine from France, Italy, Japan, India, Southeast Asia and more, there's something special for every palate.
For more information, please visit https://www.sandsmacao.com/dining/dining-promotions.html.
About Sands® Macao

Opened in 2004, Sands® Macao is a world class hotel and entertainment complex with 289 luxury suites. Its stunning gold glass exterior houses a wide range of diversions including speciality restaurants, a heated outdoor swimming pool, deluxe spa and salon, conference and banquet facilities and unrivalled gaming excitement and live entertainment. It is also home to the Paiza Club: an invitation-only international VIP club with 51 premium suites with size, opulence and grandeur that rivals the best the world has to offer.

As the first hotel and entertainment complex in Macao owned and operated by an international operator, Sands Macao quickly set the benchmark for future developments in Macao.

For more information, please visit www.sandsmacao.com.
About Sands Resorts Macao – Sands China's Integrated Resort City

Sands China Ltd. is the leading developer, owner and operator of integrated resorts in Macao. The fittingly named Sands Resorts Macao, situated on reclaimed land between the islands of Coloane and Taipa, is the one destination that provides a stunning array of experiences at the heart of Cotai. Sands Resorts Macao has transformed a day-trip market into an integrated resort city and international hub for business and leisure travellers.

Pulsating with life, both night and day, Sands Resorts Macao features an expansive offering of affordable luxury available nowhere else in Macao. With the opening of The Parisian Macao, it now boasts approximately 13,000 hotel rooms and suites, international superstar live entertainment, duty free shopping with more than 850 retailers offering a huge array of name brands, meeting and exhibition space for Asia's leading conferences and exhibitions, transportation offerings and well over 150 dining options, including Michelin-starred restaurants, bars and lounges. Sands Resorts Macao is a must-go destination providing every guest with an unforgettable experience and unparalleled excitement.

Comprised of The Venetian® Macao; The Plaza™ Macao, featuring the Four Seasons Hotel Macao; and Sands® Cotai Central, including the world's largest Conrad, Sheraton, and St. Regis hotels as well as the Holiday Inn, Sands Resorts Macao is where Asia's ultimate destination is within reach. And now the crowning achievement of Sheldon G. Adelson's vision of the Cotai Strip – The Parisian Macao. For more information, please visit ParisianMacao.com.


For more information about Sands Resorts Cotai Strip Macao, please visit http://en.sandsresortsmacao.com.