Children Rehearse for THE SOUND OF MUSIC at The Venetian Macao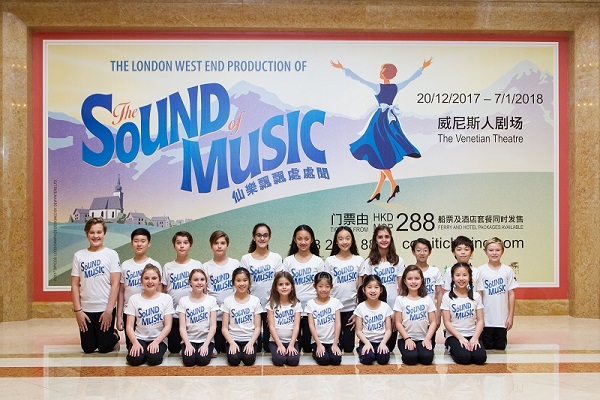 (Macao, Nov. 27, 2017) – Rehearsals were underway this weekend for THE SOUND OF MUSIC cast which included 20 children – seven from Macao and 13 from Hong Kong – who all successfully auditioned to play the roles of the Von Trapp children . The musical will play at The Venetian Theatre from Dec. 20, 2017 to Jan. 7, 2018. Tickets are now on sale at Cotai Ticketing: cotaiticketing.com.

The opportunity of a lifetime for the talented youngsters came after they were selected from around 300 children aged between 6 and 14 with a natural ability for singing, dancing and acting who were invited to the auditions.

The classic Broadway and West End musical will run for a limited season at The Venetian Theatre during the Christmas and New Year holidays, giving the gifted young performers the chance to be on stage alongside a world-acclaimed cast and crew. The successful 20 youngsters will alternate between performances of the two boys and four girls who comprise the Von Trapp children.

Promoted by Chessman Entertainment and The Venetian Macao, the critically acclaimed THE SOUND OF MUSIC tells the uplifting true story of a young Austrian governess who brings music and love into the lives of seven children and their widowed father during the outbreak of the Second World War. Its musical score includes some of the most memorable songs ever performed on the stage, including "My Favorite Things", "Do-Re-Mi", "Climb Ev'ry Mountain", "The Lonely Goatherd", "Sixteen Going on Seventeen", and wonderful title song "The Sound of Music".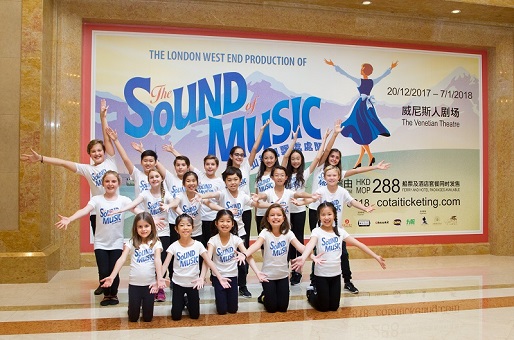 Photo caption: Rehearsals for THE SOUND OF MUSIC were held at The Venetian Theatre recently for the 20 talented Macao and Hong Kong youngsters cast as the Von Trapp children in the show.
###
Entertainment at Sands China Properties

Sands China Ltd. has as a clear vision to establish Macao as Asia's top entertainment destination.

The 15,000-seat Cotai Arena and 1,800-seat Venetian Theatre are the only venues in Asia ranked in Pollstar's Top 100 Worldwide Arena Venues and Pollstar's Top 200 Worldwide Theatre Venues based on ticket sales. It is the top entertainment destination in southern China, hosting the world and region's biggest names in music, sports and awards shows. Superstars frequently choose the venue as the starting point of their Asian tours.

The 1,800-seat, multi-purpose Venetian Theatre is one of the most luxurious entertainment venues in greater China. Featuring ushers in black tie, champagne service, gourmet food and beverage items and other unique, premium amenities, it offers an intimate, luxurious and exclusive venue experience. The Venetian Theatre is playing a key role in bringing the best in international and Chinese entertainment to Macao, with a theatre experience like no other in the region.

The 650-seat Sands Theatre regularly features internationally-renowned singers, performers and artists of the highest calibre. From traditional Chinese-costumed dance to modern performances, everything from Western rock to Cantonese pop is covered.

The 1,200-seat, purpose-built Parisian Theatre is Sands China Ltd's latest entertainment venue. The Paris-style theatre offers an elegant experience for world-class entertainment of all kinds.

The latest addition is the impressive new Sands Cotai Theatre. With 1,700 seats, this state of the art venue was purpose built by Sands China Ltd for the arrival of the highly anticipated Monkey King – China Show from the renowned Beijing Huayan Group. Eight years in the making, the stage show combines dance, acrobatics, drama, martial arts, magic, advanced 3D effects, LED screen projections, video mapping and full surround sound, together with creative lighting effects, choreography, music and spectacular costumes.

Offering world-class diversity and quality, Sands China Ltd.'s next generation of live venues is ushering in a new era of entertainment in Macao.

For information about upcoming shows and events, visit https://en.sandsresortsmacao.com/macau-shows.html and www.sandsmacao.com/entertainment.html