Powerful and Romantic Jay Chou Musical 'The Secret' Comes to The Venetian Macao, Dec. 14-16, 2018
First Chinese production of its kind was adapted from Taiwanese superstar's famous movie and created by top Broadway team
(Macao, Sept. 19, 2018) –Adapted from an original movie written and directed by Taiwanese singer and producer Jay Chou, and boasting an exceptional Broadway production line-up, THE SECRET musical will be coming to The Venetian Theatre at The Venetian Macao from Dec. 14-16, 2018. Including over 20 hits from Chou's 16-year singing career, tickets go on sale on Sept. 20, 2018 at all Cotai Ticketing box offices.

THE SECRET musical tells a time travel tale about a romance between two students, lonely girl Lu Xiaoyu, who finds a mysterious musical score called THE SECRET, and Ye Xianglun. A beautiful love story develops between the young couple, depicted in scenes of reality and fantasy, with each of Chou's songs providing an evocative musical backdrop.

The pair's growing relationship is played out alongside societal themes, with humorous dialogue and plots twists incorporating powerful scenes including a piano competition, a passionate football game and dramatic prom night.

The movie version received six nominations at the 44th Golden Horse Awards and won 'Outstanding Taiwanese Film of the Year', 'Best Original Song' for THE SECRET and 'Best Visual Effects' in 2007. It was also nominated for 'Best Asian Film' at the 27th Hong Kong Film Awards in 2008.

The musical is the first Chinese production of its kind to harness the power of pop music in a Broadway, jukebox musical format. Since its first tour of Beijing, Shanghai, Wuhan and Hangzhou in 2017, tickets were virtually sold out. In April 2018 THE SECRET became the first original Chinese Broadway musical performed overseas, with 12 shows in Singapore, where it received an enthusiastic response.

The musical was created by a top Broadway team – directed by Tony award-winning director John Rando, adapted by renowned American scriptwriter Marc Acito, choreographed by the acclaimed Zach Woodlee, set created by Tony award-winning set designer Beowulf Boritt, sound designed by Kinky Boots Tony award-winner John Shivers and produced by Tony award-winning producers Marc Routh and Simone Genatt for China Broadway Entertainment and JVR Entertainment.

Presented by Chessman Entertainment Production and Sun Entertainment Culture, THE SECRET took over two years to produce and will be performed for a limited period from Dec. 14-16, 2018 at The Venetian Theatre. Don't miss your chance to enjoy this spectacular original show!

ICBC Sands Lifestyle Mastercard cardholders can enjoy 10% discount on ticket prices as well as earn points when shopping or travelling anywhere in the world and then redeem them in Macao within Sands Resorts Macao's integrated resorts.
TICKETING DETAILS:
Event

THE SECRET

Date and Time
Dec. 14, 2018 (Fri) 8 p.m.
Dec. 15, 2018 (Sat) 2:30 p.m. & 8 p.m.
Dec. 16, 2018 (Sun) 2:30 p.m. & 8 p.m.
Venue

The Venetian Theatre, The Venetian Macao

Ticket Prices

MOP/ HKD 880 (VIP Reserve)

MOP/ HKD 680 (A Reserve)

MOP/ HKD 480 (B Reserve)

MOP/ HKD 380 (C Reserve)

TICKETING OUTLETS:
Cotai Ticketing

Online: www.cotaiticketing.com

Box offices:

Phone:

Macao: +853 2882 8818

Hong Kong: +852 6333 6660

China toll-free: 4001 206 618

Macao Kong Seng Ticketing Network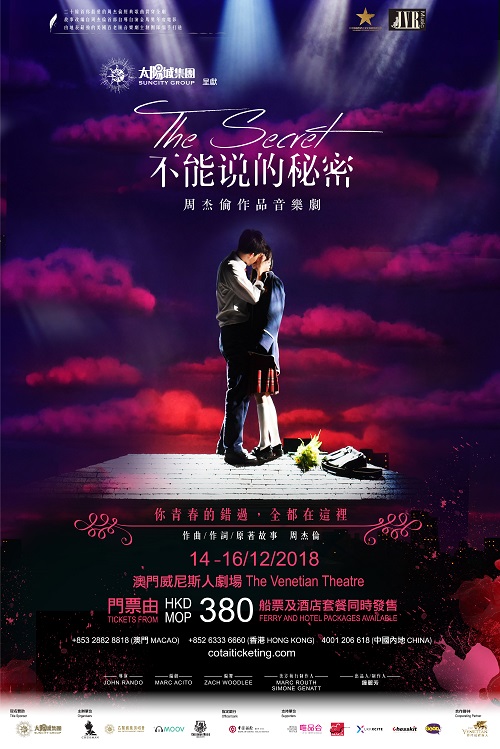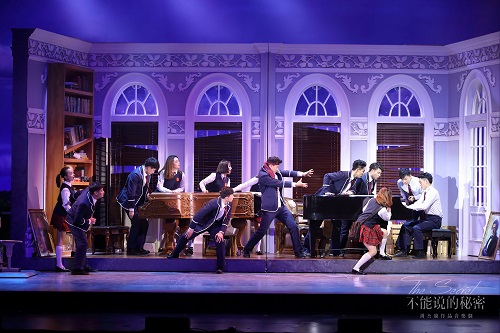 Entertainment at Sands China Properties

Sands China Ltd. has as a clear vision to establish Macao as Asia's top entertainment destination.

The 15,000-seat Cotai Arena and 1,800-seat Venetian Theatre are the only venues in Asia ranked in Pollstar's Top 100 Worldwide Arena Venues and Pollstar's Top 200 Worldwide Theatre Venues based on ticket sales. It is the top entertainment destination in southern China, hosting the world and region's biggest names in music, sports and awards shows. Superstars frequently choose the venue as the starting point of their Asian tours.

The 1,800-seat, multi-purpose Venetian Theatre is one of the most luxurious entertainment venues in greater China. Featuring ushers in black tie, champagne service, gourmet food and beverage items and other unique, premium amenities, it offers an intimate, luxurious and exclusive venue experience. The Venetian Theatre is playing a key role in bringing the best in international and Chinese entertainment to Macao, with a theatre experience like no other in the region.

The 650-seat Sands Theatre regularly features internationally-renowned singers, performers and artists of the highest calibre. From traditional Chinese-costumed dance to modern performances, everything from Western rock to Cantonese pop is covered.

The 1,200-seat, purpose-built Parisian Theatre is Sands China Ltd's latest entertainment venue. The Paris-style theatre offers an elegant experience for world-class entertainment of all kinds.

The latest addition is the impressive new Sands Cotai Theatre. With 1,700 seats, this state of the art venue was purpose built by Sands China Ltd for the arrival of the highly anticipated Monkey King – China Show from the renowned Beijing Huayan Group. Eight years in the making, the stage show combines dance, acrobatics, drama, martial arts, magic, advanced 3D effects, LED screen projections, video mapping and full surround sound, together with creative lighting effects, choreography, music and spectacular costumes.

Offering world-class diversity and quality, Sands China Ltd.'s next generation of live venues is ushering in a new era of entertainment in Macao.

For information about upcoming shows and events, visit http://en.sandsresortsmacao.com/macau-shows.html and www.sandsmacao.com/entertainment.html