EEG ALL STARS Concert in MACAO to Bring the Biggest Names in Chinese Pop to The Venetian Macao


(Macao, Aug. 30, 2018) – Emperor Entertainment Group (EEG) will bring some of its leading artists together for a sensational night of entertainment at the EEG ALL STARS Concert at Venetian® Macao's Cotai Arena on Oct. 6, 2018. Tickets go on sale today at all Cotai Ticketing box offices.

The mega concert will feature some of the most popular names in Hong Kong's vibrant music industry, with a host of great singers including Joey Yung, Hacken Lee, Leo Ku, Hins Cheung, Vincy Chan, Angela Hui, Ken Hung, Sherman Chung, Deep Ng and Adason Lo. Between them these much-loved artists have released over 100 albums and performed hundreds of concerts, winning millions of fans across Asia and the world.

A unique four-sided stage design will allow an unparalleled view of the concert from every angle, treating fans to an up close and personal experience with the stars. This spectacular cast will showcase their musical talents via an impressive catalogue of popular hits, offering a much anticipated combination of musical, visual and artistic elements.

In just 18 years, EEG has become one of the most successful players in the dynamic Asian music industry. Associated with a golden period in Cantopop history, the entertainment group has not only become a renowned record label but also a leader in concert promotion and artist management.

With countless classic hits between them, these 10 superb performers will put on an unforgettable show on Oct. 6, 2018 at the Cotai Arena, The Venetian Macao for the EEG ALL STARS Concert. It will be a night that promises sublime music, tremendous performances and amazing entertainment.

ICBC Sands Lifestyle Mastercard cardholders can enjoy 15% discount on ticket prices as well as earn points when shopping or travelling anywhere in the world and then redeem them in Macao within Sands Resorts Macao's integrated resorts.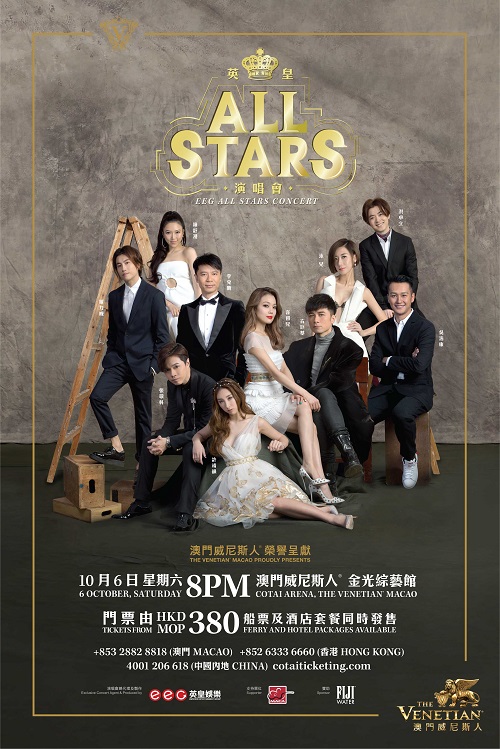 Photo caption: Emperor Entertainment Group's biggest stars will offer a night of amazing music, great performances and superb entertainment at The Venetian Macao's Cotai Arena on Oct. 6, 2018.
Entertainment at Sands China Properties

Sands China Ltd. has as a clear vision to establish Macao as Asia's top entertainment destination.

The 15,000-seat Cotai Arena and 1,800-seat Venetian Theatre are the only venues in Asia ranked in Pollstar's Top 100 Worldwide Arena Venues and Pollstar's Top 200 Worldwide Theatre Venues based on ticket sales. It is the top entertainment destination in southern China, hosting the world and region's biggest names in music, sports and awards shows. Superstars frequently choose the venue as the starting point of their Asian tours.

The 1,800-seat, multi-purpose Venetian Theatre is one of the most luxurious entertainment venues in greater China. Featuring ushers in black tie, champagne service, gourmet food and beverage items and other unique, premium amenities, it offers an intimate, luxurious and exclusive venue experience. The Venetian Theatre is playing a key role in bringing the best in international and Chinese entertainment to Macao, with a theatre experience like no other in the region.

The 650-seat Sands Theatre regularly features internationally-renowned singers, performers and artists of the highest calibre. From traditional Chinese-costumed dance to modern performances, everything from Western rock to Cantonese pop is covered.

The 1,200-seat, purpose-built Parisian Theatre is Sands China Ltd's latest entertainment venue. The Paris-style theatre offers an elegant experience for world-class entertainment of all kinds.

The latest addition is the impressive new Sands Cotai Theatre. With 1,700 seats, this state of the art venue was purpose built by Sands China Ltd for the arrival of the highly anticipated Monkey King – China Show from the renowned Beijing Huayan Group. Eight years in the making, the stage show combines dance, acrobatics, drama, martial arts, magic, advanced 3D effects, LED screen projections, video mapping and full surround sound, together with creative lighting effects, choreography, music and spectacular costumes.

Offering world-class diversity and quality, Sands China Ltd.'s next generation of live venues is ushering in a new era of entertainment in Macao.

For information about upcoming shows and events, visit http://en.sandsresortsmacao.com/macau-shows.html and www.sandsmacao.com/entertainment.html