Third Cohort of Local SME Suppliers Graduate from Sands Procurement Academy


(Macao, July 19, 2018) – The third cohort of local SME suppliers to graduate from the Sands Procurement Academy were honoured at a ceremony Thursday at The Venetian® Macao's Adelson Advanced Education Centre. The Academy's training programme has been co-organised with the Macao Chamber of Commerce and the Macau Productivity and Technology Centre (CPTTM) since last year.

Launched in April 2017, the Sands Procurement Academy is an initiative of Sands China's F.I.T. programme for local Macao SME suppliers. Comprised of three pillars – Financial Support, Invitational Matching, and Training and Development – F.I.T. is part of Sands China's Local Small, Medium and Micro Suppliers Support Programme. Targeting both existing and new local Sands China suppliers, these programmes aim to continue increasing local SMEs' procurement opportunities with Sands China.

The Sands Procurement Academy is specifically geared toward four types of local SME suppliers: small- and medium-sized enterprises (SMEs), micro-enterprises, Macao young entrepreneurs, and "Made-in-Macao" enterprises. The academy's tailor-made practical training modules help develop suppliers by sharing business knowledge and skills, letting them gain experience and capacity for working with large-scale international customers like Sands China.

Feedback from participating suppliers has been very positive, as the programme is the first of its kind in the industry, and is focused on practical knowledge.

For the first time, this latest round of training added a continuous improvement workshop on the eight disciplines (8D) model of problem solving, led by a CPTTM lecturer, bringing the total number of modules to seven.

This latest round of training attracted 27 local SMEs, in which 25 of them successfully completed their training began in June, going through a weekly schedule of seven training modules. Suppliers who graduate from the programme – now numbering 85 – are given preferential procurement under otherwise equal circumstances.

The academy's coursework is facilitated by lecturers with various areas of expertise, and covers seven topics: effective warehouse operations, quality assurance, logistics management, procurement process and system overview, procurement contracts, supplier code of conduct, and 8D problem solving.

"With each new class of graduates, Sands China is pleased to see positive results continuing to come from this programme," said Charlie Cai, vice president of procurement and supply chain for Venetian Macau Limited. "As local SME suppliers bolster their enterprises, they are able to reap the rewards of becoming more competitive in the market. And integrated resort operators like Sands China benefit from being able to do more business with local enterprises."

Thursday's event was attended by Shuen Ka Hung, director-general of CPTTM; Chui Yuk Lam, vice president of the board of directors of the Macao Chamber of Commerce; Choi Tat Meng, chief of the liaison department of the Macao Chamber of Commerce; Hongyan Wen, senior vice president of human resources for Sands China Ltd.; Charlie Cai; and Winnie Wong, vice president of corporate communications and community affairs for Venetian Macau Limited.

Sands China's Local Small, Medium and Micro Suppliers Support Programme is in line with the Macao government's initiative to "buy local" and demonstrates Sands China's commitment to supporting local enterprises as part of the company's corporate social responsibility efforts. It is part of Sands China's supplier relationship management strategy, which guides the company's long-standing effort to support local suppliers, whom it views as its strategic partners.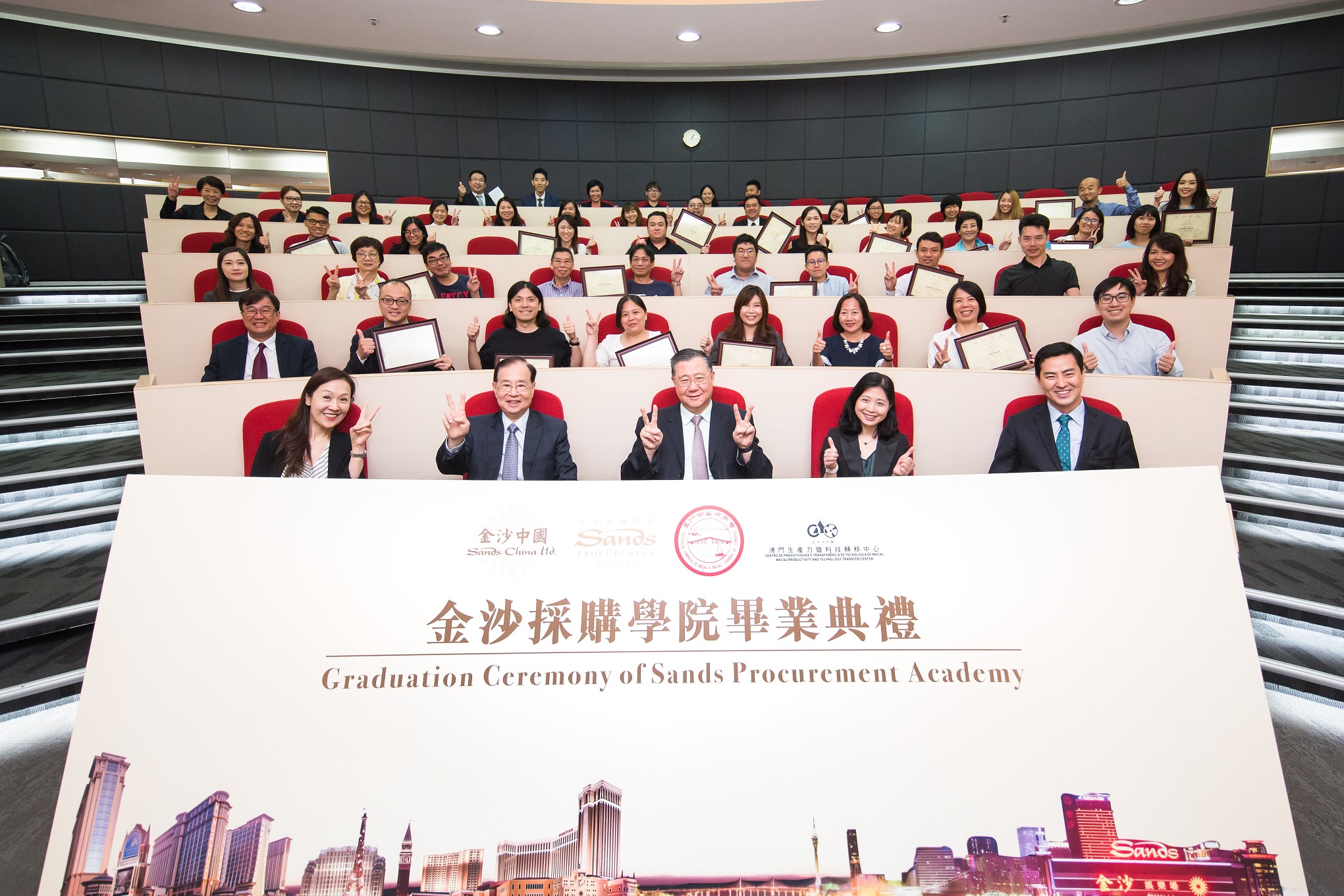 Photo caption: Guests of honour, Sands China executives and graduating local suppliers attend a graduation ceremony
for the Sands Procurement Academy Thursday at the Adelson Advanced Education Centre at The Venetian Macao.
About Sands China Ltd.


Sands China Ltd. (HKEx: 1928, Sands China or the Company) is a Cayman Islands registered company and is listed on The Stock Exchange of Hong Kong Limited. Sands China is the largest operator of integrated resorts in Macao. The Company's Cotai Strip portfolio is comprised of The Venetian® Macao, The Plaza® Macao, Sands® Cotai Central and The Parisian Macao. The Company also owns and operates Sands® Macao on the Macao peninsula. The Company's integrated resorts contain a diversified mix of leisure and business attractions and transportation operations, including large meeting and convention facilities; a wide range of restaurants; shopping malls; world-class entertainment at the Cotai Arena, The Venetian Theatre, The Parisian Theatre and the Sands Cotai Theatre; and a high-speed Cotai Water Jet ferry service between Hong Kong and Macao. The Company's Cotai Strip portfolio has the goal of contributing to Macao's transformation into a world centre of tourism and leisure. Sands China is a subsidiary of global resort developer Las Vegas Sands Corp. (NYSE: LVS).

For more information, please visit www.sandschina.com.