The Londoner Macao Phase 4 Adds Further 100,000 Square Feet of Retail Space


(Macao, June 28, 2018) – Sands® Cotai Central has announced the official opening of its Phase 4 development, adding almost 100,000 square feet of retail space and more than 25 stores, including labels new to Macao, and an Apple Store.

Several exciting restaurants will be opening later this year such as Chiado, a modern yet authentic Portuguese concept developed in partnership with celebrity chef Henrique Sá Pessoa, and Crystal Jade La Mian Xiao Long Bao, which brings a contemporary twist to classic Beijing, Szechuan and Shanghai cuisine.

Another significant addition is the opening of the Apple Cotai Central.

The new phase also includes several brands new to Macao, Calvin Klein Performance and Razzle. Other stores to open are MLB, Esprit, Guess, Watson's, Noble Mart, Levi's, Florsheim, Timberland, The North Face, Boy London, Zaxy and Bauhaus.

David Sylvester, Executive Vice President of Global Retail, Las Vegas Sands Corp., commented: "I am pleased to further expand our retail offering at Shoppes at Londoner. The addition of these new stores, especially the introduction of an iconic Apple Store, continues to ensure we provide our customers with more new-to-market brands, more choice and more amazing experiences."

The Londoner Macao, which celebrated its 6th anniversary in April, has been the focal point of a wide range of products, offerings and experiences on the Cotai Strip, with access to affordable family and luxury hotels including The St. Regis, Cotai Strip; Conrad® Macao, Cotai Central; Sheraton Grand Macao, Cotai Strip; and Holiday Inn® Macao Cotai Central since it opened in April 2012. The integrated resort also offers international live entertainment, luxury duty free shopping, character events, meeting space, and world-class cuisine.

Earlier this year Sands China Ltd. announced exciting new plans to transform The Londoner Macao into The Londoner Macao, which will feature dynamic new attractions including some of London's most recognisable landmarks.

For more information about The Londoner Macao, please go to: www.sandscotaicentral.com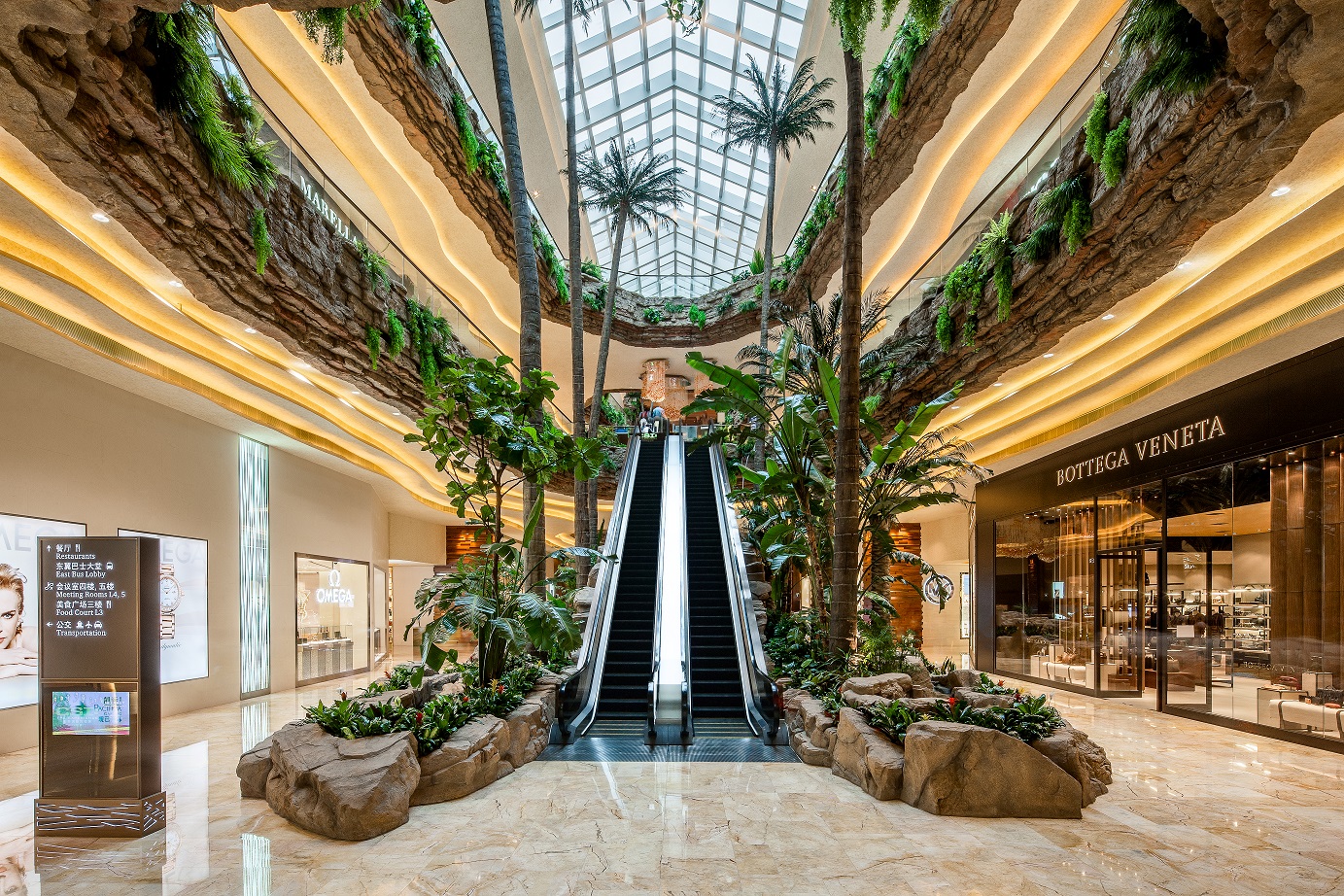 Photo caption: The Londoner Macao has opened its Phase 4 development, adding around 100,000 square feet of retail space and more than 25 stores.

###
About Sands® Cotai Central


Opened in April 2012, Sands® Cotai Central is the pathway to adventure, fun and fortune at the centre point of the Cotai Strip. Featuring four celebrated hotel brands – St. Regis, Conrad, Sheraton, and Holiday Inn – The Londoner Macao offers visitors to Cotai an expanded offering of affordable luxury available nowhere else in Macao, with nearly 6,300 hotel rooms and suites, and 1.3 million square feet (120,000 square metres) of retail, entertainment and dining facilities, and meetings and convention space. With over 180 retail outlets, Shoppes at Londoner joins Shoppes at Venetian and Shoppes at Four Seasons to offer a selection of more than 680 luxury duty-free stores – the most in any one single location in all of Macao. And with two spas, three health clubs and 370,000 square feet (34,300 square metres) of gaming space in two, uniquely themed gaming areas, The Londoner Macao provides a new level of luxury and accessibility to Cotai.
For more information, please visit www.sandscotaicentral.com.
About Shoppes at Londoner


With over 200 boutiques, Shoppes at Londoner provides a unique, refreshing ambiance featuring abundant sunlight, rocky cliff faces and a three-storey cascading waterfall to create a one-of-a-kind shopping experience. The 620,000 square feet (57,600 square metres) of premium retail space caters to a broad spectrum of consumers who want to truly have a family experience.

Parents and children of all ages can experience together Macao's first-ever player-centric Live Action Role Playing theme park ¬¬– Planet J. Covering an extensive area of 100,000 square feet, with eight exquisite featured zones and over 200 whimsical game installations, Planet J is dedicated to become an interactive game platform overturning traditional theme park experiences.

Shoppes at Londoner is interconnected with Shoppes at Four Seasons, Shoppes at Venetian, the 300,000 square foot Shoppes at Parisian, offering the latest in creative fashion and couture in a setting reminiscent of the streets of Paris, and now adds Shoppes at Sands Macao, providing visitors with over 850 duty free retail choices.

For more information, please visit www.sandscotaicentral.com/shopping.html