Sands Resorts Macao Extends 'Meetings Beyond Imagination' Offer Until Dec. 31, 2018


(Macao, June 5, 2018) – Sands Resorts Macao's popular meetings offer, Meetings Beyond Imagination has been extended to Dec. 31, 2018. Book an event at any Sands Resorts Macao hotel and enjoy a selection of special incentives that will enhance meetings with a wide range of entertainment and leisure activities available only at the leading integrated resort.

Meeting organisers are able to book from now until December 31, 2018, for events until December 20, 2019, Meetings Beyond Imagination allows event professionals and conference organisers to enjoy Sands Resorts Macao's exceptional flexibility and comprehensive one-stop event services and facilities, featuring an array of value-added benefits.

The recently launched IL Prato, a spacious outdoor event lawn adjacent to The Venetian Macao and The Parisian Macao, is able to accommodate up to 5,000 delegates for cocktail style events and creative outdoor team activities. Clients who book a Meetings Beyond Imagination package can enjoy a series of discounted team building activities, including yoga, tai chi and boot camp at the beautiful space.

With a superb range of facilities, entertainment and dining options, event planners should look no further than Sands Resorts Macao as the ideal meetings and events destination. Call +853 2882 8800, visit Meetings.SandsResortsMacao.com or email sales@sands.com.mo to discuss your event and conference needs at Sands Resorts Macao.

Book more and get more:
Book 25-50 rooms daily, enjoy 1 special offer and 1 entertainment or leisure activity offer
Book 51-100 rooms on peak, enjoy 2 special offers and 2 entertainment or leisure activity offers
Book 101-150 rooms on peak, enjoy 3 special offers and 3 entertainment or leisure activity offers
Book 151 rooms or more on peak, enjoy 4 special offers and 4 entertainment or leisure activity offers

Meetings Beyond Imagination special discounts
• 5% discount on your master bill: During your entire stay at Sands Resorts Macao, you will enjoy a five percent discount on your master bill, which includes hotel rooms, banquet food and
beverage, meeting packages and function room rental
• Complimentary room: Guests can enjoy complimentary rooms (one per 25 rooms booked).
• Complimentary room upgrades: One per 25 rooms booked.
• 50% discount on Cotai Water Jet ferry tickets (subject to availability and based on a maximum two tickets per in-house guest)

Entertainment & leisure activities
• Up to 50% off in-house entertainment performances* (can select more than one performance option)
• 15% off cocktail receptions at specified venues
• 50% off Gondola Rides and Eiffel Tower Experience
• 50% off Monkey King show tickets and outsourced performances
• Special offer on wellness activities at selected venue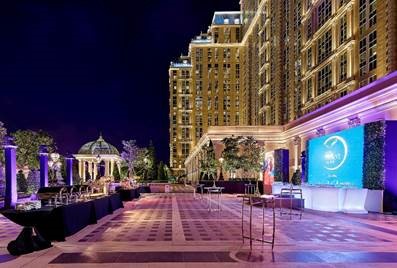 Photo Caption: Conference organisers and event planners can take advantage of Sands Resorts Macao's
Meetings Beyond Imagination meetings offer, which has been extended to Dec. 31, 2018.

###
About Sands Resorts Macao – Sands China's Integrated Resort City


Sands China Ltd. is the leading developer, owner and operator of integrated resorts in Macao. The fittingly named Sands Resorts Macao, situated on reclaimed land between the islands of Coloane and Taipa, is the one destination that provides a stunning array of experiences at the heart of Cotai. Sands Resorts Macao has transformed a day-trip market into an integrated resort city and international hub for business and leisure travellers.

Pulsating with life, both night and day, Sands Resorts Macao features an expansive offering of affordable luxury available nowhere else in Macao. With the opening of The Parisian Macao, it now boasts approximately 13,000 hotel rooms and suites, international superstar live entertainment, duty free shopping with more than 850 retailers offering a huge array of name brands, meeting and exhibition space for Asia's leading conferences and exhibitions, transportation offerings and well over 150 dining options, including Michelin-starred restaurants, bars and lounges. Sands Resorts Macao is a must-go destination providing every guest with an unforgettable experience and unparalleled excitement.

Comprised of The Venetian® Macao; The Plaza™ Macao, featuring the Four Seasons Hotel Macao; and Sands® Cotai Central, including the world's largest Conrad, Sheraton, and St. Regis hotels as well as the Holiday Inn, Sands Resorts Macao is where Asia's ultimate destination is within reach. And now the crowning achievement of Sheldon G. Adelson's vision of the Cotai Strip – The Parisian Macao. For more information, please visit ParisianMacao.com.

For more information, please visit http://en.sandsresortsmacao.com.