Sands Macao Launches Special Anniversary Abalone Promotion


(Macao, May 11, 2018) – To celebrate the anniversary of Sands Macao guests will be able to enjoy a special abalone menu available at five restaurants - Copa Steakhouse, Golden Court, 888 Food Court, 888 Buffet and Moonlight. Fans of the seafood delicacy, highly prized for its rich, flavourful meat, will be able to enjoy a range of dishes starting from just MOP 28 through until May. 31.

Copa Steakhouse, regularly rated as one of Hong Kong and Macao's finest steak restaurants, is offering fresh abalone and Alaskan crabmeat salad with caviar and truffle dressing at MOP 198, while Golden Court, a contemporary fine dining Cantonese restaurant featuring exceptional seafood will present braised abalone and fish maw with supreme oyster at MOP 288.

With a huge selection of international cuisines including fresh seafood, 888 Buffet is highlighting sake-marinated fresh abalone at just MOP 28, while 888 Food Court has created a delicious baked abalone with sea urchin butter at MOP 98. Finally, Moonlight Noodle House is offering abalone egg noodles with chili sauce at MOP 138.

Take this opportunity to experience fine seafood treats at special celebratory low prices.

With Macao named as a UNESCO Creative City of Gastronomy in late 2017, there has never been a better time to explore Sands Macao's award-winning array of great dining options.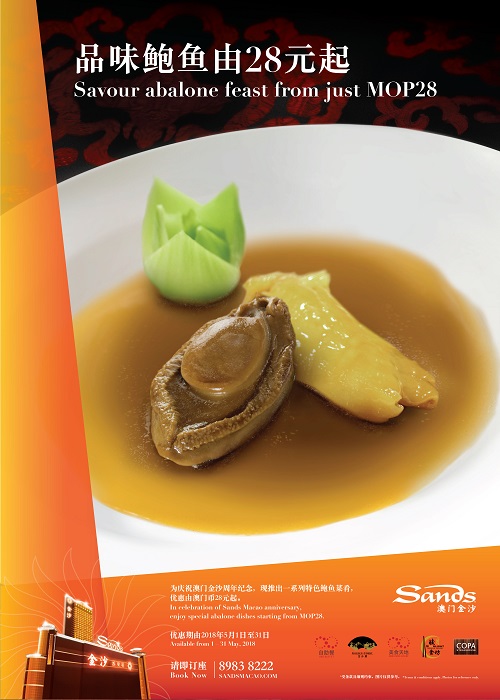 Photo Caption: Sands Macao is launching a delicious abalone promotion at its Copa Steakhouse, Golden Court,
888 Food Court, 888 Buffet and Moonlight restaurants from now on until May 31, 2018 to mark its anniversary.

###
About Sands® Macao


Opened in 2004, Sands® Macao is a world class hotel and entertainment complex with 289 luxury suites. Its stunning gold glass exterior houses a wide range of diversions including specialty restaurants, a heated outdoor swimming pool, deluxe spa and salon, conference and banquet facilities and unrivalled gaming excitement and live entertainment. It is also home to the Paiza Club: an invitation-only international VIP club with 51 premium suites with size, opulence and grandeur that rivals the best the world has to offer.

As the first hotel and entertainment complex in Macao owned and operated by an international operator, Sands Macao quickly set the benchmark for future developments in Macao.

For more information, please visit https://www.sandsmacao.com.

Sands Dining Sensations


Bringing the world to your plate – one dish at a time, Sands Dining Sensations highlights the diversity, quality, ingredients, chefs, creativity and ambience at Sands Resorts Macao's more than 150 restaurants. Offering a world of diverse cuisine prepared by some of the most innovative and skilled chefs, Sands Resorts Macao presents unique dining experiences at each of its distinctive restaurants and outlets. From authentic Chinese delicacies to Macanese favourites and global cuisine from France, Italy, Japan, India, Southeast Asia and more, there's something special for every palate. For more information, please visit https://en.sandsresortsmacao.com/restaurants.html.