Conrad Macao Celebrates Earth Hour 2018 by turning off its external façade lights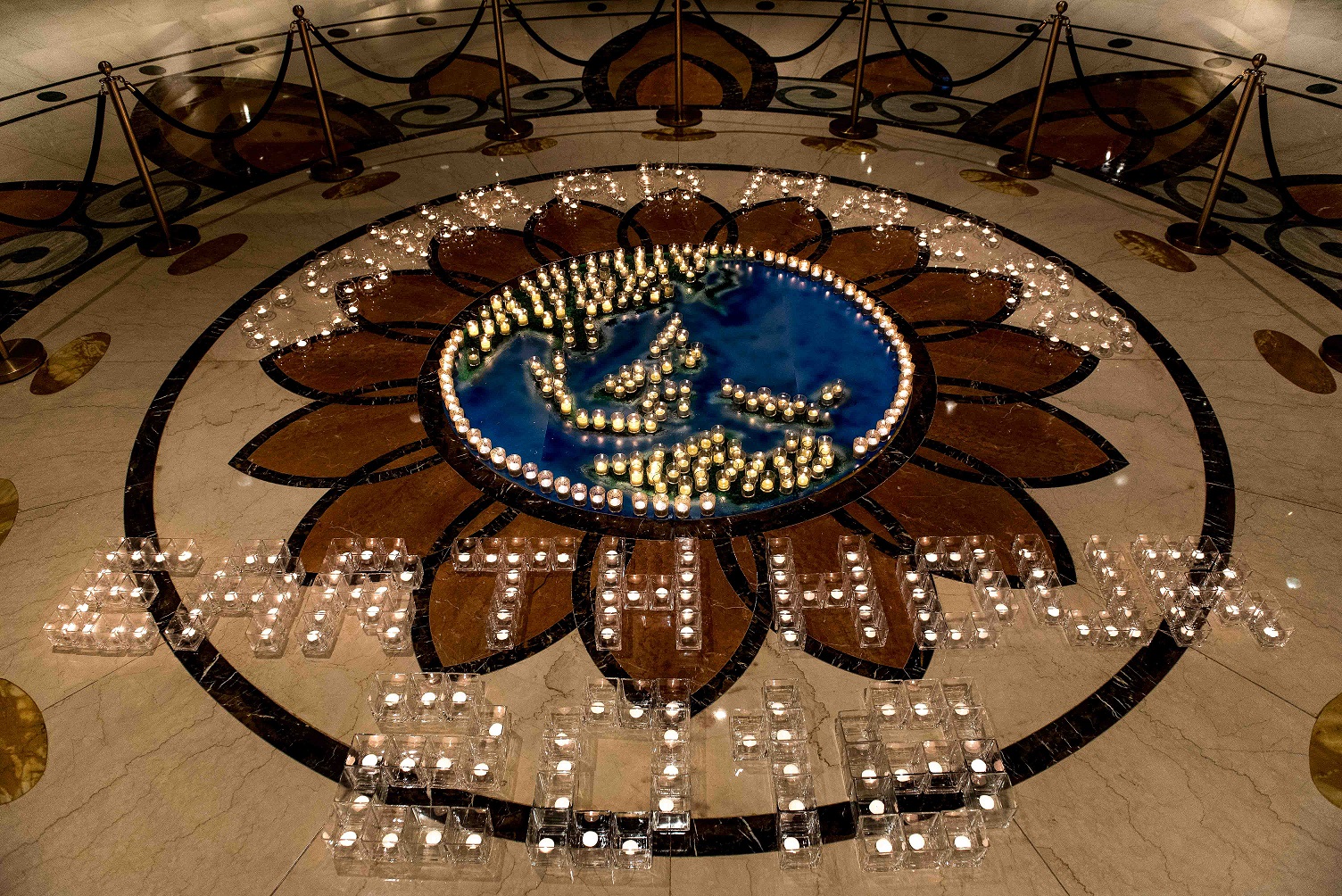 MACAO –March 26, 2018 - Conrad Macao Cotai Strip celebrated Earth Hour 2018 from 8:30 p.m. – 9:30 p.m. local time on Saturday, March 24. The hotel is taking action locally to engage in sustainability efforts – from water stewardship and energy conservation to reducing waste and community projects.

In support of action on global climate change the hotel turned off its external façade lights and dimmed all non-essential lighting in its restaurants and lounges, including its crystal chandelier lobby centrepiece. In its place was a spectacular display made up of 313 white tea candles, 180 green tea candles and 50 blue tea candles to form the shape of the Earth, illuminating the lobby and spelling out 'Conrad Macao Earth Hour 2018' to demonstrate the hotel's commitment to Earth Hour, Every Month.

The display's 180 green candles represent the 180 countries which pledged to recognise Earth Hour, while the 50 blue candles indicate other territories which also committed to switch off lights during the celebration.

Created by World Wildlife Fund (WWF), Earth Hour began in 2007 as a way for individuals and businesses to show how simple steps can have a significant impact on addressing climate change. The idea was conceived during a WWF meeting held at the Hilton Sydney, Australia. Earth Hour has grown to become the world's largest grassroots movement for the environment, with more than 180 countries and territories worldwide participating.

"Conrad Macao has been working with WWF for the past five years and is again proud to join this meaningful worldwide endeavor to support environmental awareness for the sixth year. Supporting Earth Hour is one of the ways we show our commitment to energy conservation while delivering great guest experiences," said Bede Barry, General Manager of Conrad Macao.

"We have been diligent in launching our various green initiatives since we opened in April 2012 and have taken the initiative to make this a biweekly exercise and not just an annual event. As part of its commitment to preserve the environment, and its green resolution to observe 'Earth Hour, Every Month', Conrad Macao switches off all non-essential lighting on the first and third Tuesday of each month."

The extended Earth Hour participation began in 2013 when Conrad Macao posed a friendly challenge for other hotels in Macao to join its monthly lights-out as part of Earth Hour's global 'I Will If You Will' campaign.

In addition Conrad Macao actively practices green initiatives on a daily basis, and has replaced more than 25,000 light bulbs with LED/energy efficient ones, resulting in savings of over one million KWH. Other energy initiatives include implementing operational efficiency improvements to the hotel's central chilled water plant, resulting in annualised energy reductions of more than 2.8 million KWH.

Hilton views responsible travel and tourism as integral to its business, which is why preserving the environment is a cornerstone of Travel with Purpose, the company's corporate responsibility strategy to create shared value for Hilton team members, guests, business partners and communities. Hilton's commitment to the environment is embedded across the business and supported by LightStay: an award-winning, global corporate responsibility performance measurement platform. LightStay was developed and implemented by Hilton to provide a one-stop solution for reporting environmental, operational and social impacts. To learn more about Hilton's commitment to preserving the environment, visit cr.hilton.com.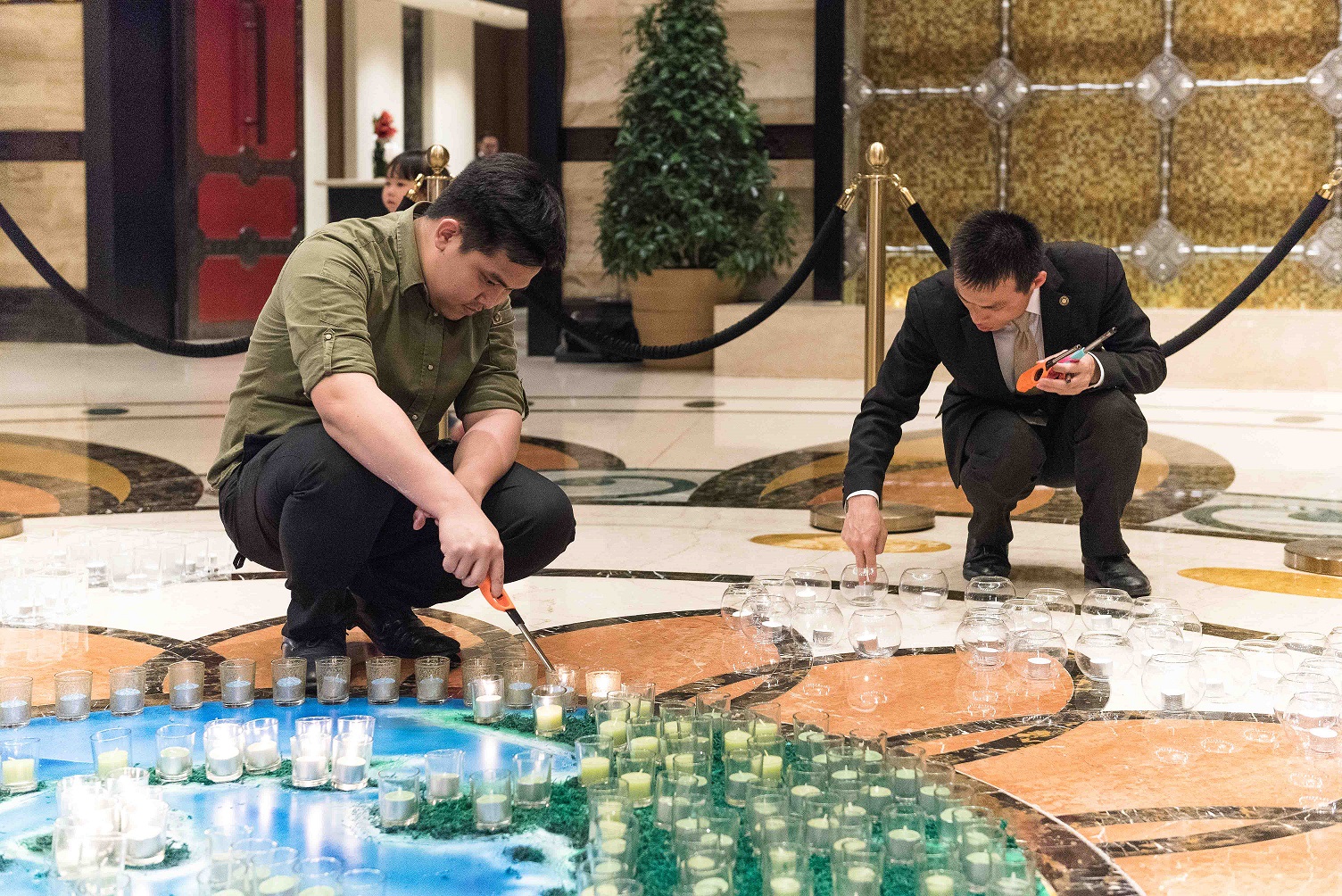 Photo caption: Conrad Macao celebrated Earth Hour 2018 with 543 candles illuminating its hotel lobby.
About Conrad Macao Cotai Strip


Conrad Macao Cotai Strip is a world-class, contemporary, stylish hotel located at The Londoner Macao, offering stylish guestrooms and suites in a 40-floor tower overlooking the Cotai Strip. Just a five-minute drive from Macau International Airport, Conrad Macao offers easy access to all parts of Macao with limousine service, plus the added convenience of complimentary shuttle buses. Conrad Macao is also connected conveniently to ferry terminals and border crossing points within a few minutes of the hotel. Take advantage of our authentic connections to Macao's cultural and heritage areas or stay entertained with direct access to restaurants and over 150 luxury brand shops at Shoppes at Londoner or relax at the Pool Deck or Health Club and Bodhi Spa. Conrad Macao Cotai Strip is the place to be in Macao to make your journey more inspired. For more information, please explore www.conradmacao.com.
About Conrad Hotels & Resorts


Conrad Hotels & Resorts is the destination for the new generation of smart luxury travelers for whom life, business, and pleasure seamlessly intersect. Conrad offers its guests an innovative way to Stay Inspired through a curated collection of 1, 3, or 5 hour experiences, available through www.StayInspired.com or through the intuitive digital Conrad Concierge app. Consisting of 26 properties across five continents, Conrad is part of Hilton Worldwide, a leading global hospitality company. Learn more about the brand by visiting http://news.conradhotels.com or follow us on Facebook, Instagram and Twitter.
About Hilton


Hilton (NYSE: HLT) is a leading global hospitality company, with a portfolio of 14 world-class brands comprising more than 4,900 properties with over 800,000 rooms in 104 countries and territories. Hilton is dedicated to fulfilling its mission to be the world's most hospitable company by delivering exceptional experiences – every hotel, every guest, every time. The company's portfolio includes Hilton Hotels & Resorts, Waldorf Astoria Hotels & Resorts, Conrad Hotels & Resorts, Canopy by Hilton, Curio - A Collection by Hilton, DoubleTree by Hilton, Tapestry Collection by Hilton, Embassy Suites by Hilton, Hilton Garden Inn, Hampton by Hilton, Tru by Hilton, Homewood Suites by Hilton, Home2 Suites by Hilton and Hilton Grand Vacations. The company also manages an award-winning customer loyalty program, Hilton Honors. Hilton Honors members who book directly through preferred Hilton channels have access to benefits, including a flexible payment slider that allows members to choose exactly how many Points to combine with money, an exclusive member.