BRUNO MARS 24K MAGIC WORLD TOUR IN MACAO 2018 SECOND SHOW ANNOUNCED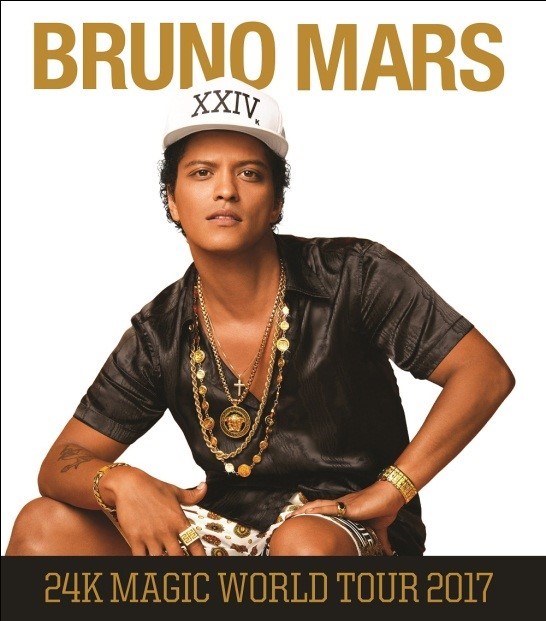 (26 February 2018, Macao) – Due to overwhelming demand, Live Nation Lushington and The Venetian® Macao are thrilled to announce a second show for Bruno Mars 24K Magic World Tour in Macao 2018 on 27 April 2018 at Cotai Arena, in addition to the already sold out concert on 28 April 2018.

Fresh from the 60th Grammy Awards, where Mars swept all seven of the categories he was nominated in, including the night's most prestigious awards, Album of the Year for "24K Magic", Record of the Year for "24K Magic" and Song of the Year for "That's What I Like".

The 24K Magic World Tour celebrates Mars' latest Grammy-winning and chart-topping album, "24K Magic" (http://smarturl.it/24kmagic). The album produced three Top 5 Billboard Hot 100 singles, including the No. 1 hit "That's What I Like", "24K Magic", and the latest smash collaboration with Cardi B, "Finesse".

Tickets from MOP/HKD688 will be available via Cotai Ticketing on 1 March 2018 (Thursday) starting 10am. Ferry and hotel packages are also available at the same time. For more details, please visit www.cotaiticketing.com
ABOUT THE ARTIST
Eleven-time GRAMMY Award winner and 27-time GRAMMY Award nominee Bruno Mars is a celebrated singer, songwriter, producer and musician who has sold nearly 200 million singles worldwide, making him one of the best-selling artists of all time. His critically acclaimed and RIAA certified double-platinum album "24K Magic" recently took home the GRAMMY award for Album of the Year and marked his highest first week sales debut, remaining in the Top 10 on the Billboard 200 for an impressive 44 consecutive weeks. The hit lead single "24K Magic" is certified four times Platinum by the RIAA and received Record of the Year at the 60th Annual GRAMMY Awards. Mars' six-time platinum certified single "That's What I Like" recently took home three GRAMMY Awards including Song of the Year, Best R&B Performance, and Best R&B Song. The hit single also climbed to No. 1 on the Billboard Hot 100, marking Mars' seventh Hot 100 chart-topper and his first No. 1 on the Hot R&B Songs chart, where it remained at the top spot for 19 consecutive weeks. His latest smash collab with Cardi B, "Finesse," has recently skyrocketed to #3 on the Billboard Hot 100. The track surged up the chart from its #35 debut, and follows Michael Jackson's "Black or White" as the second #35 to #3 jump in the Hot 100's history.

Additionally, Mars is now the first male and third act overall to have at least three top 5 Hot 100 hits from each of his first three albums, following only Mariah Carey and Beyoncé. He is also the first artist to have two songs spend 24 or more weeks in the Hot 100's Top 5 ("That's What I Like" and "Uptown Funk").

With seven Hot 100 No. 1s, Mars is ranked No. 1 among male artists with the most Hot 100 No. 1s for this decade, extending his lead over Justin Bieber, Drake, Eminem, and The Weeknd. Mars has been traveling the globe on his massive 24K Magic World Tour, which sold more than one million tickets in a single day. In 2015, Bruno dominated music charts with the hit single "Uptown Funk", which took home three GRAMMY Awards, including Record of the Year.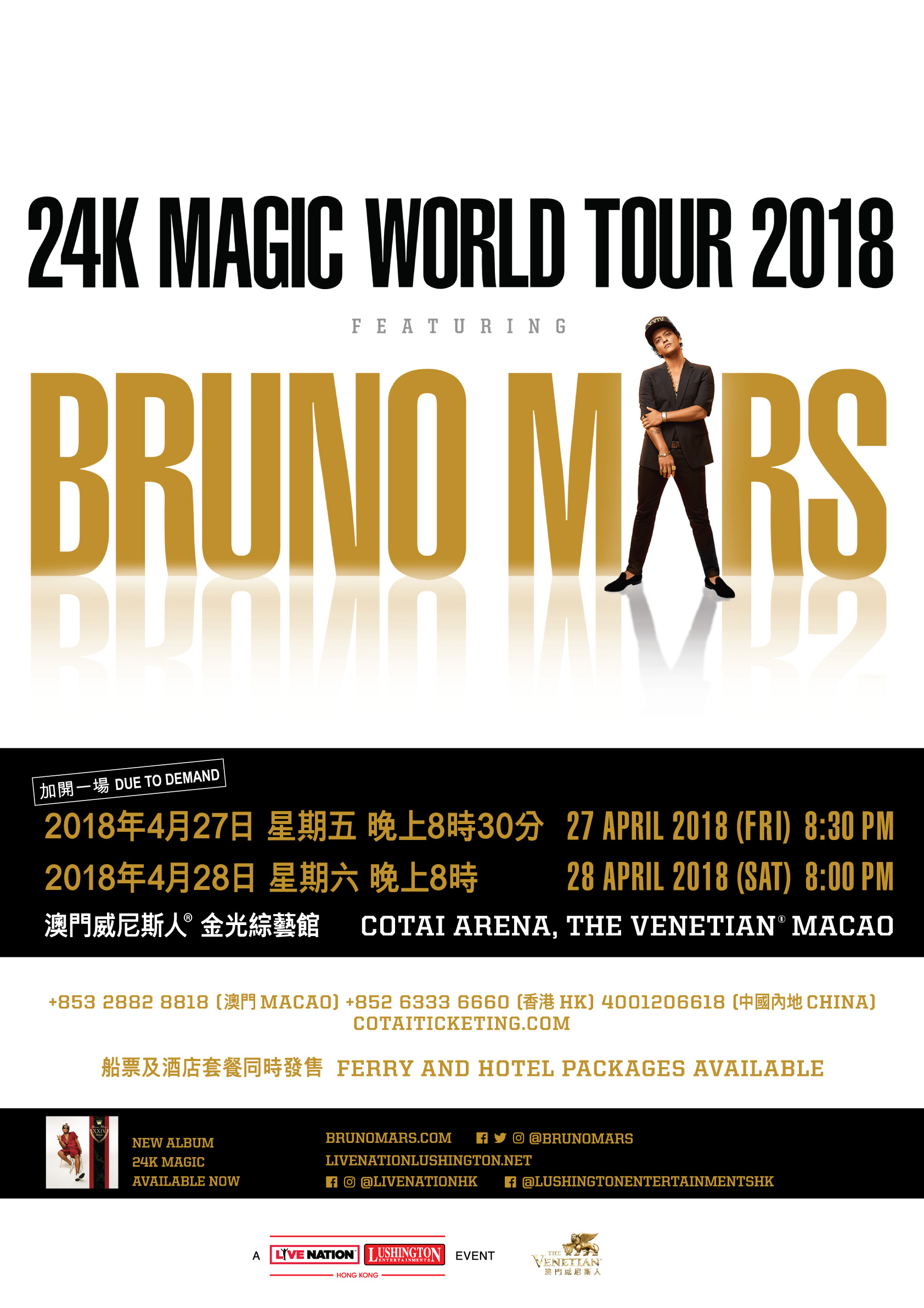 BRUNO MARS 24K MAGIC WORLD TOUR IN MACAO 2018


Date & Time 27 April 2018 (Friday) 8:30pm
28 April 2018 (Saturday) 8:00pm *Sold-out

Venue Cotai Arena, The Venetian Macao

Ticket prices VIP seated – MOP/HKD2888*
*Includes pre-show cocktail & one gift
Seated – MOP/HKD1988/ 1488/ 988/ 688
Standing – MOP/HKD1588/1088

Ferry package Add MOP/HKD 108 to ticket price for a round-trip Cotai Water Jet ferry ticket between Hong Kong and Macao

Public on sale 1 March 2018 (Thursday) 10am

Bookings www.cotaiticketing.com , www.macaoticket.com

Promoters Live Nation Lushington (HK) and The Venetian Macao

Enquiries (852) 2989 9239