Enjoy Yourself in Parisian Macao
---

The beginning of April is a great time to go on vacation: the spring rains have subsided and the summer heat has not yet arrived. In this perfect weather, let's grab our bags, bring along a loved one, and take a trip to Macau!
Macau is shopper's heaven and is also a great place to relax and relieve stress. I decided that during this trip, I was going to fully take advantage of Macau's slower paced lifestyle and take a satisfying, refreshing vacation. I mean, I am paying money for this, so I should try to get my money's worth, right? I chose to stay at the Parisian Macao, which had a really great promotion when I booked (I'll talk about this later).

Before you come to Macau, you should know the following things:
Mobile Internet
If you want to just use your phone as a camera, you can buy a mobile internet card for around RMB30-100. I usually would buy one near the border gate at Gongbei. Later, a friend told me that if you use China Mobile, you can buy Macau phone service using Taobao and Alipay. I found this much more convenient (if you use China Mobile).
Also, most of the resorts in Macau provide free WiFi service. During my trip, whenever I was in or around Sands China resorts (the Parisian Macao is one of them), then I would connect to the WiFi network "sands resorts". The internet seemed reliable and fast.
Weather and Clothing
The temperate in April was around 23° Celsius. Even though it wasn't very hot, it could still be very sunny, so if you are sensitive to the sun, I suggest carrying around a parasol. As for clothing, a t-shirt and jeans was enough to be comfortable most days (girls can wear skirts). I suggest bringing a light jacket, since the air conditioning in some of the resorts can be rather cold.
Booking a Hotel
When I booked my room, there was a special promotion on the Parisian website that let guest add on a buffet, ferry ticket, Eiffel tower ticket, or gondola ride ticket for only an additional HKD$5. When I was planning my trip, I had wanted to go visit the Parisian, and this offer convinced me to book a room there.

Since I live in Guangzhou, I decided to take the express train to Gongbei. Within an hour, I had arrived, and proceeded to cross the border. Once I was across, I found a bright pink shuttle bus waiting there ready to take me to my hotel.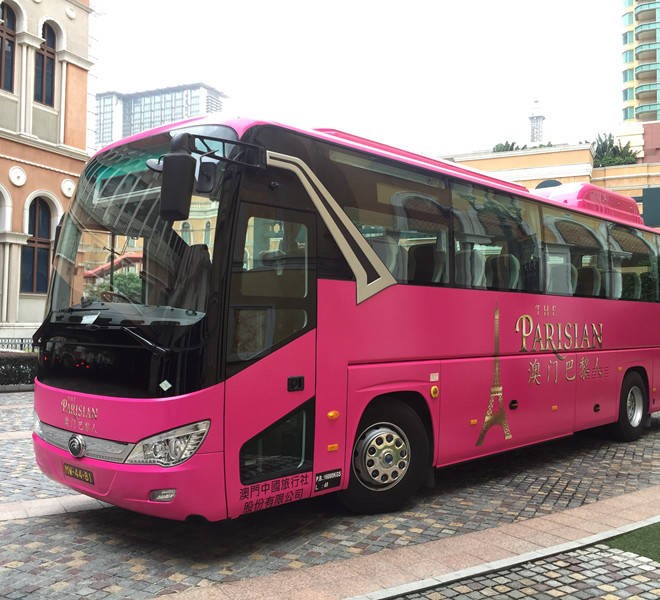 ---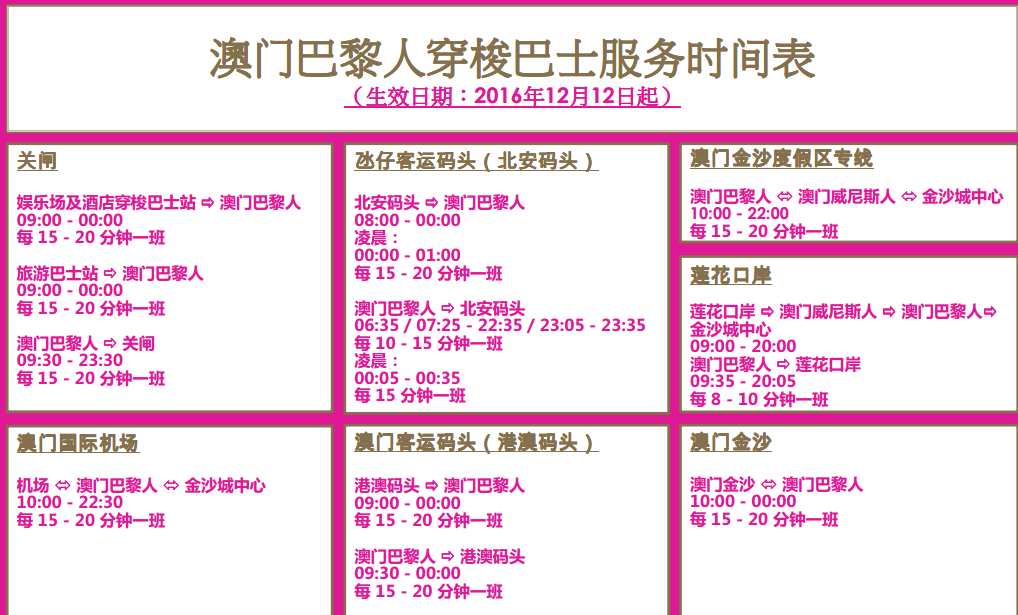 ---
I arrived before my check-in time, so I stored my luggage and started looking around the resort.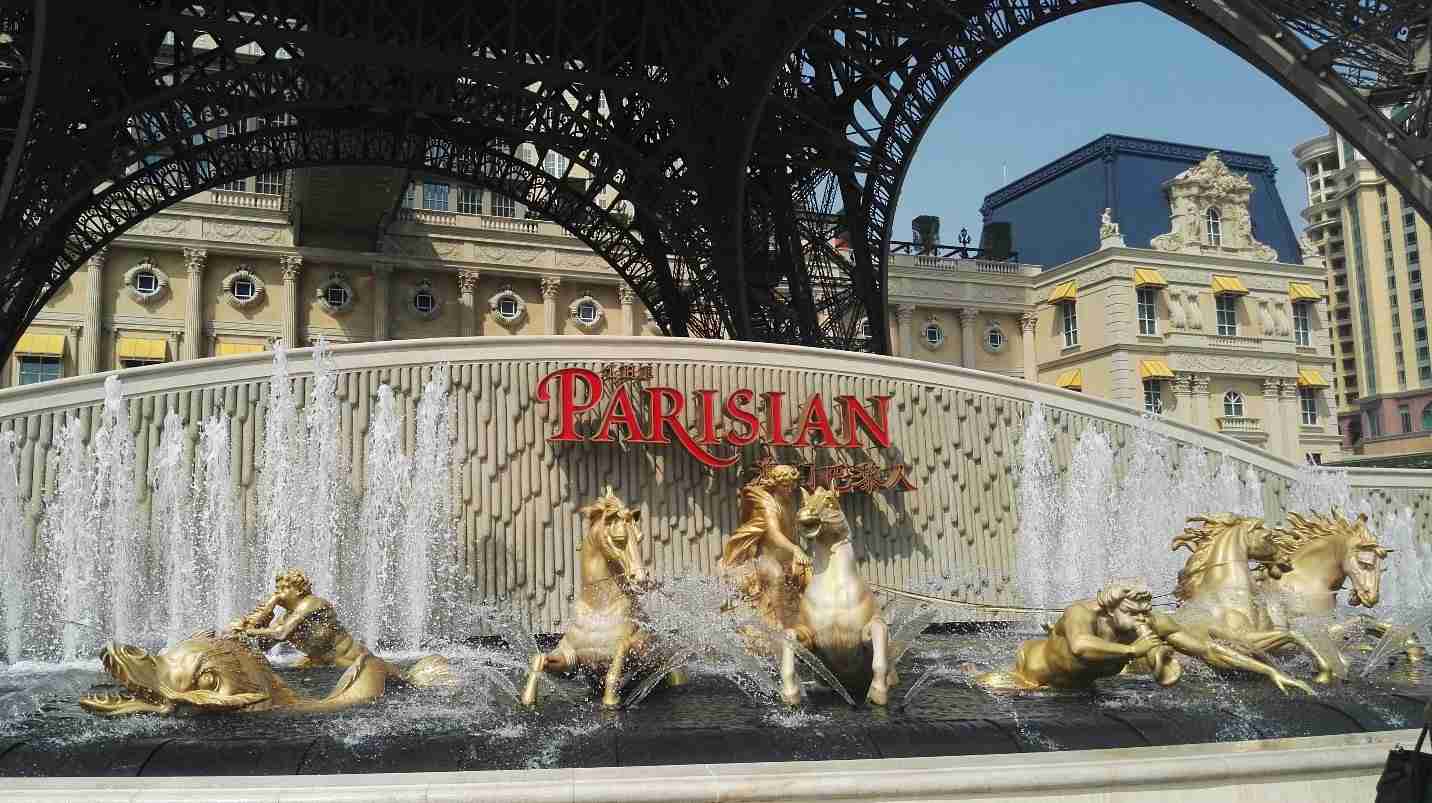 ---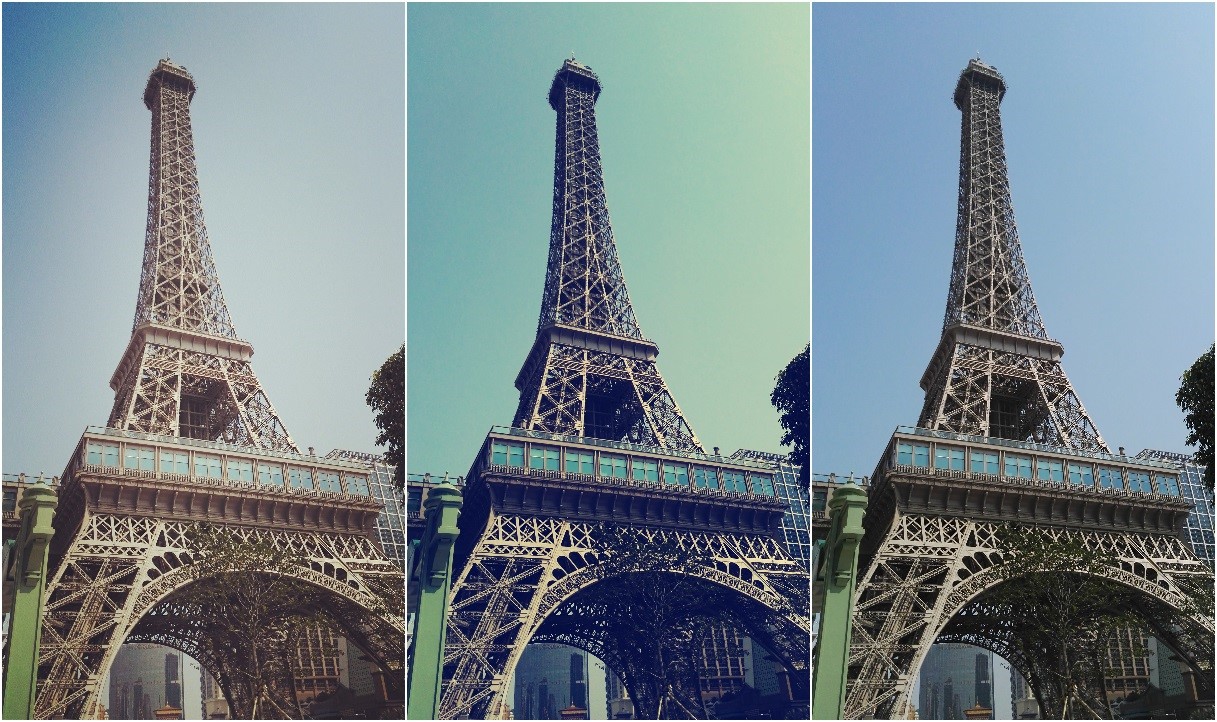 The Eiffel Tower embodies the resorts motto: "Become Part of Paris, at the Parisian Macao". Even though it is just a replica, it was designed very thoughtfully and really added to the French atmosphere.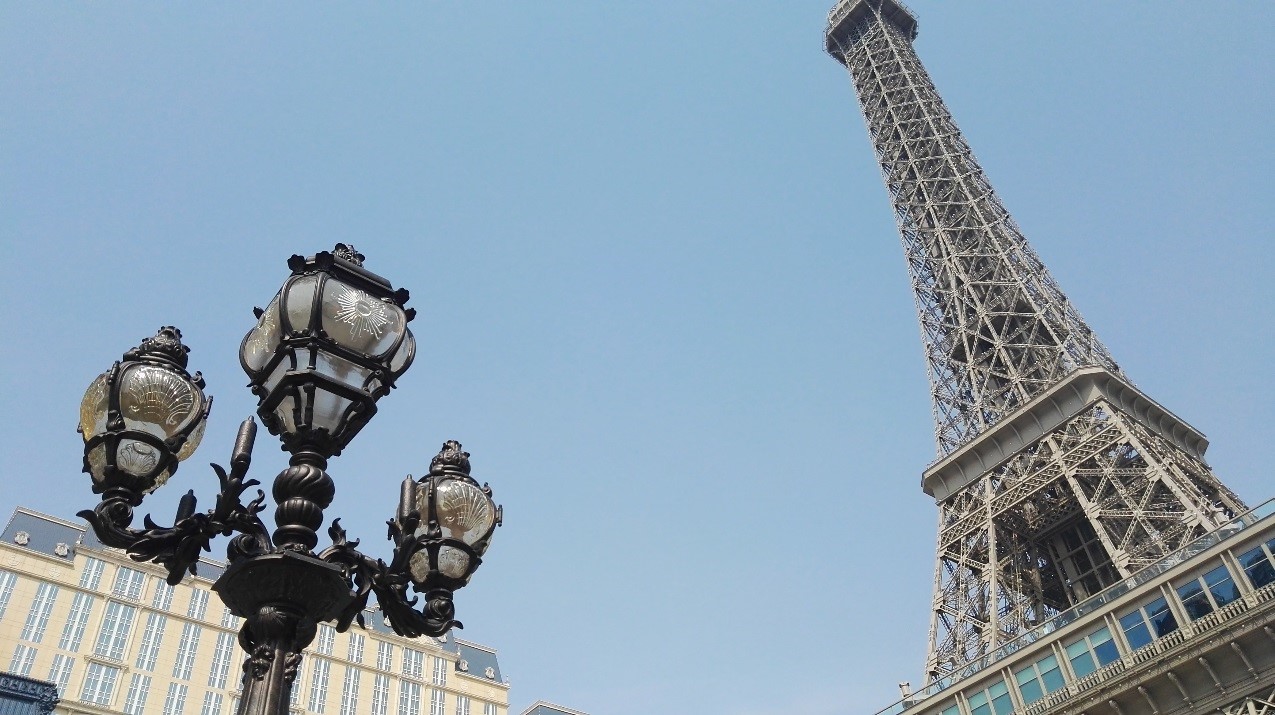 ---

While I'm here, why not go up and take a look? The entrance to the tower is through the gift shop on the hotel's fifth floor. After going through a hallway and climbing an escalator, I arrived at the 7th floor observation deck of the tower. On the bridge connecting the tower to the hotel, there was a railing filled with "love locks".
Entry costs MOP100 for adults and MOP80 for children. I could have bought cheap tickets for this using the online promotion, but we decided to use it for a buffet instead. However, I think paying the full price was still worth it. The view from the tower was really incredible, and also very relaxing.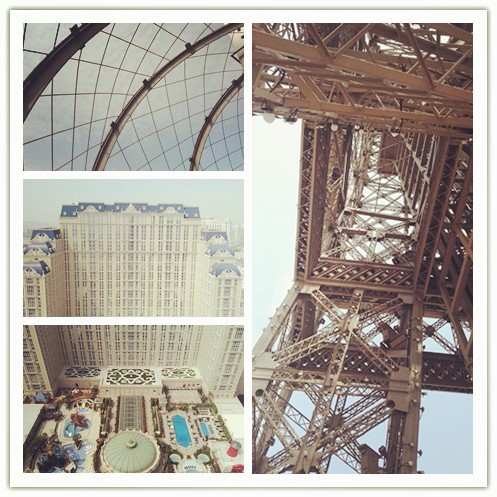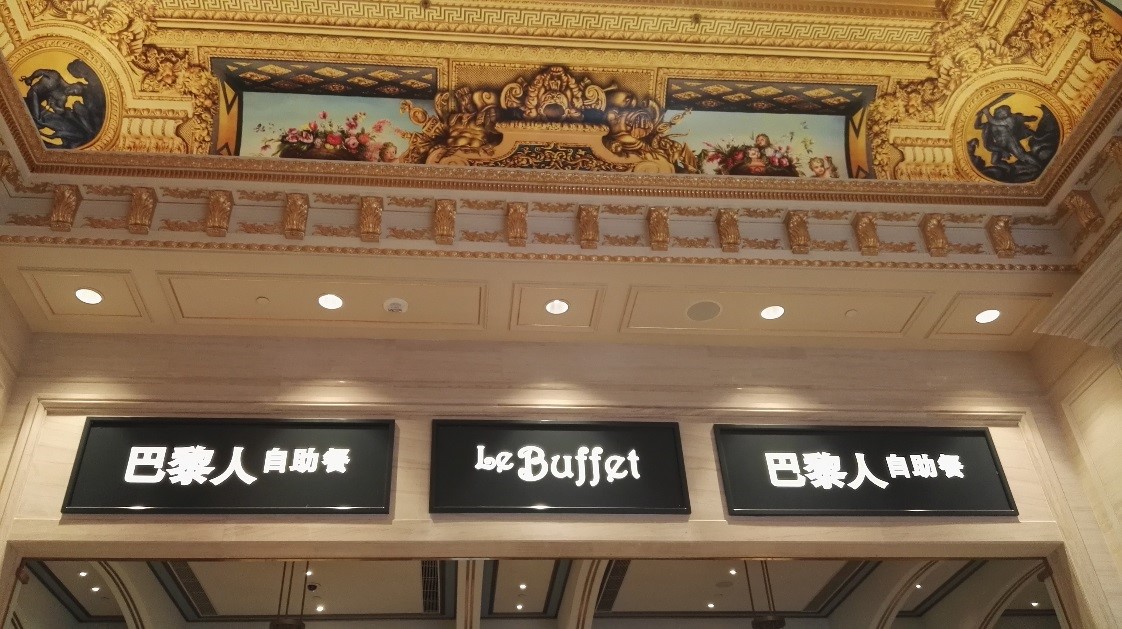 This is the buffet we chose to redeem the promotion at. The original price was MOP208, we only paid MOP5 (pretty great, isn't it?).
I saw another promotion being advertised near the restaurant entrance for Eiffel tower tickets + buffet for a reasonably discounted price.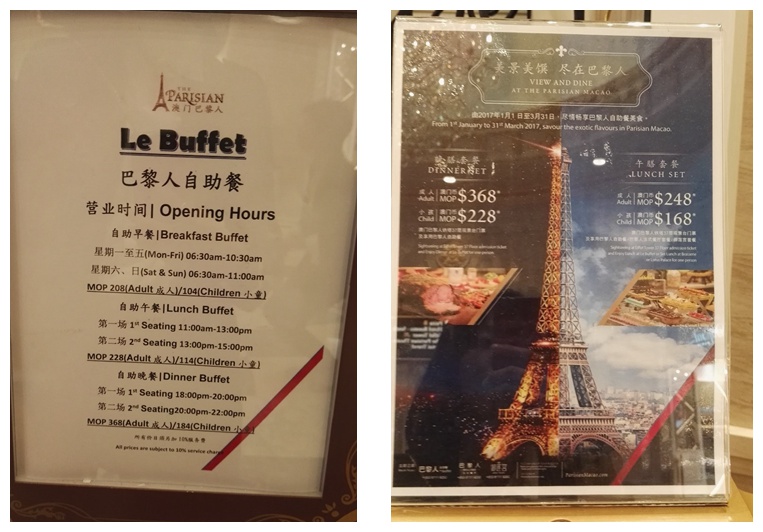 Without putting down our stuff, we headed directly to the buffet area. From here on, I am just going to put a bunch of photos, because pictures speak louder than words. All I want to say is that I wish I had two stomachs – one for bread, seafood, sashimi, meat; and one for dessert!
---
After eating, we went to check in. If this didn't have a sign, would you believe that this is the check-in lobby? Its interior design was modelled after Versailles and it is unbelievably elegant. Someone told me that the lobby (red), the rotunda (white), and concierge (blue) were arranged like this to imitate the French tricolor flag.
The room I reserved had a view of the Eiffel Tower. From way up here, it looked very small.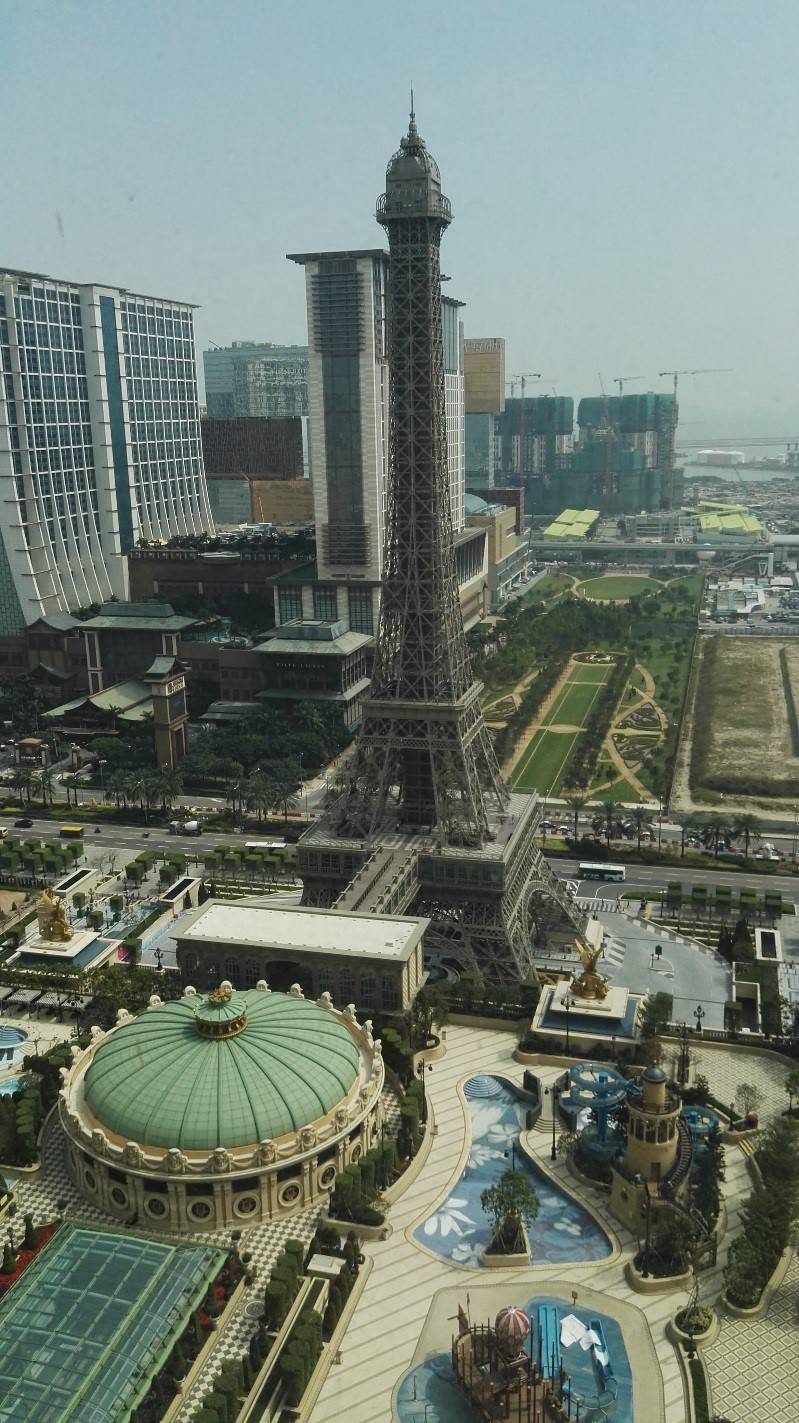 ---
I was satisfied with the hotel room design. It was simple, but contained many small but useful details (such as a variety of plugs on the desk).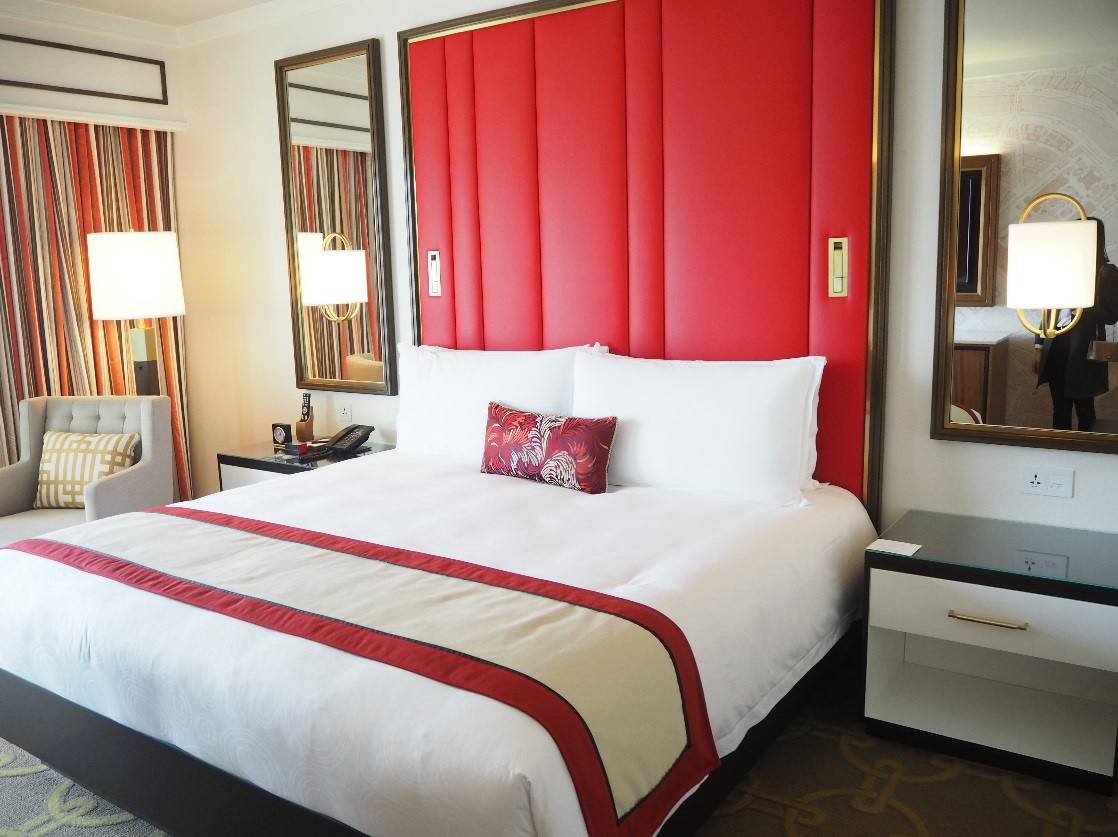 ---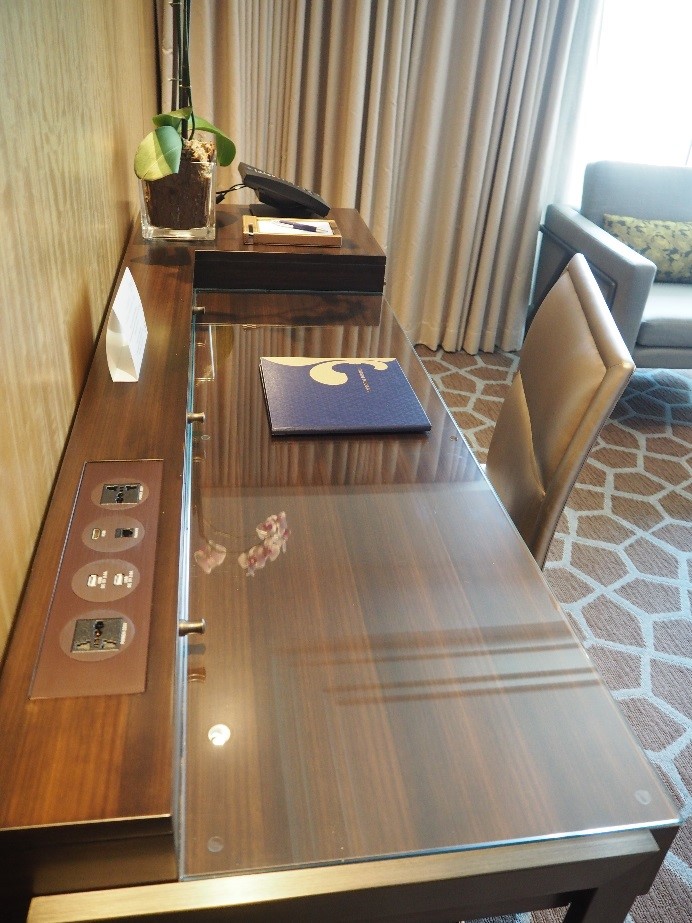 ---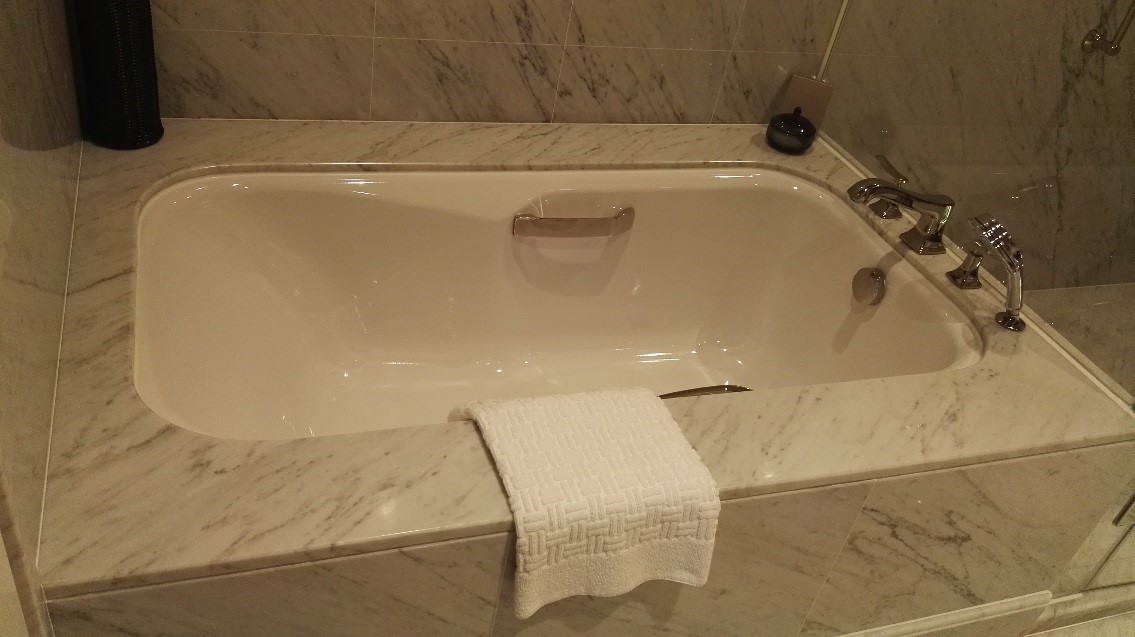 ---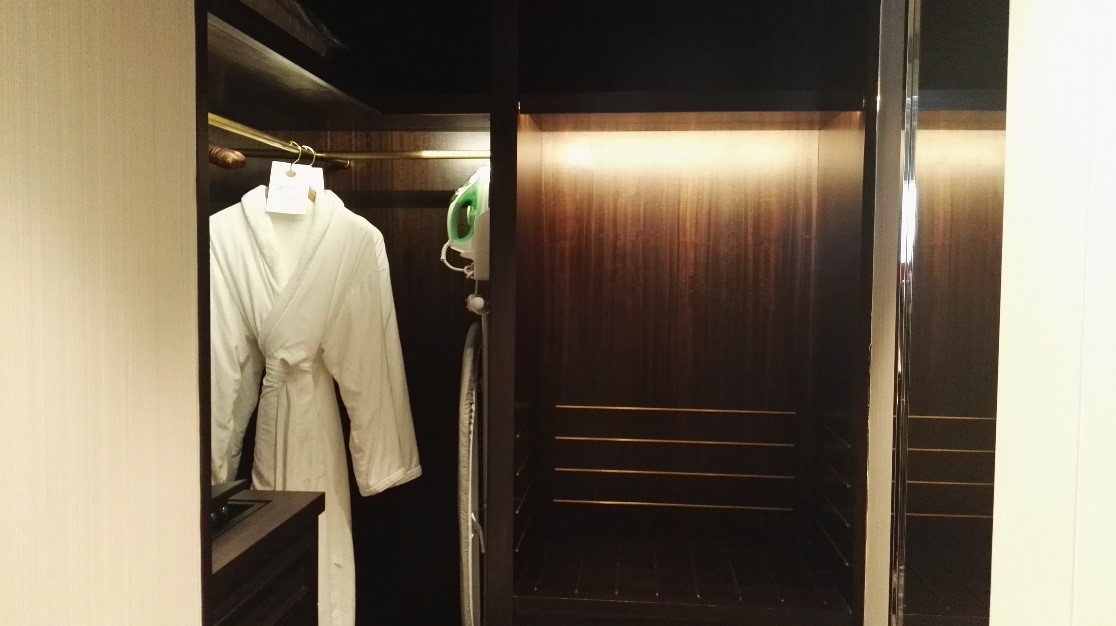 ---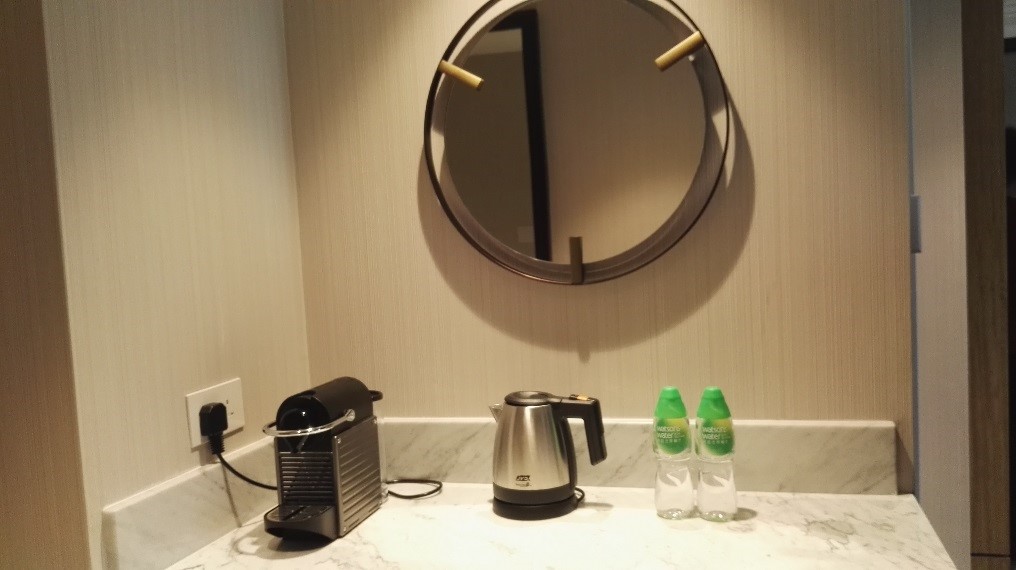 I was pleasantly surprised by how subtle the room design was. It contrasts with the grand and ostentatious design of the rest of the hotel, which I found very refreshing. The next time I come to Macau, I will definitely stay at the Parisian again.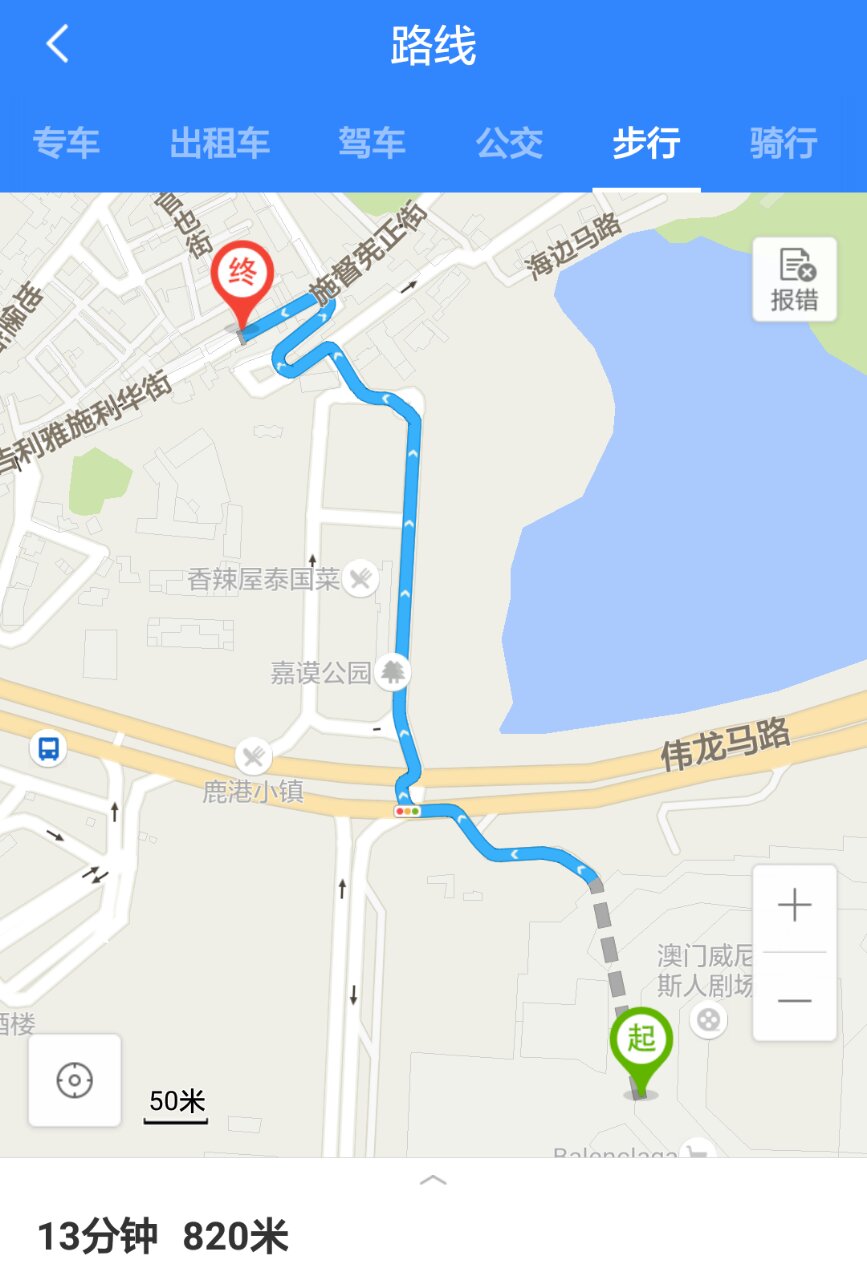 ---
Near the hotel there is an area of town called Taipa Village, which contains many of Macau's famous eateries. Many tourists come here to try the local flavors.


On our second day in Macau, we didn't have any special plans. We slept in and ended up getting brunch at Market Bistro in the gaming area. We really enjoyed our meal, and the price wasn't too bad: only MOP70-100 for a bowl of noodles.
Overall, this trip was worth the money we paid. I really enjoyed my vacation at the Parisian Macao.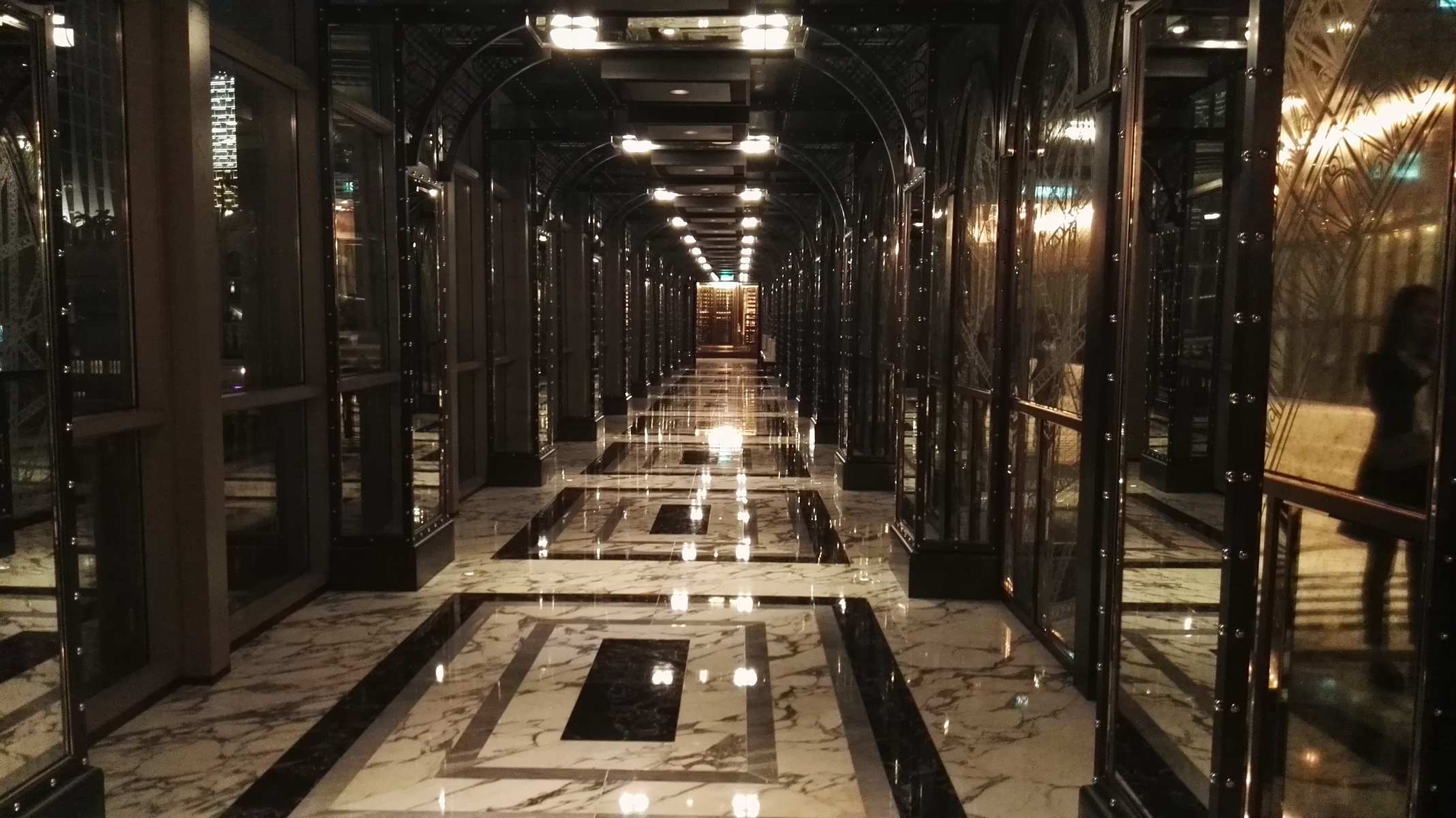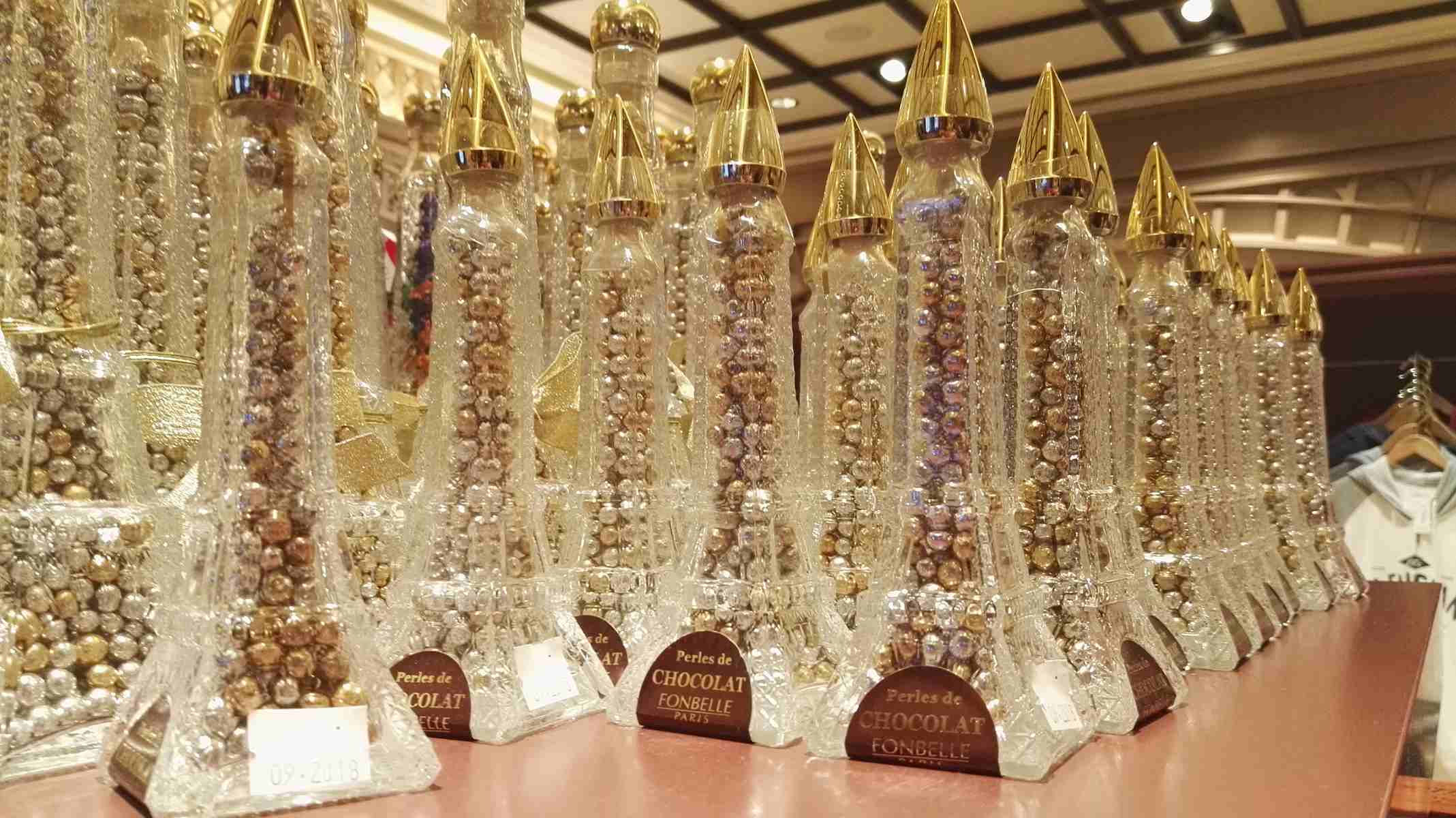 Macau, we'll see you again soon!