The Parisian Macao: The Most Parisian Place in Asia
---
---
The text and images on this page are all copyrighted.
Content source: Cherrie Yuxingtianxia
Writer Description:
Wechat: Yuxingtianxia (鱼行天下)
Weibo: Huilongjuezhu Cherrie (回笼觉主Cherrie)
Official Small Luxury Hotels of the World, Booking.com, qyer.com hotel reviewer; has stayed at over 100 hotels and hostels around the world.
---
In my travels, I have seen many Eiffel Towers. The first one I encountered was the 1:3 scale tower at Shenzhen's Window of the World theme park. After some time, I eventually made my way to Paris – the city of lights – and was able to behold the original tower. Recently, I traveled to Macau -- thousands of miles away from the romance capital of the world -- and had a chance to visit a third Eiffel Tower. While gazing upon it that day, I couldn't help but be overwhelmed with memories from my previous travels, and reflect on the passage of time.
Nine years ago, when I first traveled to Macau, I was still an innocent young women. This time, though I still occasionally feel naïve, I am much more experienced in most walks of life.
After making my way through the Zhuhai border gates, I found my way to one of the bright pink Parisian shuttle buses parked nearby. These shuttles are very convenient and, most importantly, are totally free! On my way to the hotel, I noticed that the screens in the vehicle were showing an advertisement for the hotel featuring two famous Chinese celebrities (Tian Liang and Ye Yiqian).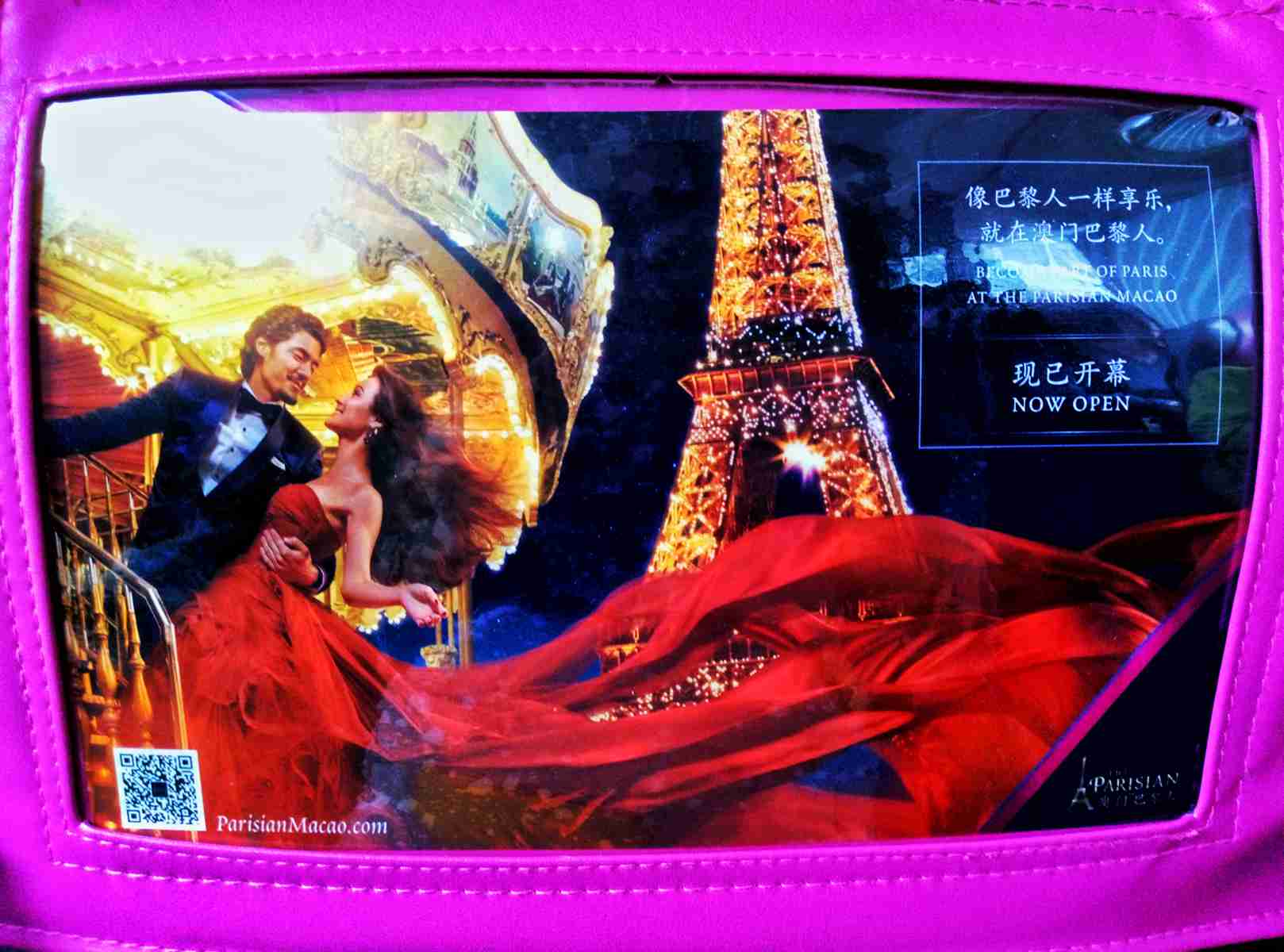 While I was making these observations, I was suddenly handed a card by a girl dressed in pink. It turned out to be a voucher for a free entry to the Eiffel Tower.
I arrived at my destination in no time, and found myself in the middle of the Cotai Strip, surrounded by five-star luxury hotels. Ah ha! This is what a prestigious international tourist city should look like. I remember seeing the Venetian and other resorts in Macau nine years ago and thinking "there is no way that they will succeed". Thankfully, it is clear that my fears were for nothing.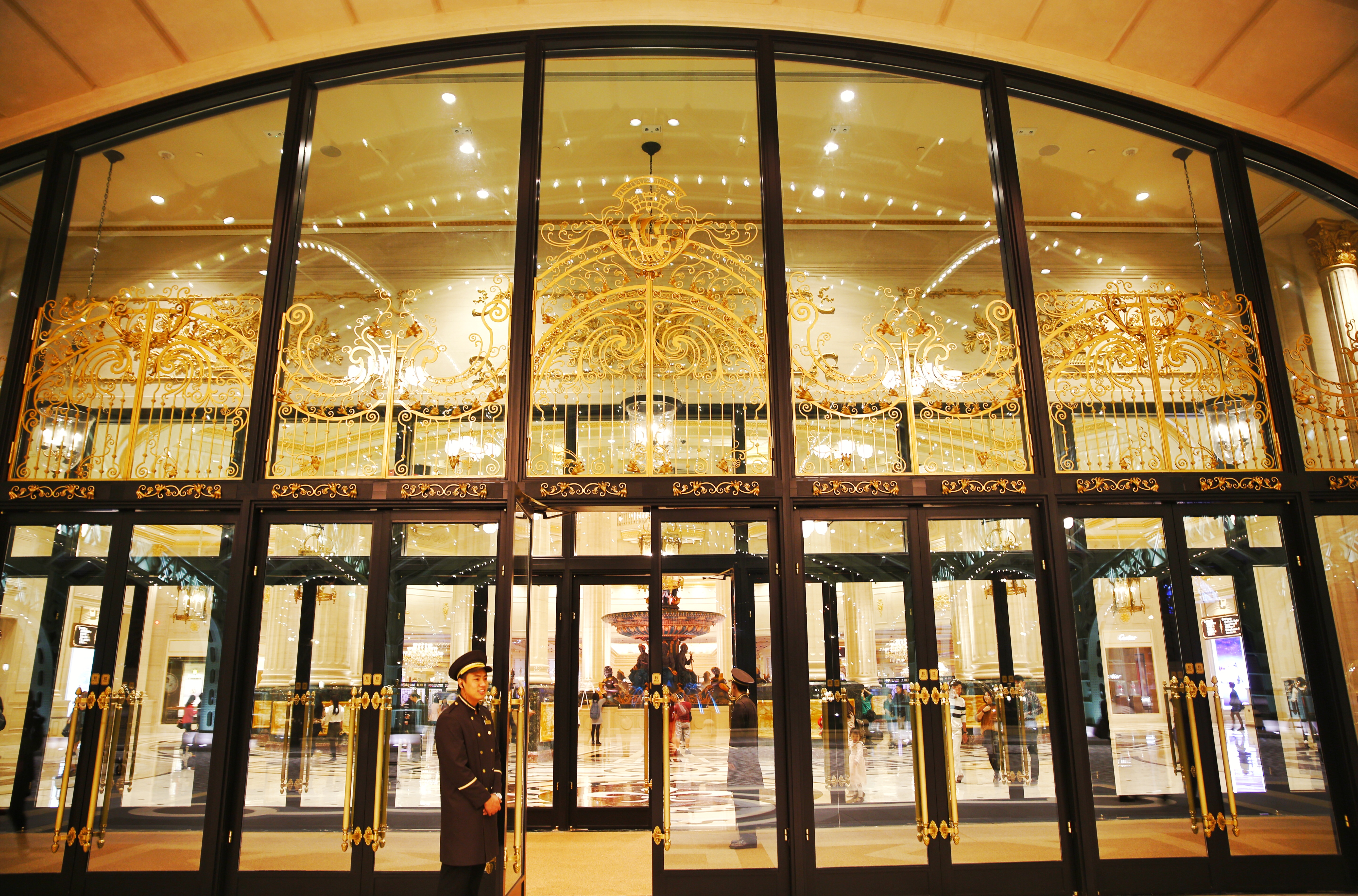 Wandering through the Parisian's public areas, it is hard not to image yourself strolling through a European palace. It's like experiencing the Louvre, Versailles, and Fountainbleau together in one place.
This is the golden domed ceiling in the main lobby. It's a must-see for all visitors.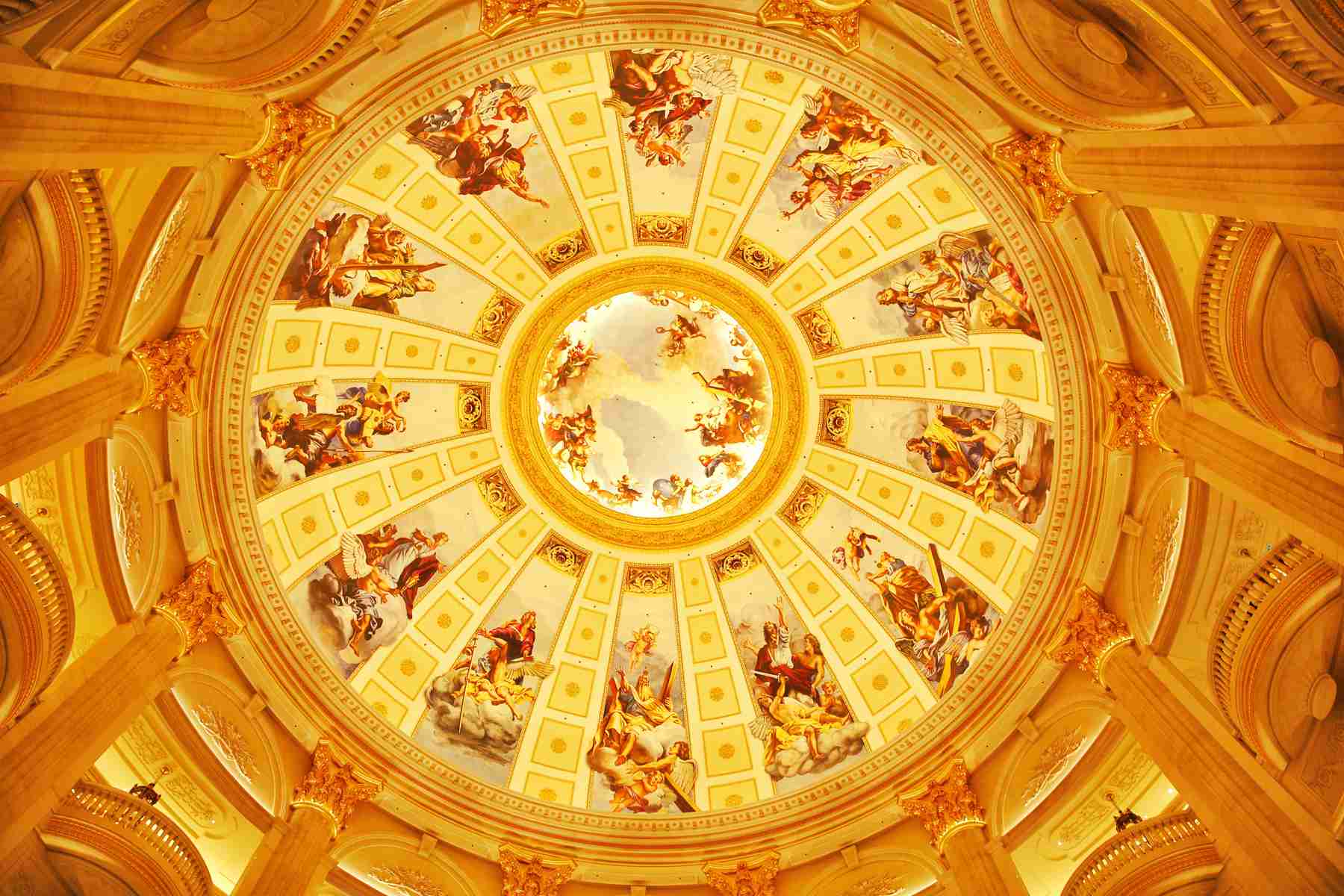 The fountain in the lobby is also incredible.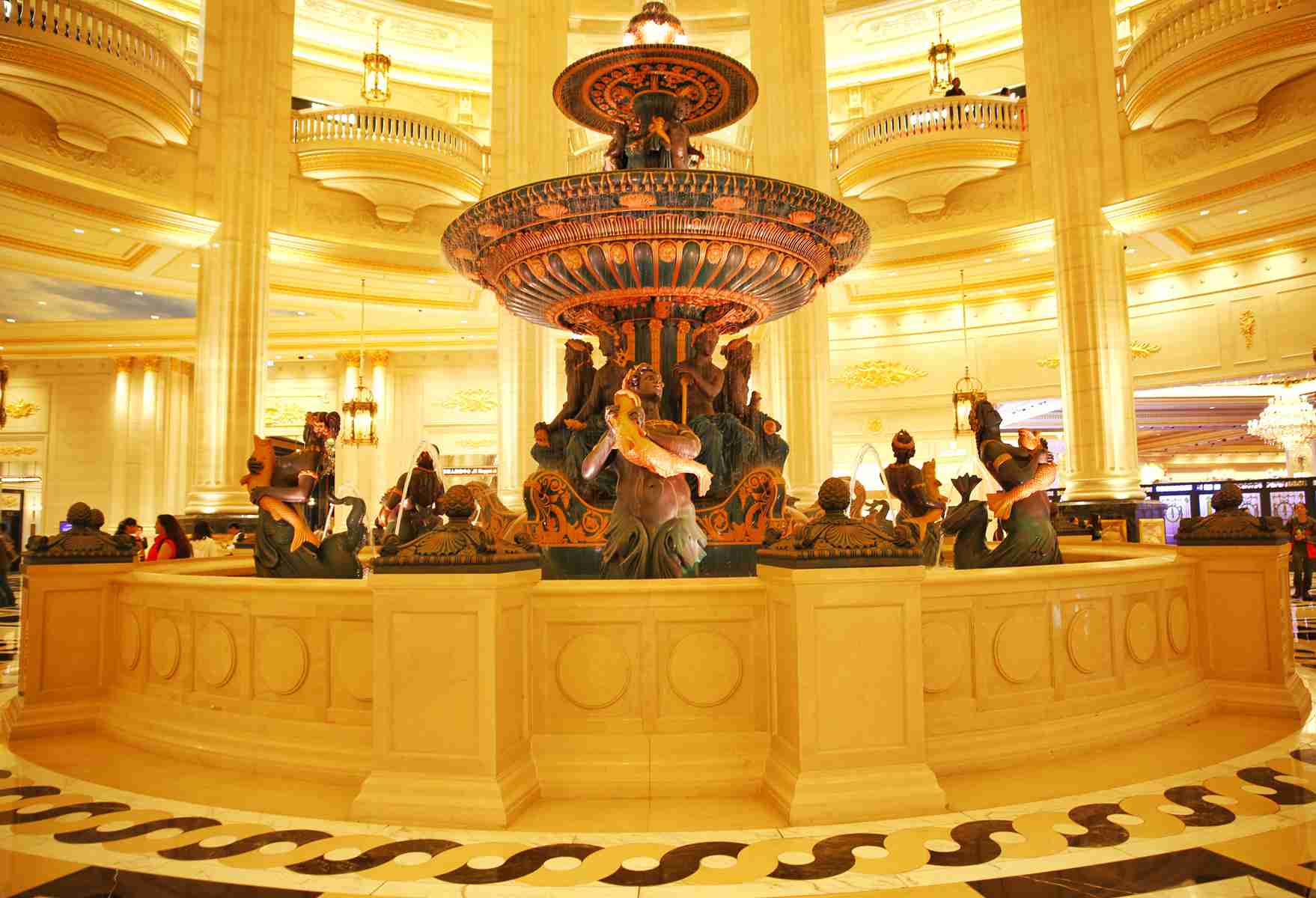 ---
I admit, while admiring the hotel's extravagant interior design, I couldn't help but wonder how much it must have cost. The decoration is filled with countless French historical and cultural themes, all presented with as much grandeur and splendor as you would expect from a Macau hotel. To say that I was impressed would be a massive understatement.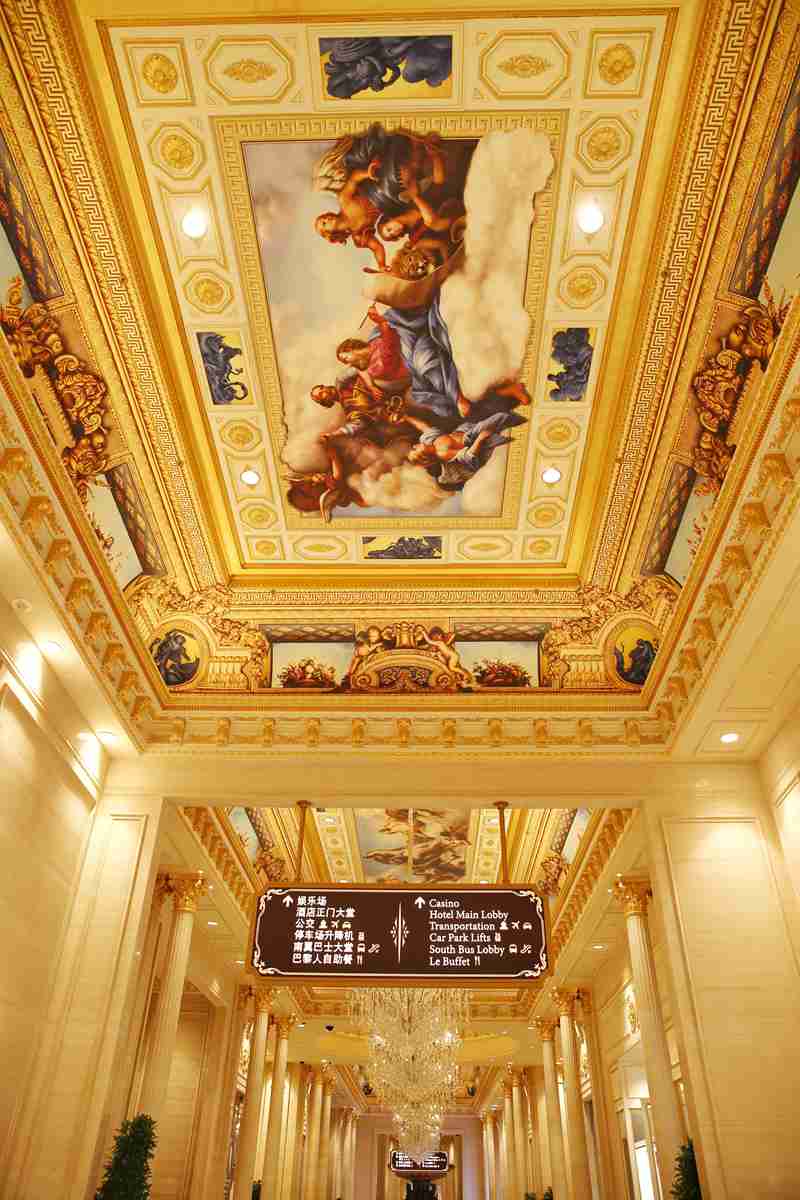 We checked in at the underground lobby, near where the shuttle bus stopped. The lower-level lobby had barely anyone waiting in line, and so the check-in process was fast and smooth.
The first thing that everyone notices when they arrive at the Parisian is the 1:2 scale Eiffel Tower in front of the hotel. When I first posted a picture of the tower online, a good friend of mine in Paris laughed and declared that "this looks much better than Window of the World".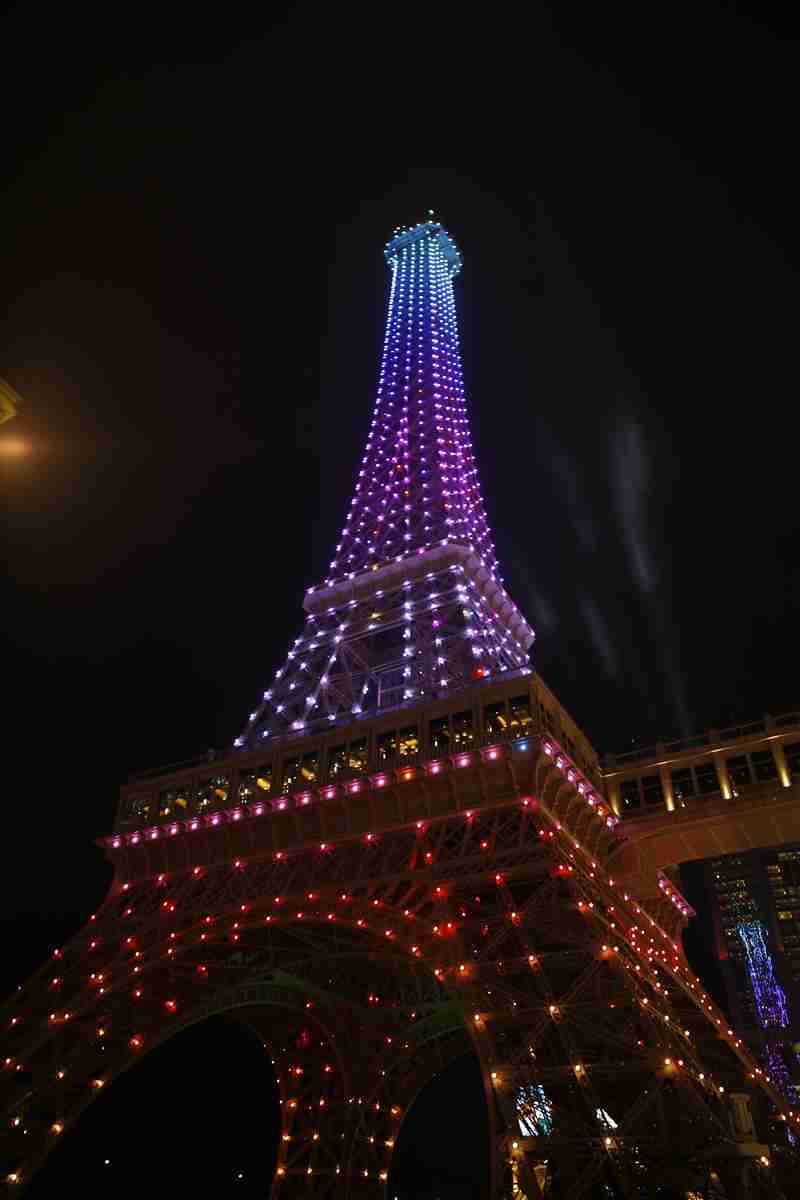 The area outside the main entrance to the hotel was decorated to look similar to a French train station. Its green pillars and supporting beams give it a very classic Parisian appearance.

The front desk employees were very professional. No matter if guests were being rude, impatient, or just plain difficult to deal with, they remained friendly and calm. I couldn't help but admire their positive attitude and spirit.
While checking in, I was asked wanted access to the mini-bar in my room. Apparently, if you are willing to lock it, then when you are ready to check out, all you need to do is put your room key in a specially-marked box in the lobby. I can see how this would be useful, especially if you want to leave in a hurry. If the mini-bar isn't locked, you will be charged for any items removed for more than 15 seconds.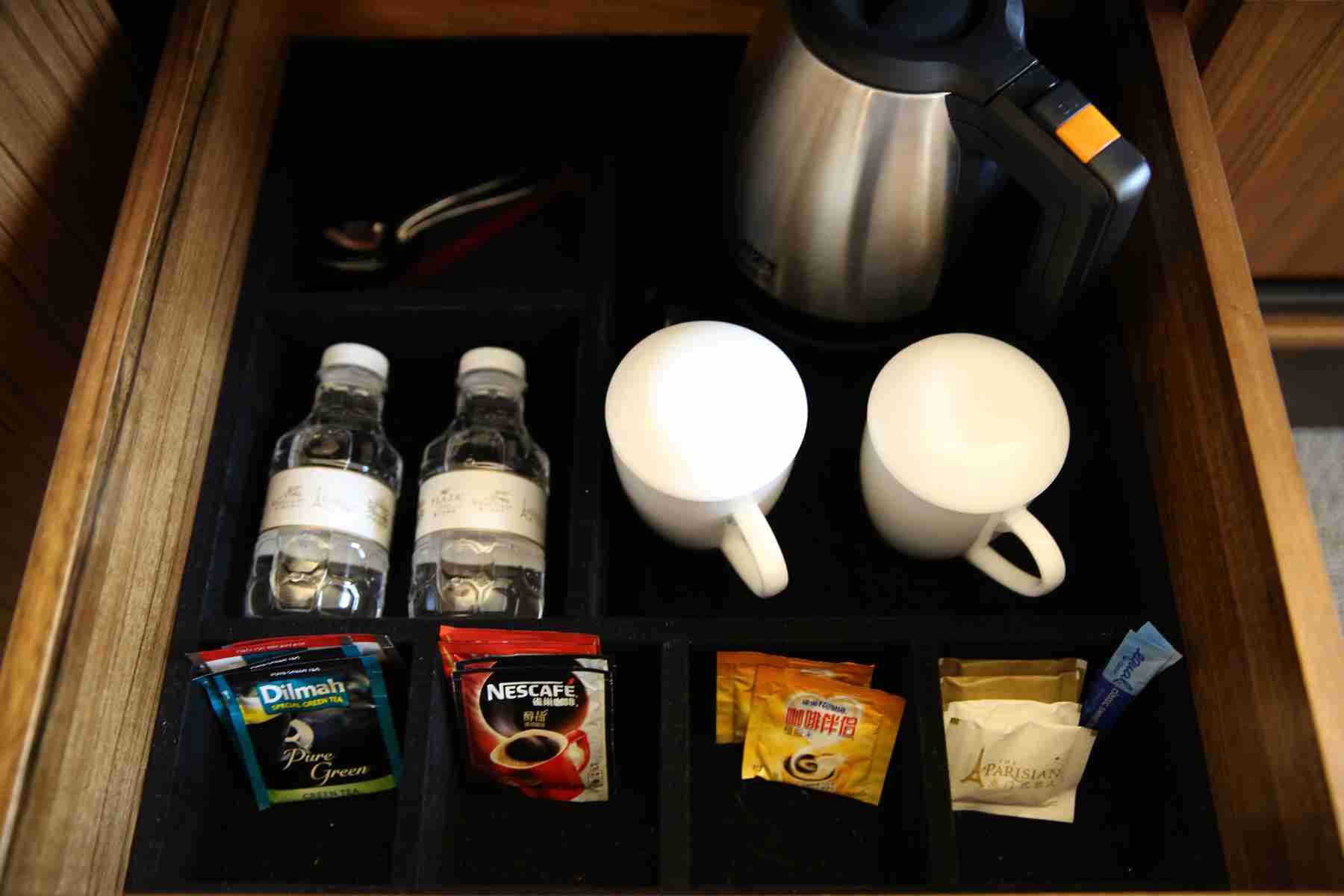 Local tyrants can ignore the above Suggestions.
The main check-in lobby has a large replica of a famous painting of Napoleon's coronation as emperor. I have actually seen this painting at the Louvre in Paris, and seeing it here gave me a strong feeling of déjà vu.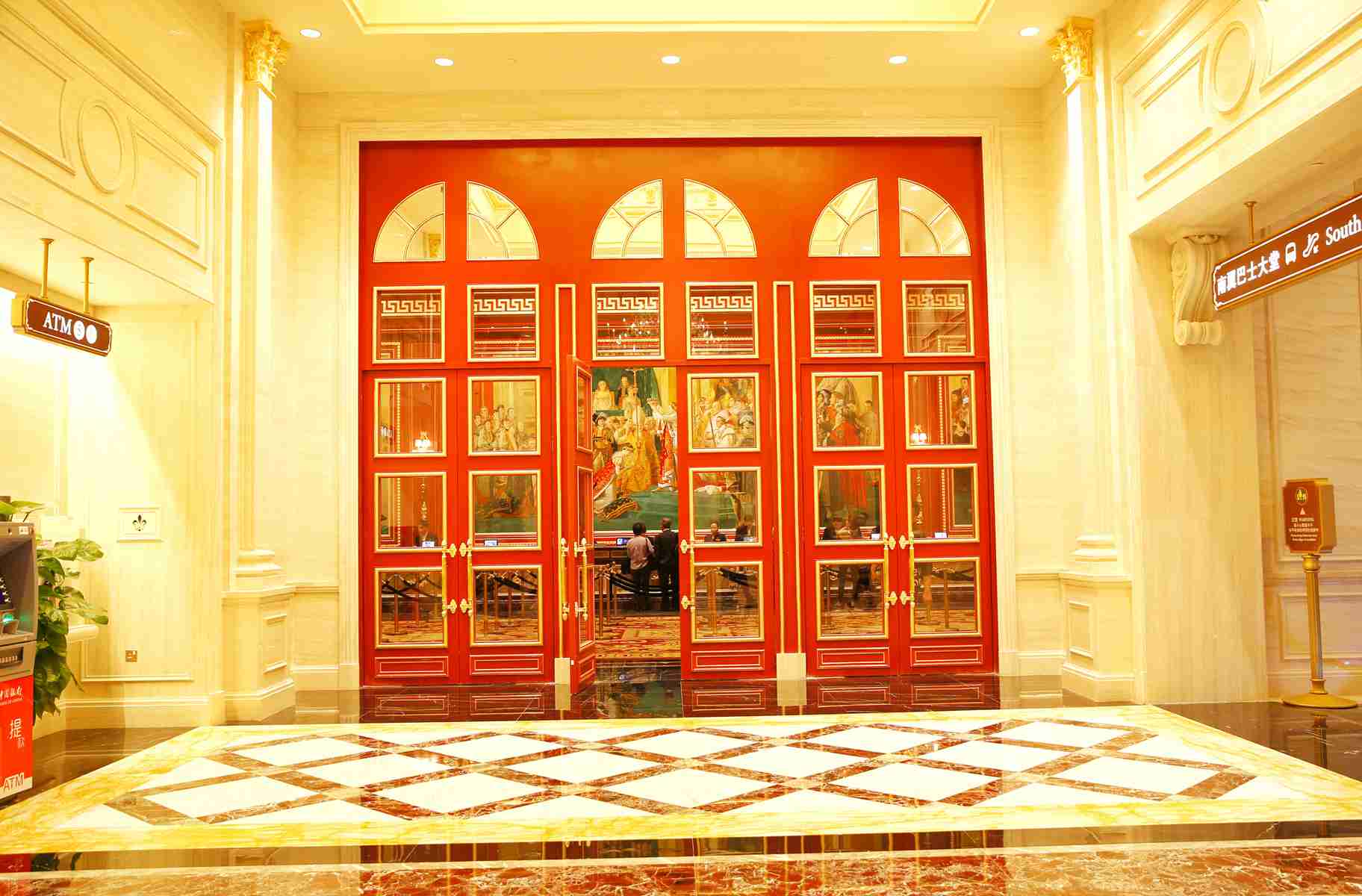 If there was one standout feature of the Parisian's interior, it had to be the gorgeous lighting fixtures and chandeliers hanging everywhere. They seemed to come in every shape and size -- dazzling me during my whole visit!
---

---

---

---
My room was on the 22nd floor. It was even more amazing than I could have imagined!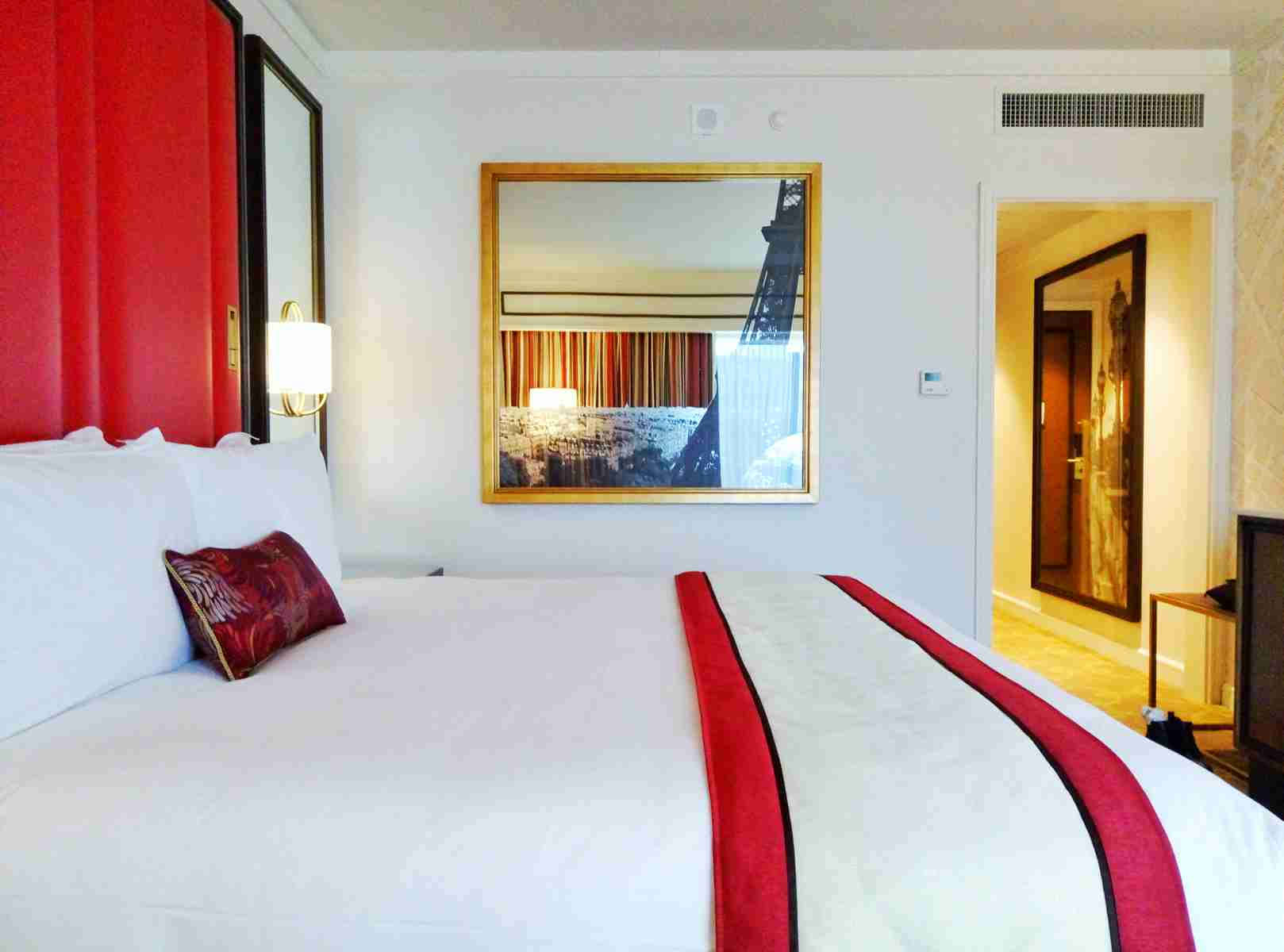 Even though it was just a regular room, for a single guest it was the perfect size.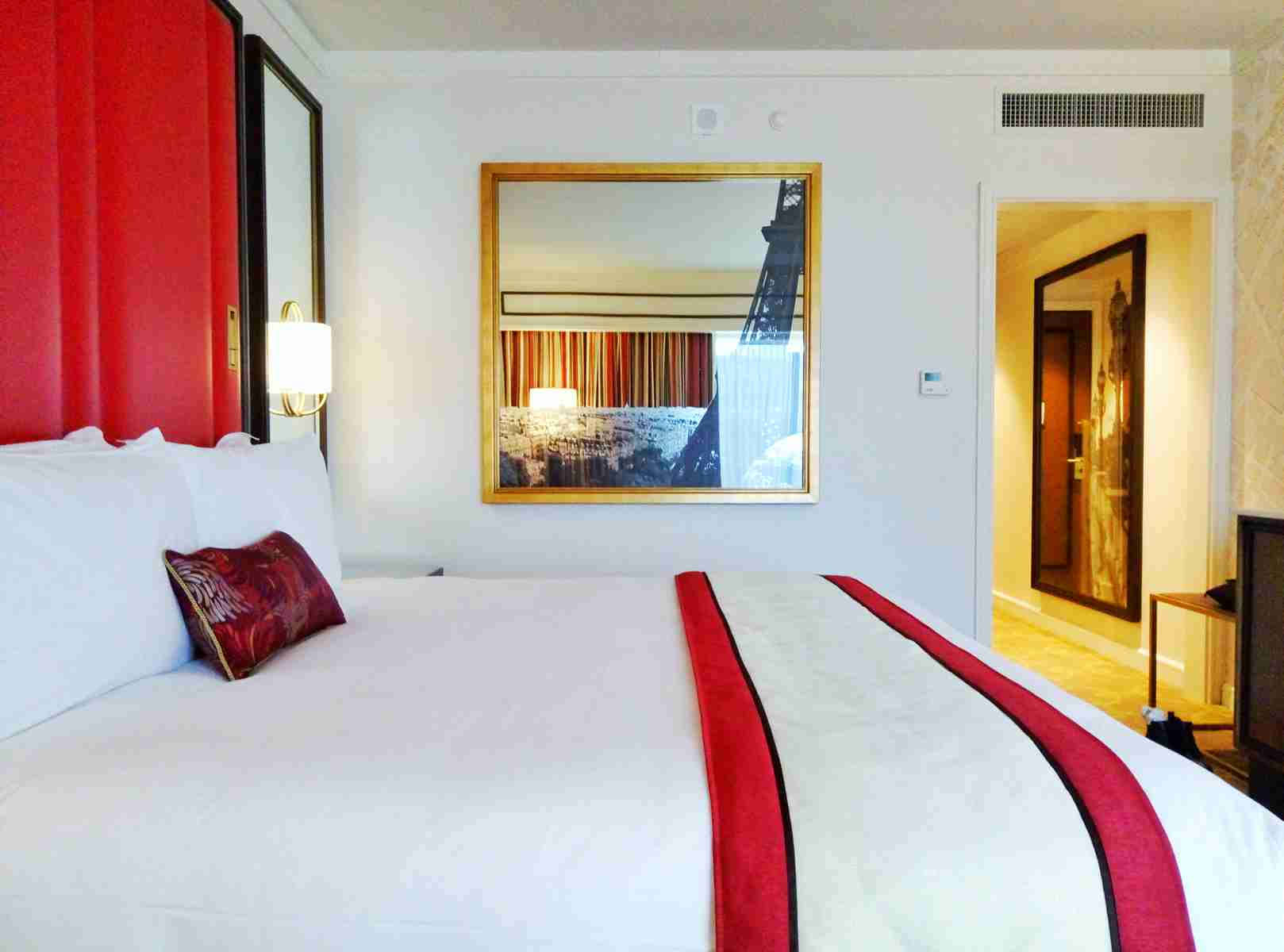 The bed was wide, soft, and super comfortable. There were four pillows: two extra-soft ones and two regular ones.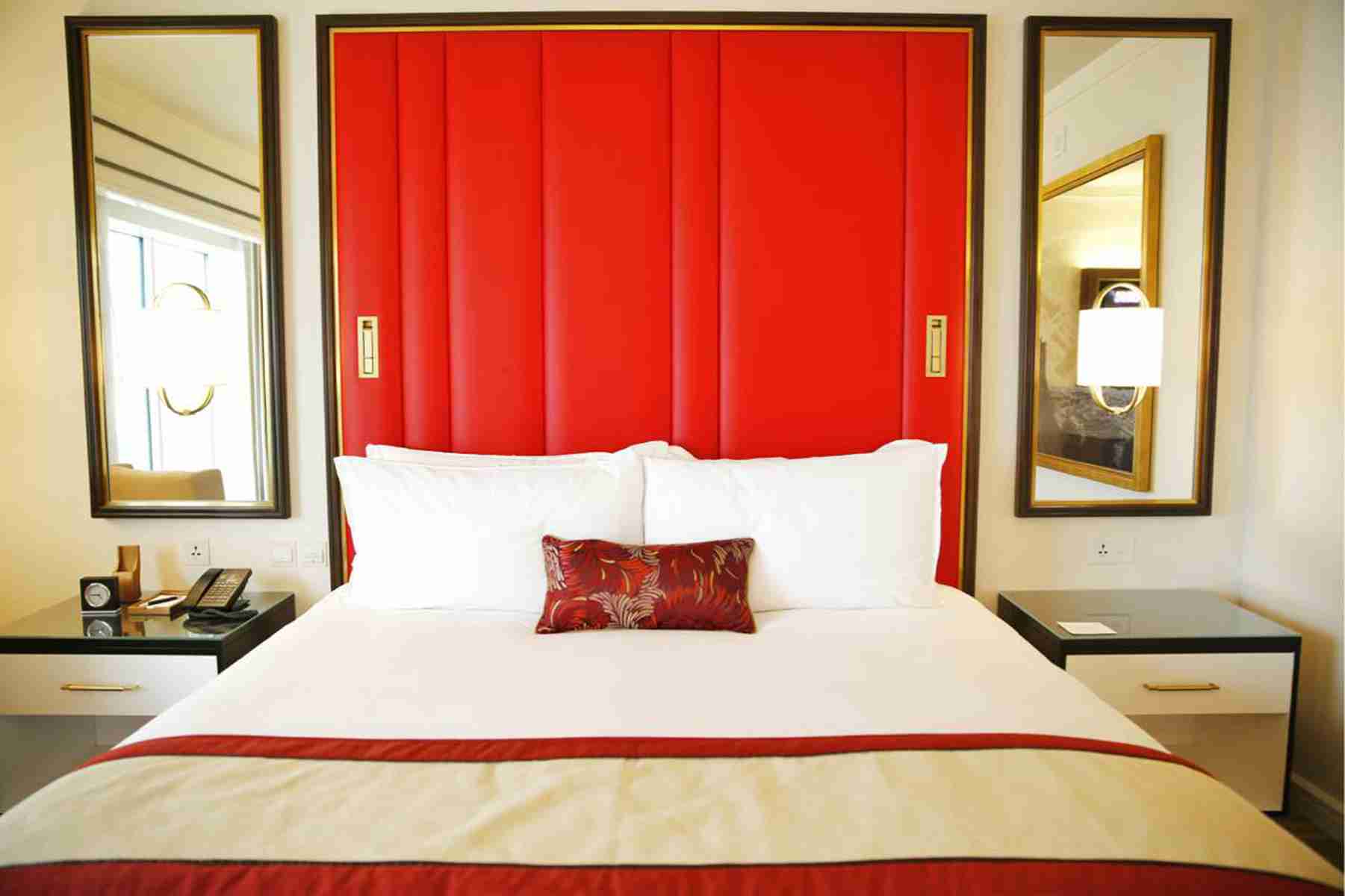 ---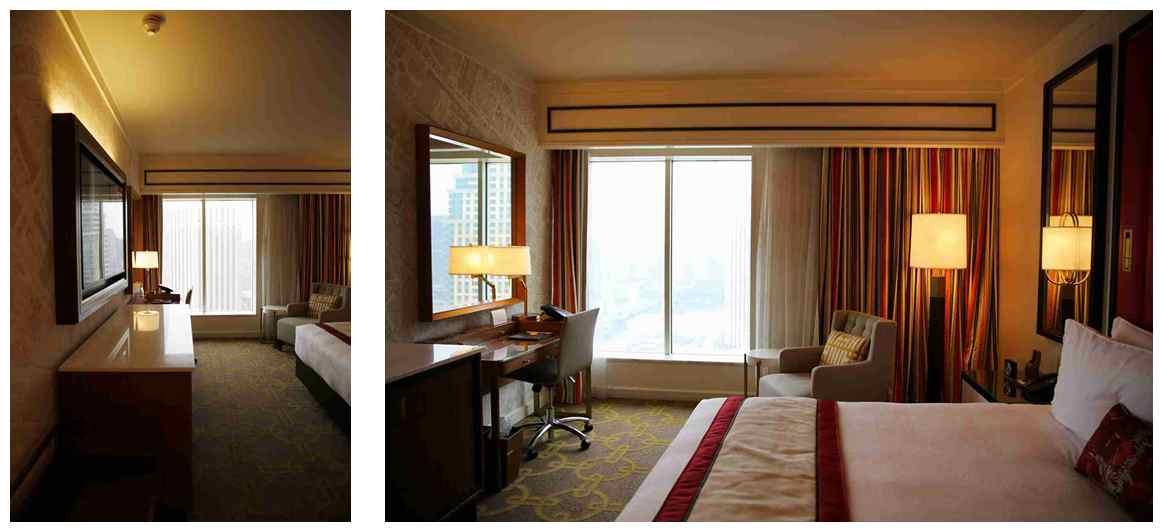 Because of all of the wonderfully lighted resorts nearby, at night I barely needed to use a lamp to see.
I found the mirrors in my room to be quite enchanting. On top of their reflective surfaces were semi-transparent France-related decals, such as the Eiffel Tower, Parisian lighting fixtures, and even a pretty French girl. At first, I thought that these were dirt on the mirrors. I was happily surprised when I realized that they are designed like that! Very cool!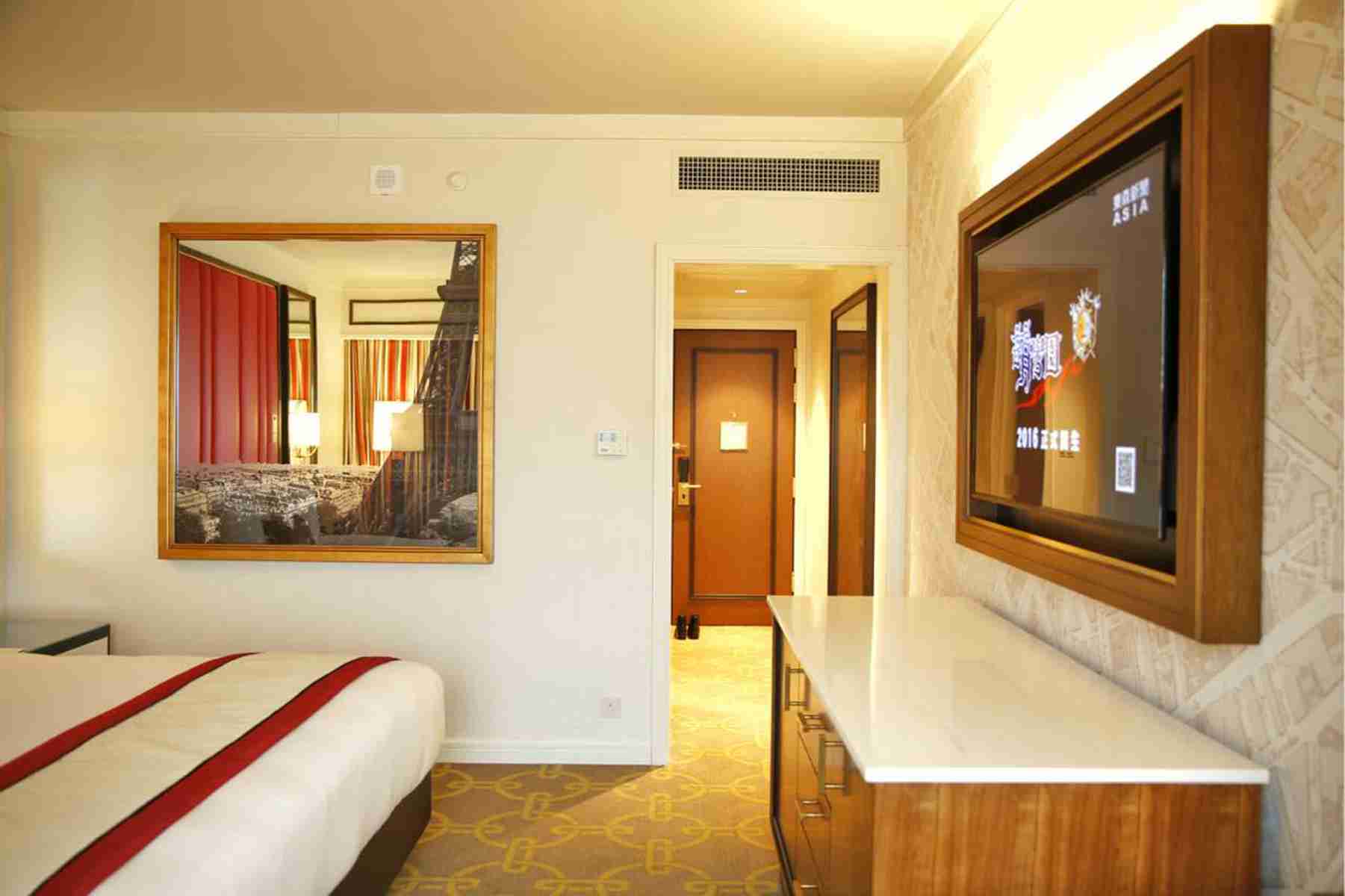 ---
There are even more interesting small details in the interior design if you take the time to look. For example, the wallpaper on the wall next to the desk shows a map of Paris.
There was a white bathrobe in the closet. It seemed to be made from high-quality materials.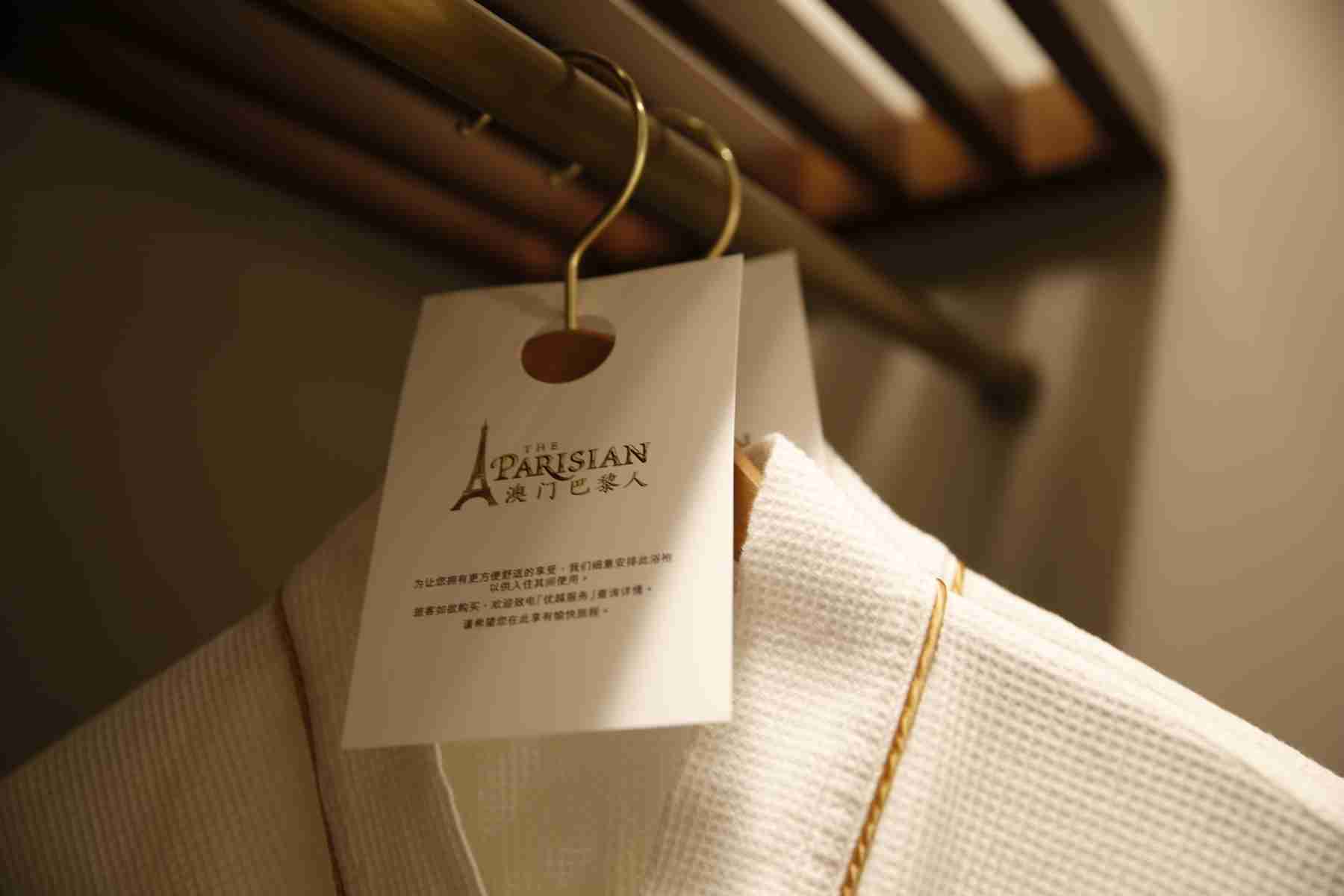 The bathroom was not very large, but was still attractive. It featured a square, marble bathtub. The non-slip bathroom mat was neatly packed away in a small bag, which I've never presented this way before.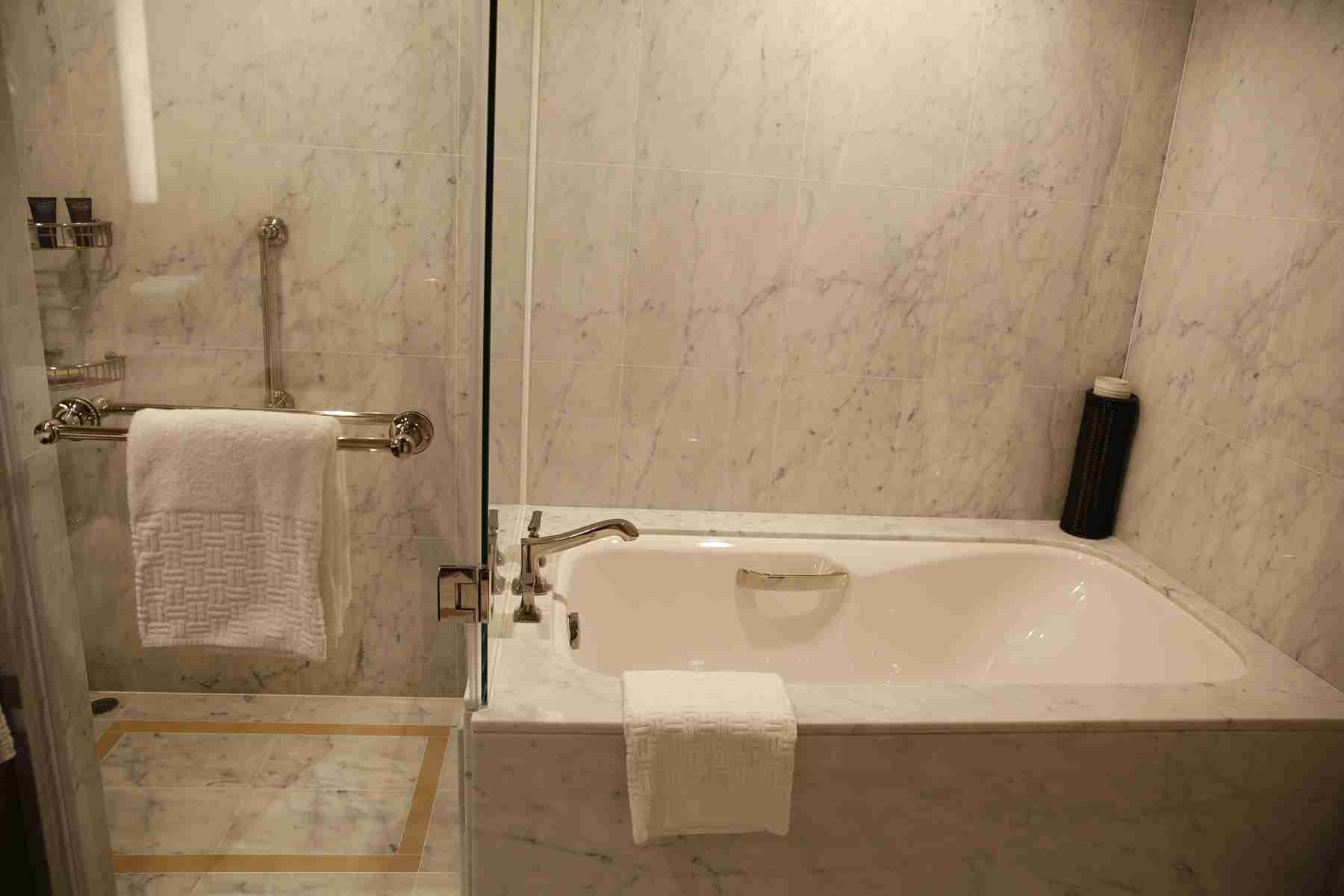 Another detail that I found interesting was the toilet paper, which was folded neatly into triangles (this isn't the first time I've seen this, but it sure looks nice). I almost didn't want to use it!
All of the bath products were labeled "Aromatherapy", with scents such as "rose" and "white tea". Needless to say, they all smelled amazing. I saw similar products in Conrad hotels made by a company called Aromatherapy Associates. Could these be related?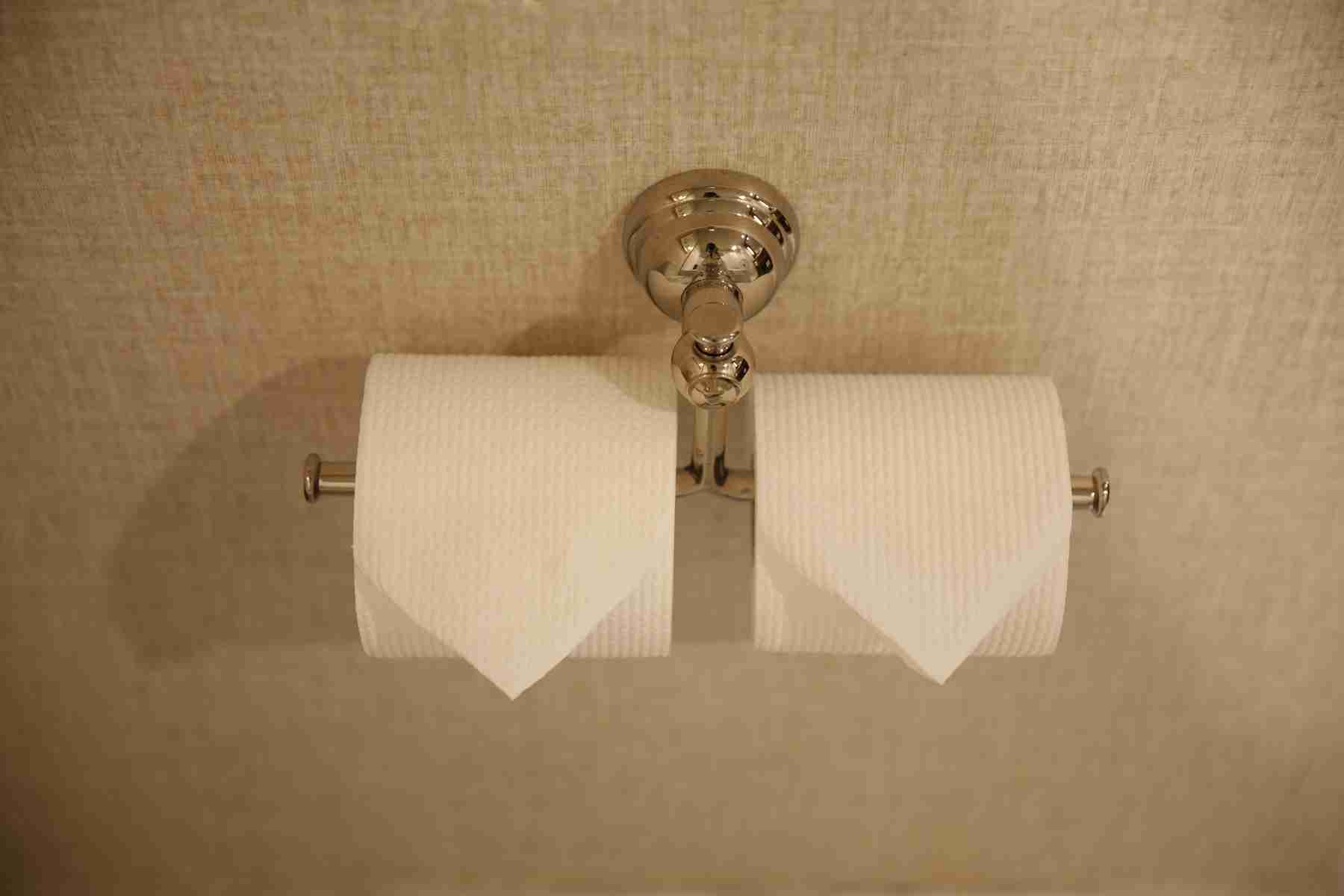 ---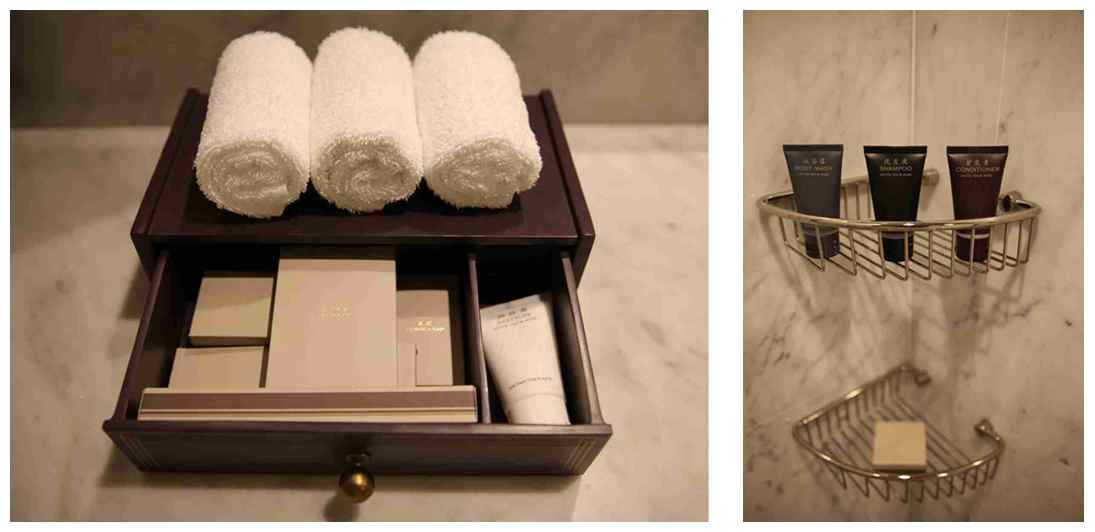 ---
Once I was finished looking around my room, I set off for the pool.
After passing through a long, ornately-decorated hallway, I finally reached a locked door leading to the pool deck.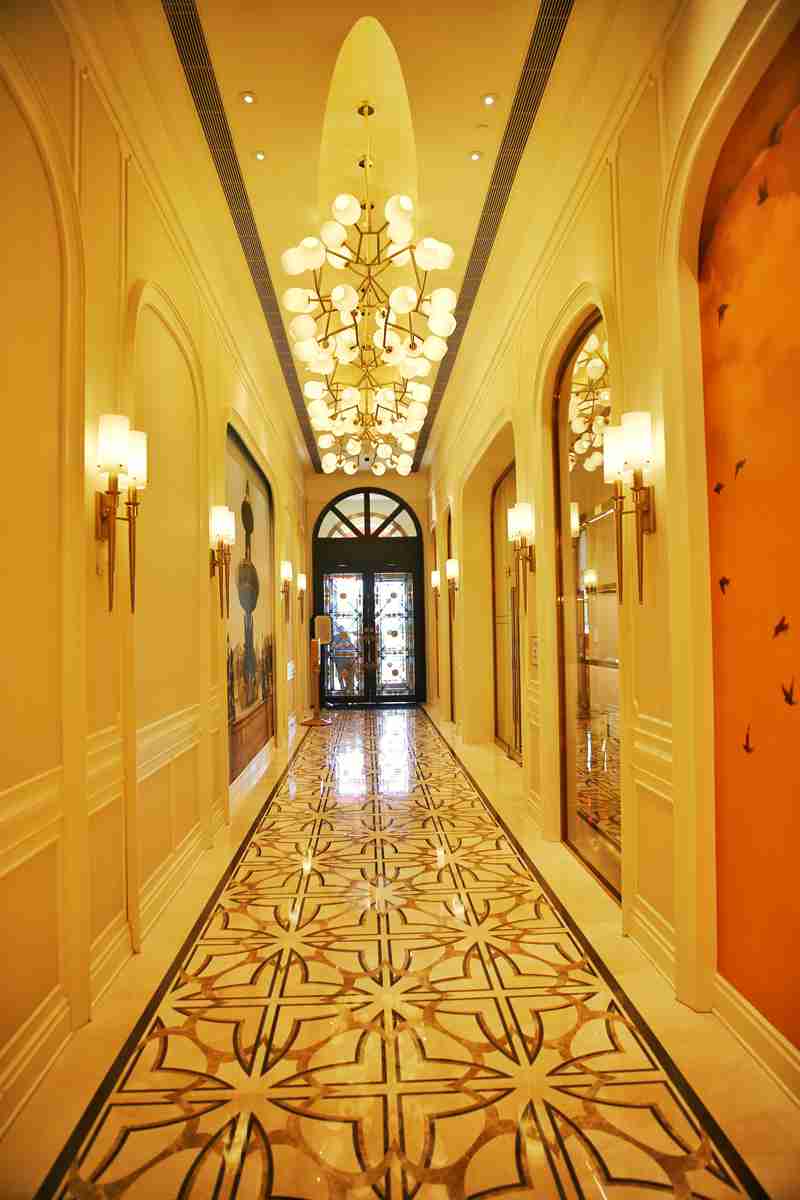 In front of the door was a sign reminding visitors that only hotel guests were permitted to enter the pool deck. This was surely to protect hotel guests' privacy, as well as their safety.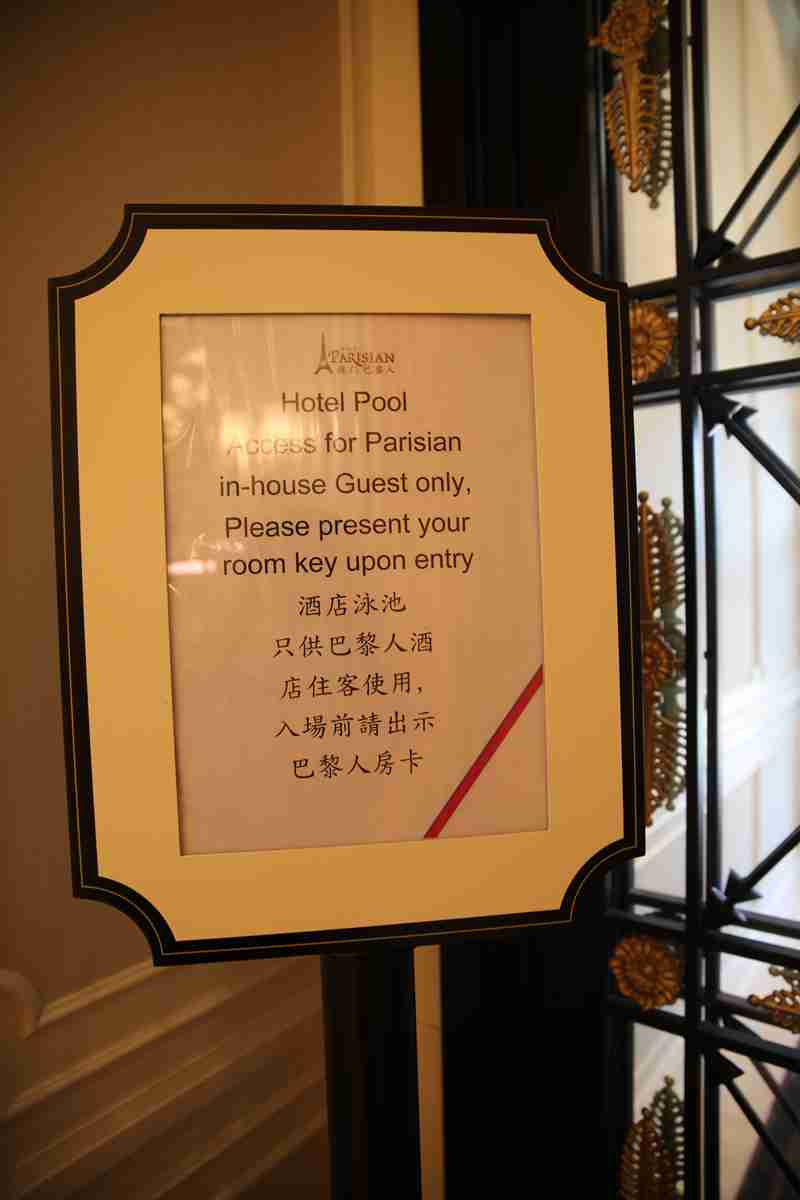 Even the sculptures by the pool were full of French style.

On one side of the pool was a lifeguard, keeping a watchful eye on swimmers.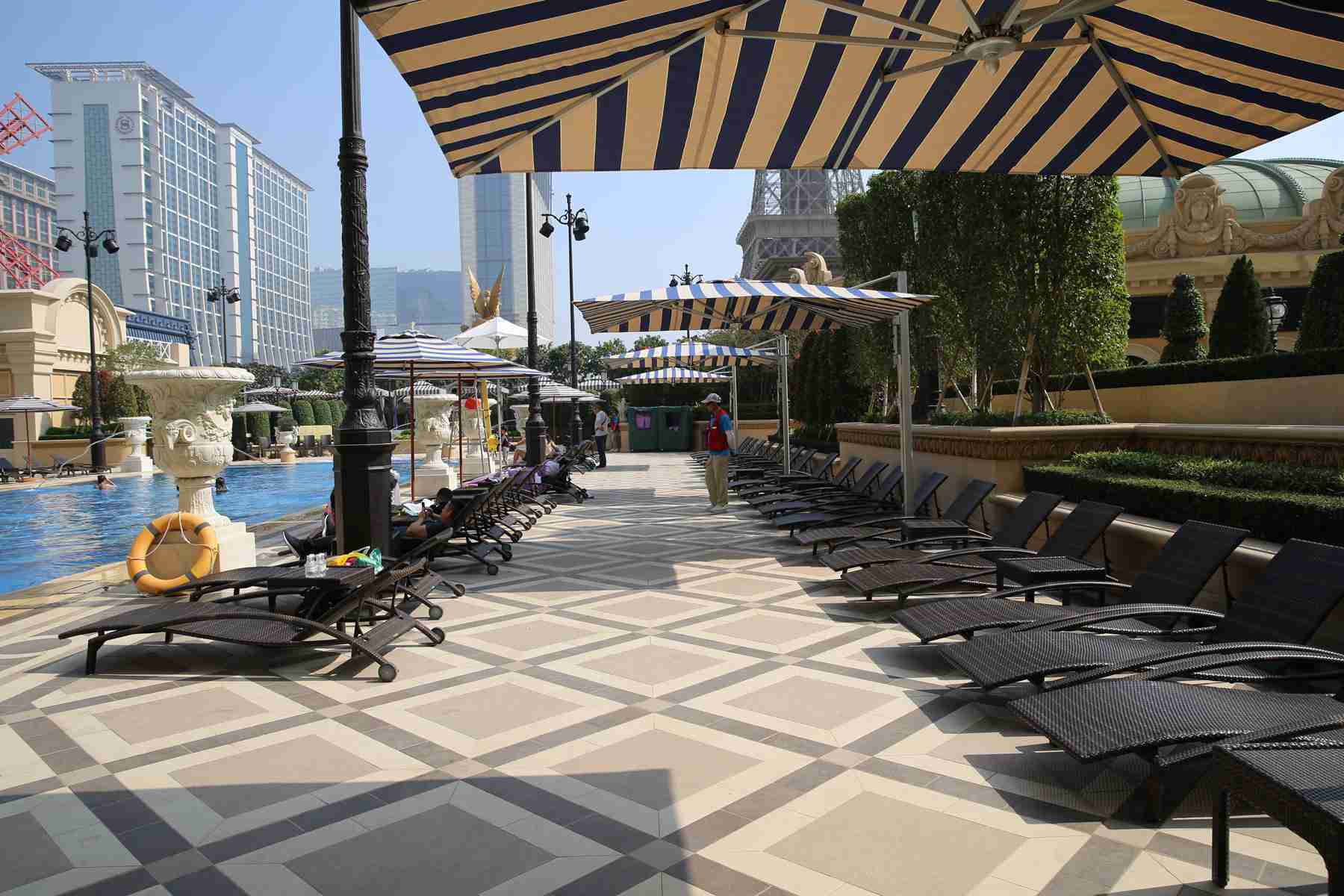 The gym was on the same floor as the pool deck. I was told that visitors need to wear exercise clothing in order to enter.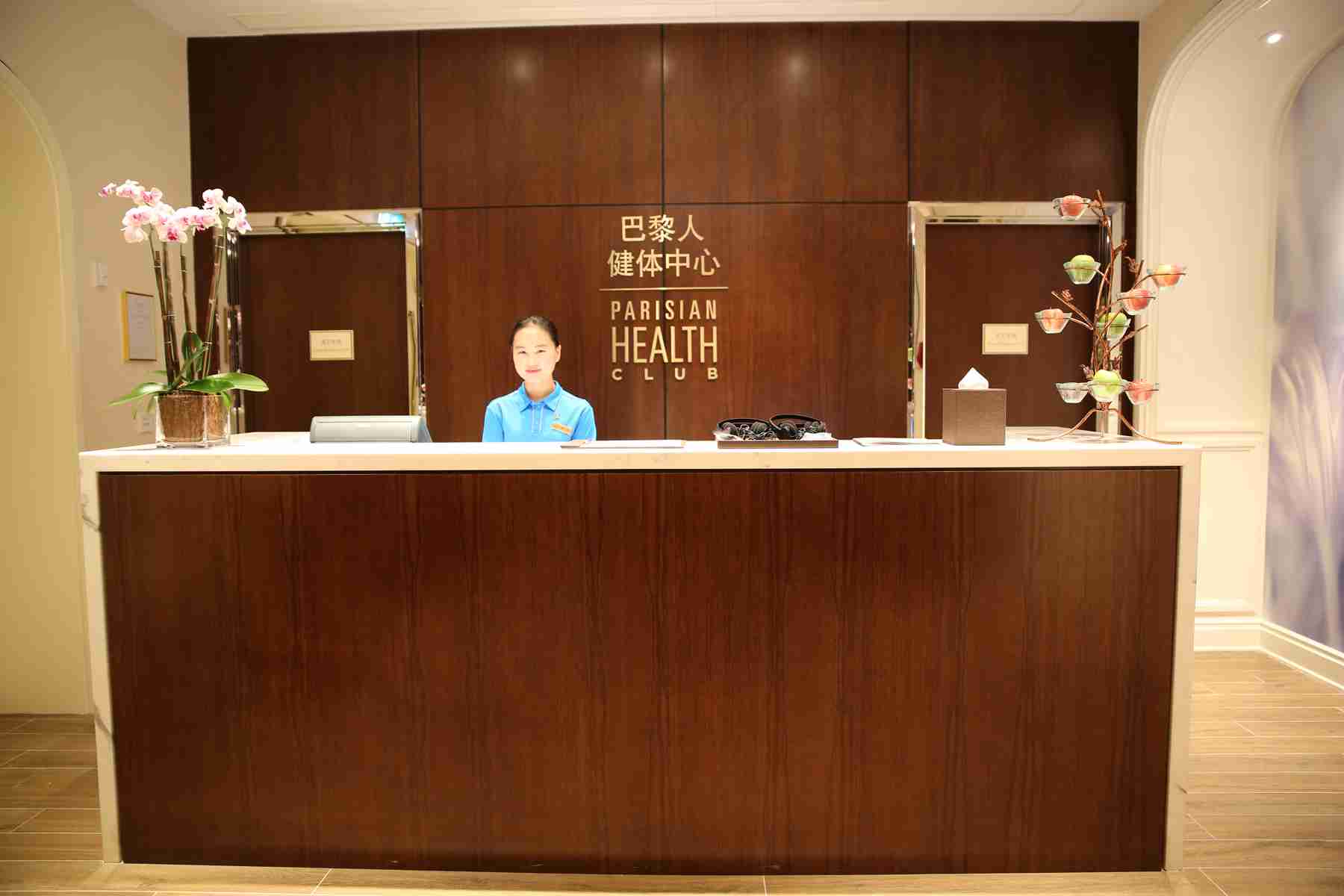 These had to be the most hard-working hotel gym decorations that I have ever seen!

I noticed a sign outside the gym changing rooms restricting girls that are over 5 years old from entering the men's locker room.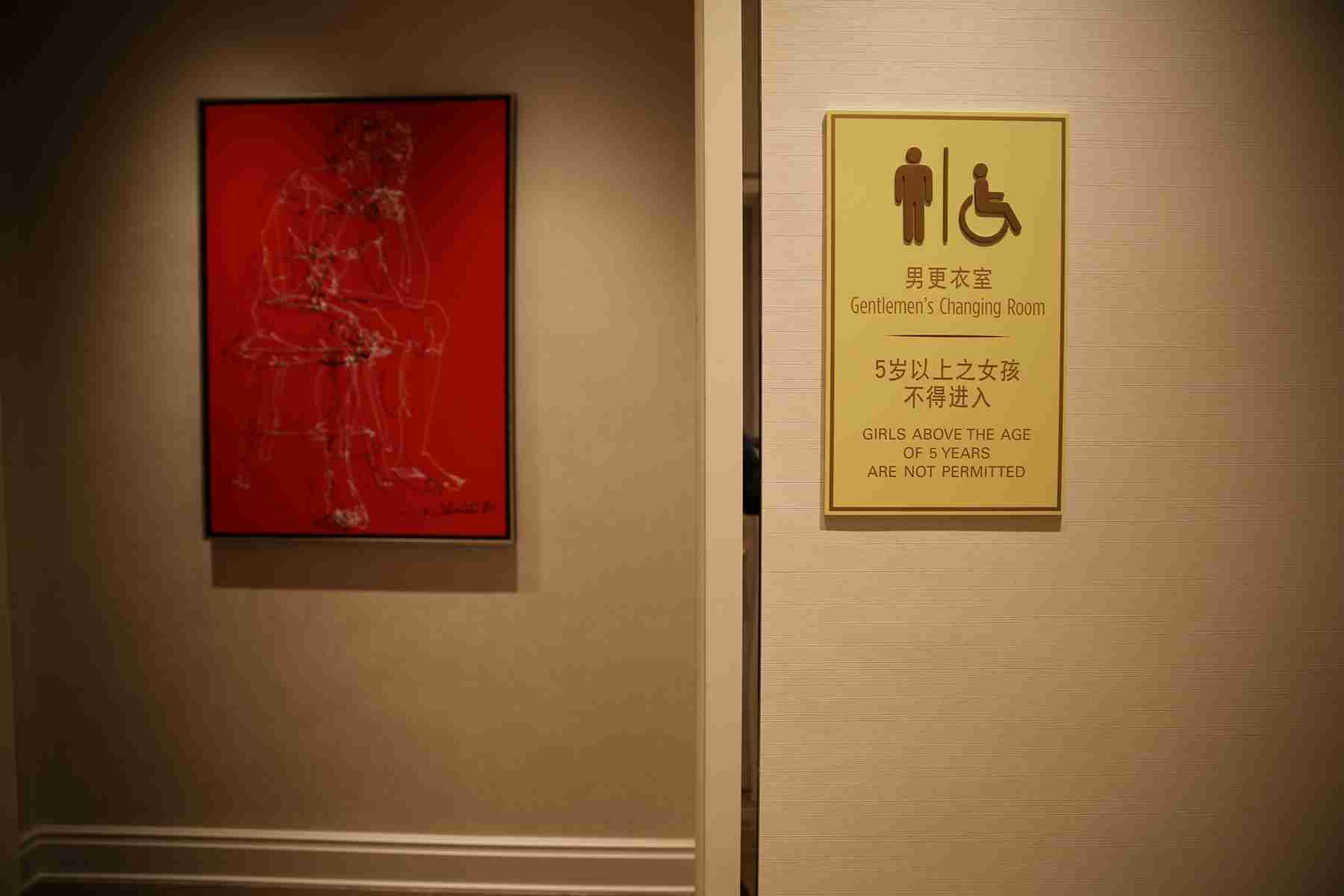 The gym was larger than I expected, containing two rooms full of exercise equipment!

---
When the sun goes down and the lights come on, you can see Macau's vibrant colors come alive. The Parisian's architecture and outdoor lighting is especially dazzling at night.

This truly is Macau splendor at its finest.
---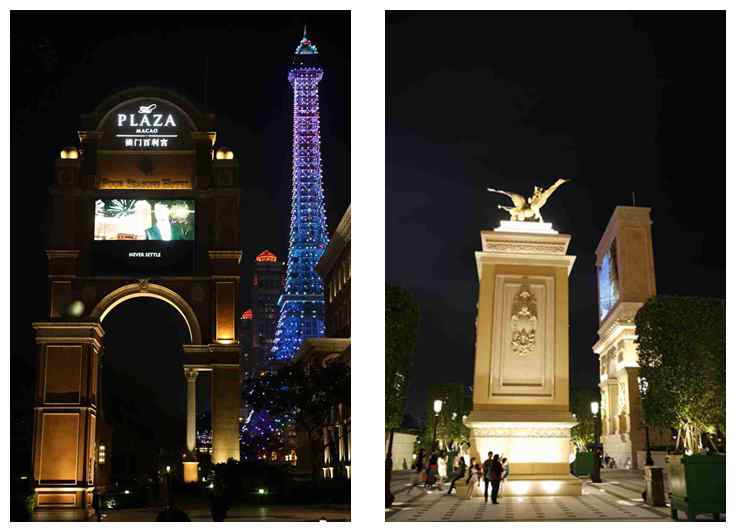 The area where the Parisian Macao is located is full of other five-star resorts, such as the Venetian Macao. If you are hungry, there are countless high-quality restaurants to choose from. I recommend Market Bistro, a small noodle restaurant in the Parisian.
Macau is famous for its resplendent, luxurious hotels – the Parisian Macao is no exception. Just like its slogan claims, you really will feel like part of Paris is at the Parisian Macao.
When I left the next day, I realized that even on the shuttle bus I still had Wi-Fi. This is the kind of small details that I have come to expect from Sands China resorts.
This is the first time I have stayed in a hotel in Macau, and I came away with a very strong first impression. Someone told me that for the price of the room I stayed in at the Parisian, there is nowhere else in Macau that has the same high level of service. If you decide to travel here, I highly recommend The Parisian Macao!
---