About The Parisian Macao

The Parisian Macao is an integrated resort inspired by the magic and wonder of the famed "City of Light." Featuring a half-scale authentic recreation of the Eiffel Tower, The Parisian Macao offers a full array of integrated resort facilities, including approximately 3,000 guestrooms and suites designed with contemporary French flair, international restaurants, pool deck with themed water park, kids' club, spa, health club, 1,200-seat theatre, convention and meeting space and entertainment.

From the delicate gilding and rich jewel tones of the Louis XIV Versailles-inspired reception and concierge, to the finest reproductions of 17th and 18th century antique rugs, bronze and crystal chandeliers, furnishings, silk textiles and Chinoiserie porcelains to celebrate the height of the French decorative arts, The Parisian Macao makes these former masterpieces accessible to all. Another unique feature of The Parisian Macao is linked walkways to The Venetian® Macao and Shoppes at Four Seasons into Shoppes at Londoner, allowing you to enjoy the full Sands Resorts Macao experience

NOW Travel Asia Awards - Asia's Top Design Hotels

TripAdvisor - Certificate of Excellence

The breathtaking half-scale authentic recreation of the famed Eiffel Tower sits majestically at the hotel's entrance. The original tower in Paris has inspired generations of writers, artists, romantics and lovers to follow their dreams; visitors to Macao will get the same inspirational sense from The Parisian Macao's Eiffel Tower.

With two observation decks offering views to mainland China, as well as unparalleled panoramic views of the Cotai Strip, the Eiffel Tower is set to be Macao's must-see landmark, and an ideal backdrop for visitors.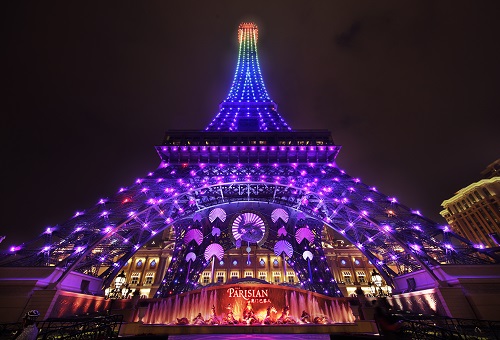 5 Things You Must Know about Parisian Macao's Eiffle Tower:
More than 2,800 tonnes of steel was used to build Eiffel tower
853,000 decorative rivets are used on this tower
More than 4,500 design drawing were made
Of all the replica Eiffel Tower in the world, The Parisian Macao's Eiffel Tower is the tallest and most realistic
Including more than 6,600 lights and 26 kilometres of electrical cabling, which is equivalent to 10 times of the length of Governador Nobre de Carvalho bridge
View Opening Hours >
Experience A Different Lifestyle
Rooms & Suites
The Parisian Macao has approximately 3,000 guestrooms and suites, all designed with contemporary French flair, perfect for leisure guests or conference delegates. Just over one-third of the hotel's rooms offer spectacular views of the Eiffel Tower. We offer The Parisian Macao signature bath products, 55" HDTV and high-speed, wireless and wired internet access for each room.
View Rooms & Suites >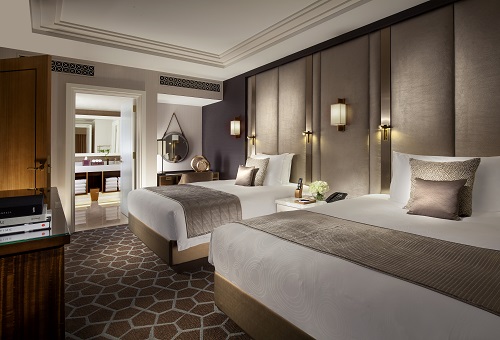 ---
International Gourmet Cuisines
Brasserie
Featuring classic café favourites from Paris, Brasserie's kitchen team is led by Daniel Brolese, an experienced French chef who ensures the authenticity in flavours.
Le Buffet
Featuring a European marketplace theme, it offers French, Chinese and international cuisine. You can enjoy a selection of fresh seafood, lobster, foie gras and exquisite French desserts alongside the usual marketplace of European delicacies here.
Parisian Pool Bar
Next to The Parisian Macao's exquisite outdoor pool, with a unique viewing perspective on the half-scale Eiffel Tower. You will find it easy to imagine themselves in Paris enjoying an hors d'oeuvre.
View All Restaurants >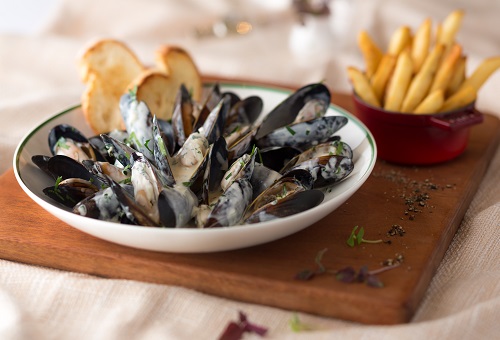 ---
Top Entertainment Destination
The state-of-the-art Parisian Theatre bring the very best in international entertainment from around the world to Macao. From live music concerts to Broadway theatre and Vegas-style shows, there will be entertainment events for you to enjoy.
Daily entertainment from French themed Streetmosphere characters including an eclectic mix of mimes, Parisian-themed 'living statues', ballroom and can-can dancers, 'Belle Époque' costumed performers offering meet and greet photo opportunities, barrel organ players, accordionists, French song singers, opera singers and caricaturists, bring you all reminiscent of being in the City of Lights.
View Latest Shows >
---
Family Fun & Recreation
Aqua World
The brand new pay-to-play area awaits the adventurous in your group. Little ones will love the fabulous water features and the wading pool, while the high-energy older kids will vie for a turn at the water guns on the airship. Big kids and children-at-heart alike will adore the waterslides and the thrill of splashing into the pool at the end of each one.
View Opening Hours >
Qube Kingdom
Measuring almost 2,000 square metres and covers both indoor and outdoor play areas, and designed to entertain children aged between one and 17 years old. It offers climbing nets and slides, a carousel straight out of Les Jardins de Luxembourg and a ball pool, while entertainment consoles are a more low-key option for tweens.
View Opening Hours >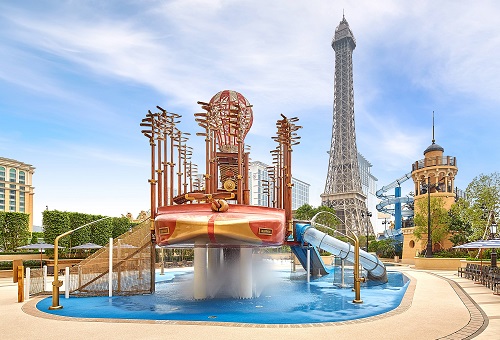 ---
Shoppes at Parisian
Measuring over 30,000 square feets of retail space, we feature 150 retailers from luxury brand names well known in Paris to popular brands recognised around the world, you will delight in as strolling through the different precincts named after some of Paris' most stylish streets and arcades. Here is home to traditional French-style sidewalk cafes and bistros, immersing you in the true Parisian lifestyle.
View Campaign & Offer >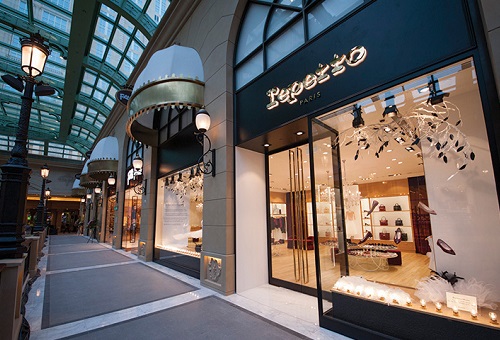 ---
Le SPA'tique Spa
Le SPA'tique measures approximately 1,264 square metres, combining the best of French skincare with the art of luxury massage and nurturing treatments. The spa concept takes its inspiration from the ''La Belle Époque'', or ''beautiful era'' of Paris of the 1800s, an era of refined elegance, and the essence of old Shanghai in a classical Chinese styled ambience. The concept is captured in the artistry of the spa's decor finishes with varying textures of antique style copper and matte gold displays.
View Product Menu >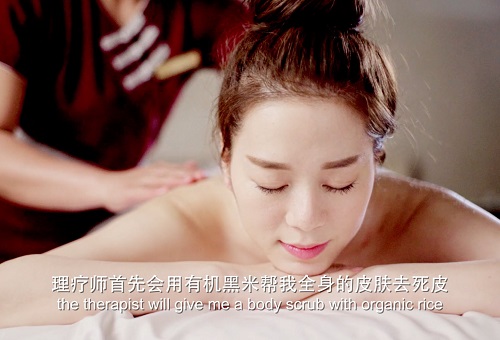 Architecture & Landmark Stories