Everlasting Divas

Event Expired.

Taiwanese Singing Stars Jolin Tsai, Angela Zhang, Valen Hsu, Tanya Chua and Matilda Tao promise an unforgettable evening of shared experiences and amazing music
VENUE

Cotai Arena
DATE & TIME

7 April 2018 (Sat), 8:00pm
CATEGORIES

Concert
LANGUAGE

Chinese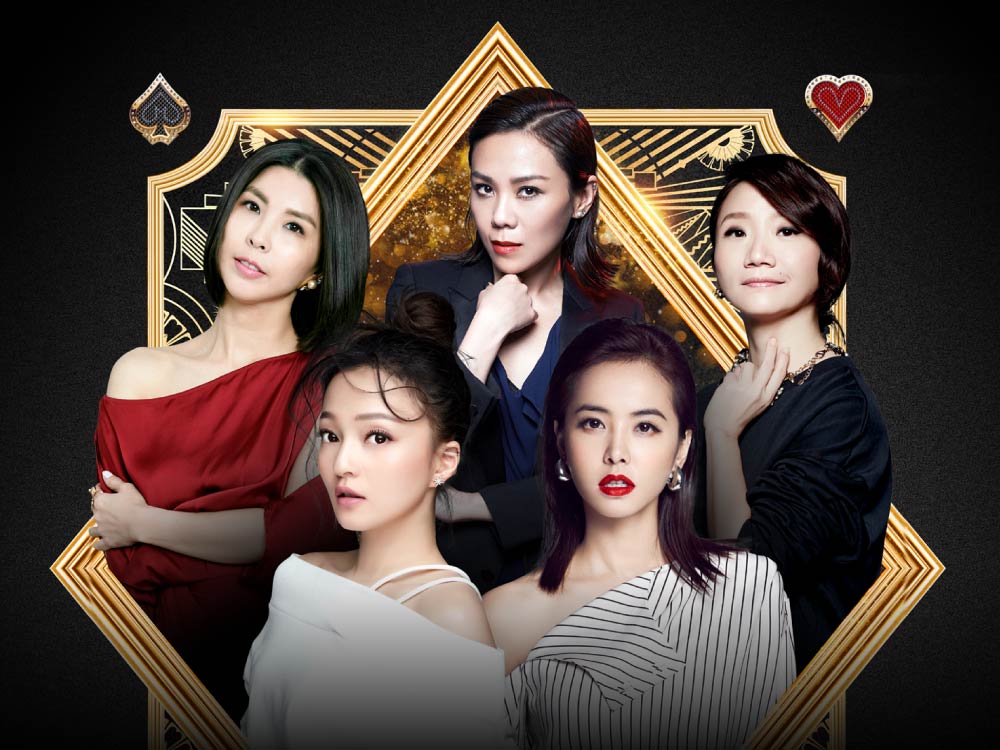 The five great queen singers, Jolin Tsai, Valen Hsu, Angela Zhang, Tanya Chua, Matilda Tao will be bringing fans a diamond-class musical feast with different stories and songs!

With sales of around 25 million albums, Jolin Tsai is one of Asia's top-selling female recording artists of the 21st century and enjoys a massive fan base worldwide. Her accolades include four Golden Melody Awards, an MTV Asia Award and an MTV Video Music Award. She has also appeared in two feature films as well as television dramas and variety shows.

Singer, actress and TV host Angela Chang has released nine albums. Her popularity soared after she appeared in high-profile Taiwanese television dramas for which she also sang the theme songs. She has also been nominated for best actress and best Mandarin female singer at several prestigious award events.

Valen Hsu is a singer-songwriter with more than 14 albums behind her as well as success as an actress and author. One of the most popular female singers on the Mandopop scene, she is regarded as the queen of love ballads.

Singaporean singer and songwriter Tanya Chua released her first English-language album "Bored" in 1997, going on to record four further records in that language and 11 in Mandarin. The winner of several major awards, she has scored in categories as diverse as "Best Mandarin Female Singer", "Best Album Producer" and "Best Lyrics".

Matilda Tao has hosted numerous hit variety shows including "One Million Star", "University" and "Guess" as well as prestigious award ceremonies, with accolades in her own right at the Golden Horse Awards, Hundred Flowers Awards and 2013 Golden Melody Awards. She has also had a successful career as a singer and author.
Ticket & Package Information
Show Ticket For One:
VIP Reserve: MOP/HKD2,388
A Reserve: MOP/HKD1,888
B Reserve: MOP/HKD1,588
C Reserve: MOP/HKD1,088
D Reserve: MOP/HKD688
E Reserve: MOP/HKD388
*Up to 30% off Cotai Water Jet discount with selected event ticket. Please contact our customer service representatives for more details.
Package Inclusion For One:
VIP Reserve Ticket + Round-trip Cotai Water Jet Cotai Class tickets: MOP/HKD2,496
A Reserve Ticket + Round-trip Cotai Water Jet Cotai Class tickets: MOP/HKD1,996
B Reserve Ticket + Round-trip Cotai Water Jet Cotai Class tickets: MOP/HKD1,696
C Reserve Ticket + Round-trip Cotai Water Jet Cotai Class tickets: MOP/HKD1,196
D Reserve Ticket + Round-trip Cotai Water Jet Cotai Class tickets: MOP/HKD796
E Reserve Ticket + Round-trip Cotai Water Jet Cotai Class tickets: MOP/HKD496
Hotel Package | From MOP/HKD4,008++
Package Inclusion For Two:
Two "B" reserve tickets
One night accommodation at The Venetian Macao
Breakfast at Cafe Deco
Exclusive Ferry Ticket discount