Record Number of Belts to be Contested at IBF Silk Road Champions Tournament Finals & IBF Asia Championship at The Venetian Macao's Cotai Arena
Tickets now on sale for huge night of international boxing on March 2, 2018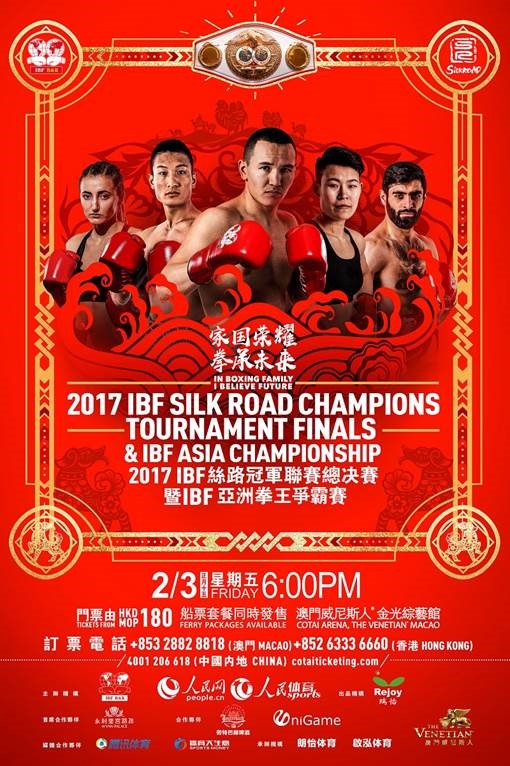 Photo caption: With a record number of gold belts in contention, the 2017 IBF Silk Road Champions Tournament Finals & IBF Asia Championship at The Venetian Macao's Cotai Arena on March 2 promises a thrilling night of international boxing.
(Macao, Feb. 27, 2018) – An unprecedented eight IBF B&R (Belt and Road region) gold belts, three IBF China gold belts and an IBF Asian gold belt are up for grabs at the 2017 IBF Silk Road Champions Tournament Finals & IBF Asia Championship which take place at The Venetian® Macao's Cotai Arena on March 2. Tickets are now on sale at all Cotai Ticketing box offices starting at just MOP / HKD 180.

One of the very few meets to see so many key gold belts handed out on a single occasion, 2017 IBF Silk Road Champions Tournament Finals & IBF Asia Championship offers a thrilling card of top-notch international boxing, with over 20 contestants from China, the USA, Russia, South Korea, Thailand and the Philippines.

World professional sport organisation IBF established the IBF B&R region category to provide a platform for sports and culture communication among countries along the Belt and Road.

The five Chinese contenders include Sun Xiangxiang (13W-0L-0D-10KOs), Biegezhati Suosailehan (8W-3L-3D-2KOs), Xie Lili (3W-0L-0D-2KOs), Jin Yangcheng (7W-2L-2D-3KOs) and Zhao Jun (6W-2L-1D-5KOs).

Joining them are three Russian fighters: Ruslan Khamikoev (7W-3L-1D-3KOs), Alexander Kotov (7W-4L-1D-4KOs) and Zafar Parpiev (3W-0L-0D) and South Korean fighter Seulgi Jeon (4W-2L-1D-3KOs). Meanwhile Chinese female fighter Hu Die(7W-1L-0D)and Philippine fighter Kim Actub (6W-8L-1D-5KOs) will compete for the IBF Asia Female Featherweight title.

In the 2017 IBF China Professional Boxing Tournament Finals, post "90s" fighters also fighting for IBF China's gold belts include Mou Xiaolu (11W-0L-1D-5KOs), Cai Shidong (7W-2L-1D-2KOs), Zhan Zefeng (5W-2L-2D-2KOs) and Tian Duancai (5W-0L-1D). A win automatically qualifies boxers for next year's event.

An unmissable event for fight fans, tickets for the 2017 IBF Silk Road Champions Tournament Finals & IBF Asia Championship are now on sale at all Cotai Ticketing box offices starting at just MOP / HKD 180.

ICBC Sands Lifestyle Mastercard cardholders can receive up to 20% discount on ticket prices as well as EARN points when shopping or travelling anywhere in the world and then REDEEM them in Macao within Sands Resorts Macao's integrated resorts.

Ticketing details:
Event 2017 IBF Silk Road Champions Tournament Finals & IBF Asia Championship
Date and Time March 2, 2018 (Fri), 7 p.m.
Venue Cotai Arena, The Venetian Macao
Ticket Prices MOP / HKD 26,800 (VVIP)
MOP / HKD 12,800 (VIP)
MOP / HKD 3,880 (A Reserve)
MOP / HKD 1,680 (B Reserve)
MOP / HKD 980 (C Reserve)
MOP / HKD 580 (D Reserve)
MOP / HKD 380 (E Reserve)
MOP / HKD 180 (F Reserve)
Ferry Packages Add MOP/HKD 108 to ticket price for a round-trip Cotai Water Jet ferry ticket between Hong Kong and Macao (not applicable to C Reserve and below)
Ticketing Outlets Cotai Ticketing
Online:

www.cotaiticketing.com

Box offices:

The Parisian Macao - Main Lobby Box Office L1

The Venetian Macao – Cotai Arena and Main Lobby box offices

Four Seasons Hotel Macao – The Plaza™ Macao box office

Sands® Macao – Level 1 box office
Sands® Cotai Central – Sheraton Main Lobby and Holiday Inn Main Lobby box offices

Phone:

Macao: +853 2882 8818

Hong Kong: +852 6333 6660

China toll-free: 4001 206 618
Macao Kong Seng Ticketing Network
NOTE: Fights and times subject to change. Admission will be granted only to persons aged 13 and above.


###
Entertainment at Sands China Properties
Sands China Ltd. has as a clear vision to establish Macao as Asia's top entertainment destination.

The 15,000-seat Cotai Arena and 1,800-seat Venetian Theatre are the only venues in Asia ranked in Pollstar's Top 100 Worldwide Arena Venues and Pollstar's Top 200 Worldwide Theatre Venues based on ticket sales. It is the top entertainment destination in southern China, hosting the world and region's biggest names in music, sports and awards shows. Superstars frequently choose the venue as the starting point of their Asian tours.

The 1,800-seat, multi-purpose Venetian Theatre is one of the most luxurious entertainment venues in greater China. Featuring ushers in black tie, champagne service, gourmet food and beverage items and other unique, premium amenities, it offers an intimate, luxurious and exclusive venue experience. The Venetian Theatre is playing a key role in bringing the best in international and Chinese entertainment to Macao, with a theatre experience like no other in the region.

The 650-seat Sands Theatre regularly features internationally-renowned singers, performers and artists of the highest calibre. From traditional Chinese-costumed dance to modern performances, everything from Western rock to Cantonese pop is covered.

The 1,200-seat, purpose-built Parisian Theatre is Sands China Ltd.'s latest entertainment venue. The Paris-style theatre offers an elegant experience for world-class entertainment of all kinds.

The latest addition is the impressive new Sands Cotai Theatre. With 1,700 seats, this state of the art venue was purpose built by Sands China Ltd for the arrival of the highly anticipated Monkey King – China Show from the renowned Beijing Huayan Group. Eight years in the making, the stage show combines dance, acrobatics, drama, martial arts, magic, advanced 3D effects, LED screen projections, video mapping and full surround sound, together with creative lighting effects, choreography, music and spectacular costumes.

Offering world-class diversity and quality, Sands China Ltd.'s next generation of live venues is ushering in a new era of entertainment in Macao.

For information about upcoming shows and events, visit http://en.sandsresortsmacao.com/macau-shows.html and www.sandsmacao.com/entertainment.html