Embrace The Spectacular At
The Venetian Macao
Offers & Events
Get

25%

off Hotel Reservations

Enjoy 2 Buffet/Ferry Tickets

for

HK$10!

Extra BONUS – Win your first night FREE! 10 lucky winners every day!

Book "14 Days Advance Purchase" for stays at The Venetian Macao or The Parisian Macao, and get below benefits:

1. 25% off hotel reservation

2. HK$10 for 1 of below offers

2 Macau-to-HK ferry tickets OR

2-person lunch buffet at Bambu OR

2-person lunch buffet at Le Buffet

Book by 6 September 2017 for stays until 31 December 2017. Act now!

Featuring stunning replicas of the famous canals and architectural icons of Venice, The Venetian Macao provides a range of spacious suite designed with unparalleled luxury.

The newest jewel in the crown of Sands Resorts. It brings the City of Light to life in Asia.

The Venetian Macao

Featuring stunning replicas of the famous canals and architectural icons of Venice

THE PARISIAN MACAO

The newest jewel in the crown of Sands Resorts. It brings the City of Light to life in Asia.

A Birthday Celebration to Dazzle Your Senses

From 1 - 31 August 2017, guests with an August birthday can enjoy below special offers:

Dining Offer - 20% discount at Sands Resorts Macao selected restaurant outlets when dine with one or more guests.

Entertainment Offers - Enjoy a 'Buy One Get One free' offer on THRILLER LIVE tickets

Win 2 FREE tickets of Hins Cheung & Ivana Wong Macao concert, Pakho Macao concert, Crazy Horse!

Sign Up Now

SEE DETAILS

The Venetian Macao

Featuring stunning replicas of the famous canals and architectural icons of Venice

THE PARISIAN MACAO

The newest jewel in the crown of Sands Resorts. It brings the City of Light to life in Asia.

A Shopping Extravaganza - To Celebratethe Anniversary

From 23 August - 17 September 2017, simply spending at Sands Shoppes to earn up to MOP2,000 worth of Shopping and Dining Vouchers, as well as luxurious hotel stays at The Venetian Macao.
Moreover, from 23 August - 17 November 2017, earn up to 10x Sands Lifestyle points and more when you use your ICBC Sands Lifestyle MasterCard at Sands Shoppes.

SEE DETAILS
Explore The Venetian Macao's
art and architecture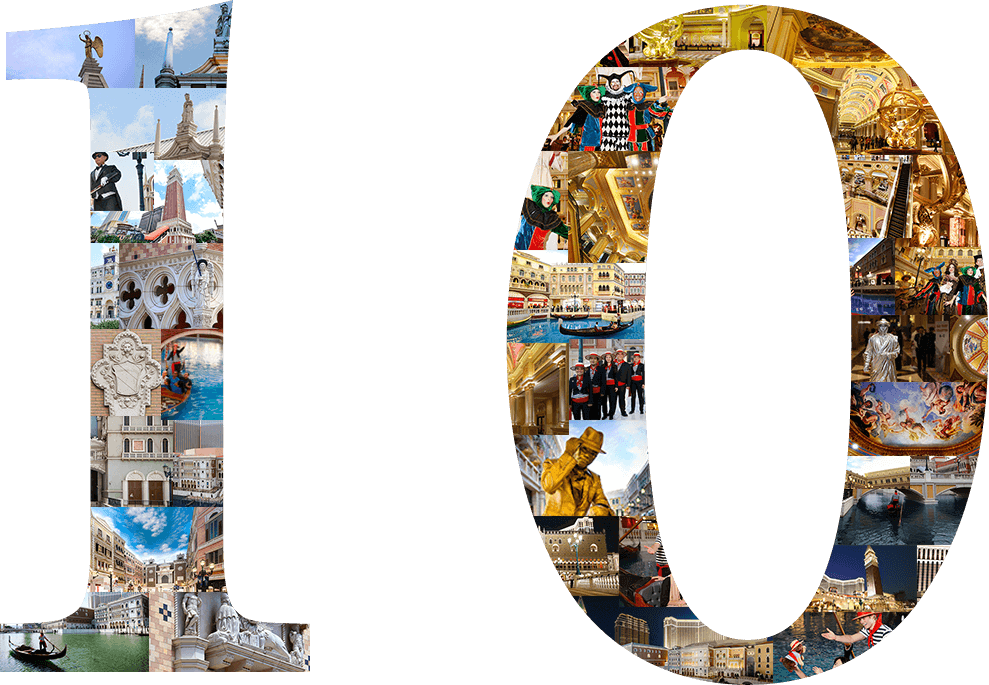 Completed in 2007, The Venetian Macao was envisioned as a tribute to the famed city of Venice, Italy. To recrete the city's landmarks - as well as its charm - artists, architects, and experts conducted extensive research in Venice to ensure that every last detail of The Venetian Macao was faithful to the original.
The Construction
o
f The Venetian Macao
"When I first got the vision, believe it or not,
it actually came to me in a dream."
-Sheldon G. Adelson, Chairman and CEO of Las Vegas Sands, 2005
More than a decade ago, Sheldon G. Adelson, chairman and CEO of Las Vegas Sands, had a vision that would transform Macao into one of the world's major business, leisure and family destinations with a diversity of attractions and facilities that draw tens of millions of visitors each year.

The Venetian Macao became the first proof that the vision could be realised. Situated on the Cotai Strip, The Venetian Macao is a modern marvel in a city dotted with centuries-old Chinese and Portuguese architecture and UNESCO World Heritage Sites.
Embrace The Spectacular At
The Venetian Macao